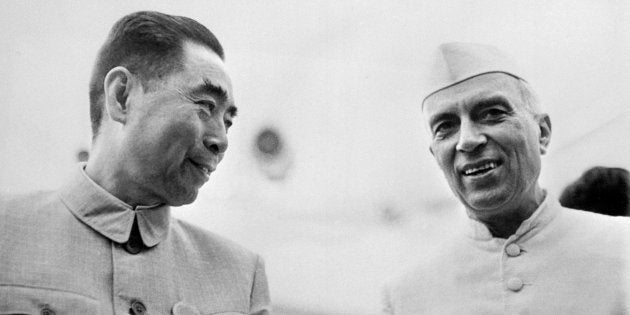 When Chinese President Xi Jinping met Prime Minister Narendra Modi on the sidelines of the BRICS summit in China's Xiamen on Tuesday, he expressed a desire to work with India within the five principles of Panchsheel, or the Five Principles of Peaceful Co-Existence, a treaty signed between Jawaharlal Nehru and Premier Zhou Enlai to bring peace to the post-colonial sub-continent over sixty years ago.
"China is prepared to work with India to seek guidance, with the five principles of Panchsheel," the Chinese President said, during a bilateral meet with Modi.
Nehru and Zhou signed the treaty on 29 April 1954 to lay the roadmap for stability in a region torn by wars for independence, bloody migrations, and religious rioting.
1. Mutual respect for each other's territorial integrity and sovereignty
3. Mutual non-interference
4. Equality and mutual benefit
"Panchsheel was developed in the context of a post-colonial world where many were seeking an alternative ideology dedicated to peace and development of all," a government document celebrating the 50th anniversary of the treaty states.
The comment by Xi assumes significance in the backdrop of the recent stand-off by India and China at Doklam after Indian troops stopped the Chinese Army from building a road in the disputed area.
Xi's comment has led to the revival of a subject of much debate — how effective was the treaty, eight years after the signing of which India was engaged in a border war with China? What was Nehru's role in envisaging the five principles?
Vasant Vasudeo Paranjpe, who was the interpreter when Nehru visited China in 1954, chronicles in detail the red carpet rolled out for India's first PM at the peak of Sino-India friendship.
Paranjpe opines that the principles of the treaty were not formulated by Nehru.
In fact, while receiving the Indian delegation to the Tibetan trade talks on 31 December 1953, Zhou listed them as the "five principles governing China's relations with foreign countries", he writes in the Hindustan Times.
TN Kaul, then Director General for Asian Affairs in Delhi, is supposed to have impressed upon Nehru the significance of what Zhou said, who then agreed to mention them in the draft text of the agreement.
"Vice-Foreign Minister Chang Han-fu told the Indian side that China did not think the inclusion of the five principles as 'necessary'. In effect, he was overruling his own foreign minister's (and prime minister's) formulation. Could he have done so without specific advice from someone above Zhou? Anyway, the talks dragged on for over three months. Zhou was away in Geneva for talks on India-China relations.

Kaul, however, persisted in his efforts. When Zhou returned to Peking, he, with his native genius for compromise, found a via-media. He suggested that the five principles may not be included in the main text prominently, but could appear in the preamble.

India accepted the compromise. But two months later, when Zhou visited Delhi, Nehru and Kaul emphasised these principles in the joint statement issued on June 18, 1954."
According to Paranjpe, Nehru was instrumental in taking the principles far and wide even though Zhou propounded them.
"Upon Nehru's return to India it created a cloud-burst of friendly feelings for the Chinese all over India. No wonder, during his return visit to India in 1956, Zhou Enlai received a tumultuous welcome with skies reverberating with the lilting notes of "Hindi Chini Bhai Bhai"," Paranjpe writes in an article titled "How To Understand China".
Zhou had intended to stand behind them, but a power crisis was brewing in China between him and Mao Zedong. And the bitter Sino-India war led to a souring of relations and scars that India could never recover from. It seems Nehru blamed Zhou for the 1962 escalation.
"He asked me if I had mentioned or shown the substance of Zhou en-Lai's message to anyone. I said that I had not. He struck a match, and held the paper to the flames and burnt it over a large crystal ashtray. He said that from the Indian side it would take more than a quarter of a century to return to any substantive negotiation, provided the Chinese refrained from another attack on India.'"
Even after half a century, Indo-China relations have made little progress for the better. It remains to be seen if PM Modi's recent visit can salvage some of it.