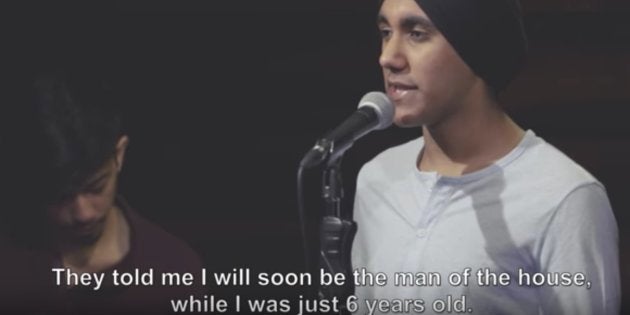 If you are a man in India, you would have probably been told by your friends and relatives, "Mard ko dard nahi hota hai" (Men don't feel any pain).
16-year-old Simar Singh, founder and curator of UnErase Poetry, a community to promote poetry and help poets grow, tells you exactly what's wrong with that statement.
"They told me that I'll soon be the man when I was just 6 years old. Man up they told me, man up young boy," Singh says, reciting his slam poem.
Now, what is this 'man-up' business, really?
Well, according to society, it creates someone who will never cry, stay silent, be an engineer rather than a writer (because that's the wiser path to choose) and will never express his vulnerabilities because that, apparently, is a 'sin'.
"When can we talk about mental violence, so that I can finally end the silence?" Singh asks.
The 16-year-old slam poet created headlines earlier this year with 'Legal Rapist', a powerful poem on marital rape. This time, his poem, 'How to be a man' is "for every father, every brother and every son, who wets his pillows so many times and yet he's woken up just fine."
Singh has an appeal. He wants his audience to talk.
"So go talk to your Dad, ask him what his dreams were and what he really wanted to pursue.... Talk to your elder brother, ask him what he's going through, how he landed up in a job he never wanted to do... and that he doesn't need to hide his notebook anymore. Talk to your son, who might be really young, tell him that he needs to speak," Singh says.