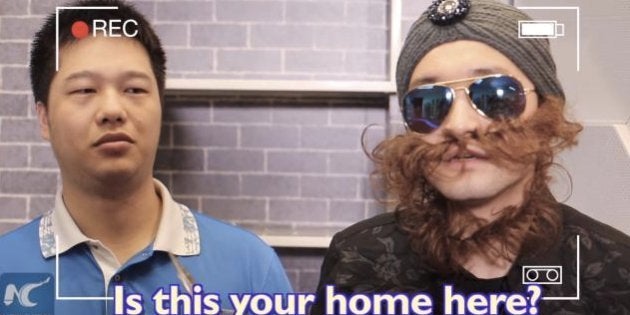 Chinese and Indian troops are embroiled in a seven-week-long standoff on the Doklam plateau in Bhutan. Until now, their hostility was mostly expressed by pointing fingers at each other, although Chinese media reported of possible "small-scale operations" on India in the near future.
Now China's official Xinhua news agency has released a racist video mocking Indians, portraying them as a bunch of clueless people wearing fake beards.
The three-minute long video is titled the "7 Sins of India: It's time for India to confess its seven sins".
A Chinese woman anchor explains the Doklam standoff from the Chinese perspective, with a guest who's apparently Indian. The anchor wears a turban and a fake beard in an attempt at parodying an Indian Sikh man. This 'Indian' person also speaks in a rather strange accent.
The video says India's seven "biblical" sins are: trespassing, violating a bilateral convention, trampling international law, confusing right and wrong, putting the blame on the victim, hijacking a small neighbour and sticking to a mistake knowingly.
The video calls out India for being a "bad neighbour" because "Indian troops carrying weapons and driving bulldozers" moved into neighbour China's "house" without "even knocking". "Didn't your mama tell you, never break the law?" the host asks.
The anchor also mocks India by saying that they have realised it is impossible to awaken a "guy", in this case India, "who is pretending to be asleep". This is when the "Indian" person appears on the show as a guest and says, "Nobody is blaming me because I am asleep". This remark seems to be an allusion to the Chinese perception that, in reality, India is being blamed for the standoff but refuses to acknowledge it.
Sadanand Dhume, an analyst at American public policy think-tank AEI, says in this article that the video shows China has absolutely no intention of treating India as an equal in the ongoing standoff.
The military standoff at Doklam began on 16 June after Indian troops acted in coordination with Bhutanese authorities to block the construction of a road by the Chinese authorities. Since then, China has repeatedly asked India to unilaterally withdraw from the area or face the prospect of an escalation. Meanwhile, the Chinese state media have warned India of a fate worse than its crushing defeat in the brief border war in 1962.
Popular in the Community