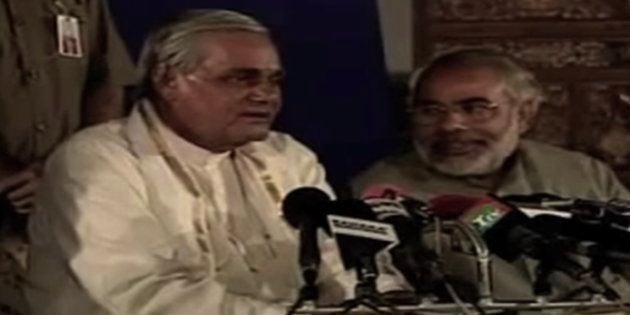 Prime Minister Narendra Modi's politics has often been contrasted with that of former PM Atal Bihari Vajpayee. A section of political analysts who criticise the far-right Hindutva sentiments that Modi's regime has stoked often pit it against Vajpayee's more 'liberal' views, though they belonged to the same party.
Vajpayee breathed his last at 5.05 pm today at AIIMS, Delhi.
In several unofficial accounts about Vajpayee, writers have spoken at length about the alleged 'coup' at the BJP's national executive meet in Goa in April 2002, where the former Prime Minister was prevented from sacking Modi as the CM of Gujarat after the riots in the state.
Shortly after the riots, Vajpayee held a joint press conference with Modi in Ahmedabad where a reporter asked what his message for the chief minister would be. The Prime Minister, known for speaking in chaste Hindi, took a few moments to start answering the question. He began with saying that Modi should follow raj dharma. He added that he himself tries to follow the raj dharma as much as possible. and a raja or a king shouldn't discriminate against his subjects based on his status in society or religion.
"Raja ke liye, shasak ke liye, praja praja main bhed nahin ho sakta hai. Na janam ke aadhaar par, na jaati ke aadhaar par, na sampraday ke adhaar par (A king, a ruler, should not discriminate against the subjects. Not on the basis on birth, not on the basis of caste, not on the basis of religion)," he said.
Modi's expression changed from a smile to a mild laugh, then a scowl and finally became impassive over the course of Vajpayee's comments. He then turned towards the Prime Minister and said, "Hum bhi wohi kar rahe hai sahib (that's what I am doing sir)."
Vajpayee took a few seconds to respond after that and said, without turning to look at Modi, "I trust that Narendra bhai is doing the same." Modi's smile returned briefly after that.
Though Vajpayee seemed to have backed Modi on that platform, albeit after a nudge from the former Gujarat CM himself, political analysts have chronicled his displeasure with Modi at length.
In his book The Untold Vajpayee, journalist and writer Ullekh NP recounts how the BJP stalwart was stopped from sacking Modi as the CM of Gujarat. Before reaching the venue of the meet, writes Ullekh, the consensus was that 'Modi must go'. LK Advani, Arun Shourie and Jaswant Singh was present on the flight when the decision was taken. Advani and Vajpayee were reportedly putting off a discussion until Shourie goaded them into speaking.
However, at the meet itself, Modi reportedly declared he would step down as the CM of Gujarat. Immediately, a chorus of party workers and office bearers began chanting that Modi must not be sacked over the riots. Though Vajpayee tried to delay the decision by saying he would consider it at a later time, the crowd insisted he give up any idea of getting rid of Modi.
"He would never forget that humiliation," Ullekh writes.