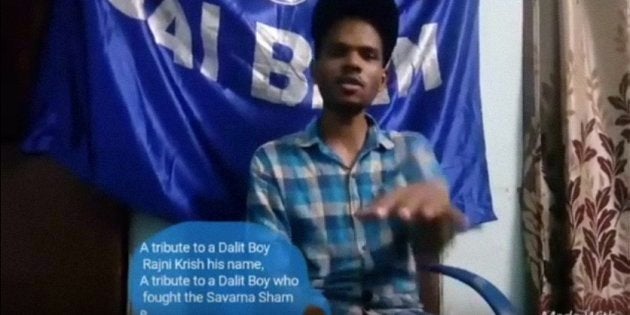 The Dalit movement in India has perhaps seen the use of music to mobilise youth, but now post-graduate student in Jawaharlal Nehru University (JNU) Sumeet Samos is rapping to spread awareness about the atrocities faced by Dalits.
In the rap video put out by The Print on Twitter, Samos is seen rapping about how Dalits are not treated as human being.
Let me tell you what you have done

The pain is still not gone

You made me question my parents, my birth, my human existence,

My appearance, my food, my clothes, my smell , etiquette, mannerism.

I could never find the logic, no human reason.

Season after season in all of life's motion,

You did constant vilification.

I saw my parents tears, with caste humiliation.
While Samos is able to question caste discrimination with these powerful lyrics, he tells The Print in an interview that there was a time he did feel inferior because caste was so internalised.
Samos who belongs to Koraput in Odissa, talking about the atrocities he faced as a child, tells The Print, ""Speeches (on caste) can be long and dry...Sometimes people don't even listen. With rap, I can sum up our message crisply and powerfully."
Here is another rap video from Samos:
While Samos has taken to rapping, we have also seen another youngster BR Ambedkar's message through Punjabi. Eighteen-year-old Gurkanwal Bharti, whose stage name is Ginni Mahi, has hundreds of followers on YouTube.