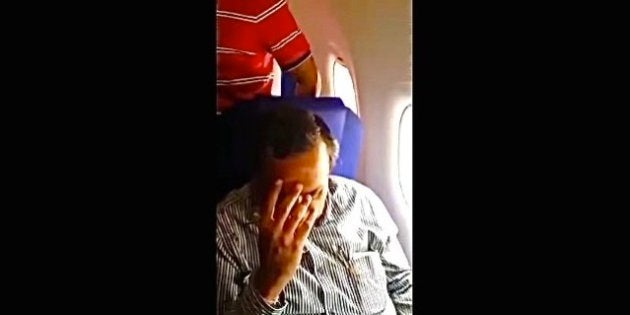 Countless instances of harassment are playing out in India right now. There are fewer instances of women calling out the men who are eyeballing or attempting to grope them. And only the very gutsy ones are unabashedly humiliating these sleaze-balls in a loud and unrelenting manner.
This woman, who humiliated a middle-aged creep for trying to touch her in an Indigo flight, showed no mercy. She also took a video of the entire episode, which should stop the man cold in his tracks if he ever thinks about pawing at another woman.
The video was uploaded on YouTube by Shreyas Rao on Jan 31, 2015 with the following message:
"This is a forward by this brave girl of what happened in the indigo flight yesterday with her ! 'This man on the seat behind mine, put his fingers in the seat gap to touch me!!! I was very shocked for sometime to react. By then the flight went to landing mode. Then the moment flight touched down, I got up. Saw his hand was again on the side ready to take up any opportunity to touch me!!! I created such a scene, humiliated him in front of the whole flight! He thought like usual girls will keep quiet and he can get away with this! I have lodged an FIR now! He is a very rich man of Bhubaneswar and is now very humiliated in front of the people who know him. Cant believe the ordeal I had to go thru but being silent is a crime! The police officer was very helpful and the Indigo staff remained with me throughout. The man is under police custody currently.
I clicked his pictures and made videos, shouted so loud that the entire plane came forward to see him! I made sure I humiliate him as much as possible because i know law will do nothing.'"
Here is how the episode plays out after the flight landed: The man covers his face and he slinks deeper into his seat while the woman screams at him.
"You are asking for forgiveness? Why? Because I'm a girl and you have the right to touch me anytime, anywhere you want to?" she said.
The other passengers, who are waiting in the aisle to leave the aircraft, watch the confrontation. The man mumbles a few words, which sounds like him asking the woman for forgiveness. He asks her not to make a scene.
"What forgiveness are you asking for? Did you do it only once? Was it by mistake? Have you seen your age? Old man. Your leg is in the grave but you've not got any brains," she said. "I will call the security. I will make a complaint."
The two-minute video ends with a knockout punch.
"You thought you could do it again right? You were putting your hand here again. You thought I didn't know or I would keep quiet right?" she said.
Watch the full video. Hold your applause!
Popular in the Community