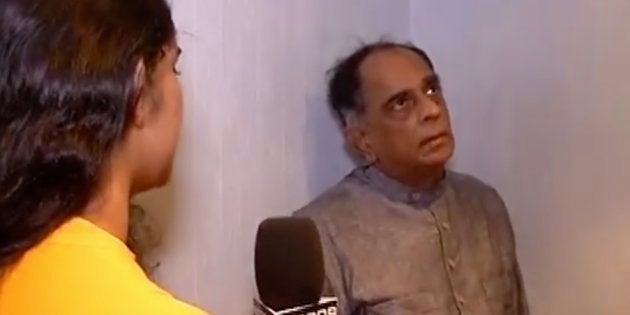 Realising he had settled for too little, Nihalani threw in another curveball -- he said he'd accept votes only from people who are married and above the age of 36. Basically, unmarried youngsters weren't eligible for this ad-hoc rule introduced by him.
A week later, Mirror Now gathered the said votes.
Thrilled with their victory, the channel deployed a reporter to trail Nihalani and get him to clear the word 'intercourse', at once.
In a video released by the channel, a helpless and visibly annoyed Pahlaj Nihalani is cornered by a female reporter, who trails him all the way to an elevator.
It's a beautiful, beautiful video, one that demands multiple viewings. As the reporter patiently asks Nihalani the questions ("The youth is with us, what do you have to say"), Nihalani tells her, "Don't follow me" before recoiling to the furthest corner of the elevator, pretending not to hear the woman.
The woman pursues nonetheless, before Nihalani walks away, without giving an answer.
Watch the hilarious video below: