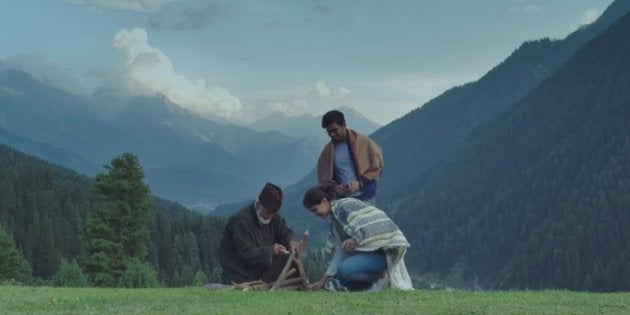 I was on a reporting trip to Kashmir two weeks ago, staying in a boat house. During my stay in a boat house in Srinagar's Dal Lake, I noticed that all guests searching for accommodation had the same questions to ask the owner, Rashid Saab -- "Is this a safe place? There will be no terrorism here, no?" Each time, the boat owner and his children, who take care of the place, would have to sit them done and provide reassurance. They would say that there's "nothing to worry". "It's the media's creation," they said.
Probably their comment is not perfectly true -- one cannot deny the violence Kashmir faces on a regular basis. However, it's true that the narrative that we often hear from the Valley is that of insurgency and unrest, we only read stories about stone pelting and militants being killed, or killing others. Meanwhile, when someone has to show a different side of Kashmir, it's almost always about the snowy peaks, gurgling streams and winding treks. But how often do we hear about Kashmir's hospitality?
A short film released by the J&K Tourism department, titled 'Warmest Place On Earth' is trying to change that narrative. And it has already taken social media by storm.
The 5.4-minute film that has already garnered nearly 70k views on J&K tourism's YouTube channel, and over 2.4 million views on its Facebook page is about the 'hospitable and warm' people out there.
"Everybody knows that Kashmir is a beautiful place and we wanted to go beyond this known fact. The next biggest attraction in Kashmir is its hospitality, so the idea of incorporating traditional hospitality as its central theme was born,"Jaibeer Ahmad, executive business director and vice-president J. Walter Thompson, a marketing communications company that created the film told Greater Kashmir.
The story is about an old Kashmiri man who takes two tourists around -- walking through panoramic landscapes, visiting Sufi shrines and traditional villages, doing the mandatory Shikara ride and enjoying a wazwan meal. Watch it till the end -- it's bound to make you feel a lot of emotions at the same time.
The film has been directed by Amit Sharma and the lyrics of the background song in the short film have been written by 2009 UPSC topper Shah Faesal.