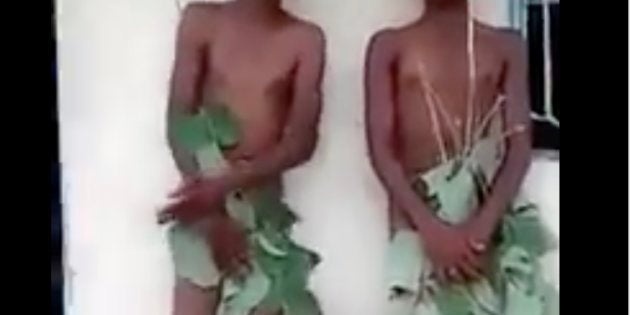 Two boys from the Dalit community were striped and beaten for swimming in a well in Vakadi village in Jalgaon district, Maharashtra.
The incident occurred on June 10, but it came to light after a video of the horrific incident surfaced and was shared widely on social media, IANS reported.
The boys, who had jumped into the well to beat the heat, were pulled out by persons belonging to the so called upper caste communities, the newswire reported.
In the video clip, the two boys, who appear to be in their teens, can be seen covering themselves with leaves, even as a man hits them with a green coloured belt and then a stick.
Another man can be heard laughing in the background.
Two men, Ishwar Joshi and Prahlad Lothar, have been arrested under the Prevention of Atrocities Act and also the Protection of Children from Sexual Offences Act.
The New Indian Expressreported that the well was located in Joshi's farm.
Joshi and his friend, Lothal, allegedly stripped the boys and thrashed them with a pipe and a stick, the newspaper reported. The two men reportedly made the video clip and shared it on the internet.
Condemning the incident, Union Social Welfare Minister Ramdas Athawale demanded "stringent action against the perpetrators of the atrocity on the boys."
The families of the two boys were reluctant to file a complaint with the police, The Indian Express reported, and they are under pressure from influential villages to withdraw it.