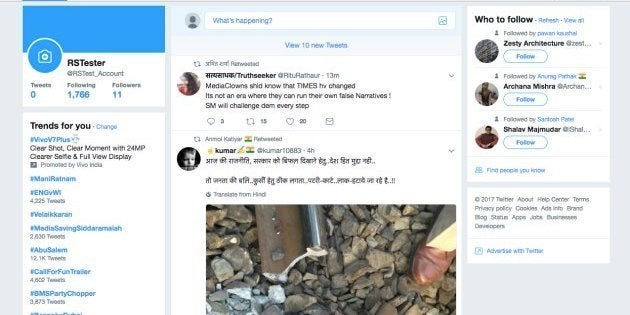 Over the past few days, most Indian Twitter users would have found their timelines abuzz with discussion around the people Prime Minister Narendra Modi followed on Twitter, and their abusive tweets in the wake of the murder of journalist Gauri Lankesh.
While several Twitter handles affiliated with the right wing celebrated the death of the journalist, known for her views against Hindutva and her work in rehabilitation of Naxals, columnist Sandip Roy questioned the futility of expecting Modi to break his silence over Lankesh's death.
If Modi logged onto his own handle — @narendramodi — he would have also seen this discussion, interspersed with conspiracy theories, more abuse and lunch recipes.
With over 30 million followers, Modi's personal account makes him the second most-followed political leader after US President Donald Trump.
For this story, we created a new Twitter account and followed only the people Modi follows; while Modi followed 1,779 people as of Wednesday night, we were able to follow 1,775 (four accounts were locked) and Modi himself.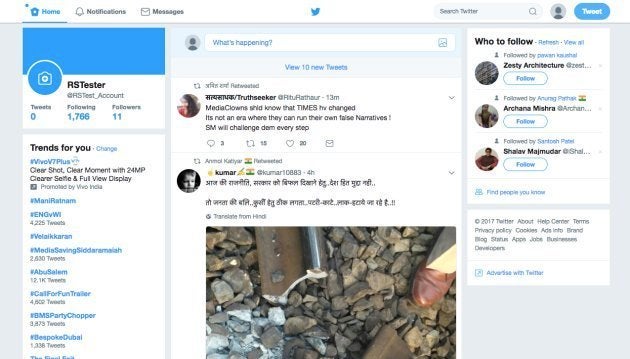 All screenshots and embeds attached in this piece are tweets or retweets by people Modi follows which showed up on this mirror handle.
These included world leaders, news media handles, Indian politicians (including Congress Vice President Rahul Gandhi, Punjab Chief Minister and Congress leader Capt. Amarinder Singh, Delhi Chief Minister and Aam Aadmi Party leader Arvind Kejriwal), unions ministries, Indian diplomatic missions overseas, BJP leaders, BJP functionaries — and hundreds of supporters.
It is this last category that makes Modi's Twitter timeline unusual — along with the odd important announcement from a world leader or a breaking news update, his feed is cluttered with thousands of tweets ranging from the banal — "should I go to work today?" one BJP supporter Modi wondered aloud on Thursday morning — to the hateful and abusive.
On Thursday morning, other people Modi followed were doubling down on the now deleted tweet that started the controversy, by a man the PM followed, named Nikhil Dadhich. The original tweet remarked that a dog had died a dog's death, and all the puppies were now crying — Dadhich now claims he was talking about dogs in his street.
Several people Modi followed were discussing the implications of the "privilege", and how the PM should not be judged for their words.
While #BlockNarendraModi was trending for over 24 hours, Modi would have seen tweets from people he followed — some of them referring to his opponents as "pigs" — demonstrating how in retaliation they were blocking Rahul Gandhi and Arvind Kejriwal's Twitter handles.
Dozens of people were mocking, criticising or abusing journalists seen as critical of the PM. Yet others were sharing slightly off-colour memes about Kejriwal offering advice to honeymooners or "romantic" verse with images of children.
The murder of Lankesh continued to be an important topic on Modi's timeline as well, but most tweets discussed conspiracy theories surrounding her death, her "Naxalite" activities, and whataboutery regarding the massive national response to her death.
Among the first tweets surrounding her death that would have appeared on Modi's timelines were those implying that she had it coming, and those wondering if the issue was getting undue media coverage.
Modi's mix of ordinary supporters and world leaders makes him unusual — Trump and Israel PM Benjamin Netanyahu for instance follow only a handful of people from their personal profiles — chiefly other officials, and in the case of Trump, members of his large family.
On the list of people he followed, on the other hand, Netanyahu shared space with @MODIfiedMayank, "Proud Hindu|Reader of Srimad Bhagwat Gita|Engineer" — some of the "normal people" BJP IT chief Amit Malviya referred to in a statement defending the PM's Twitter activity.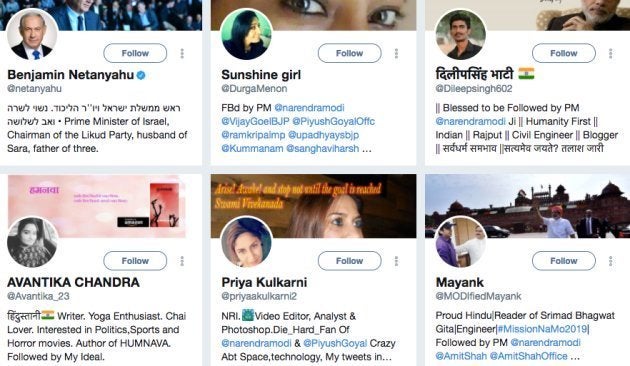 Malviya observed that the PM following someone is not a "character certificate".
Trump has actively retweeted Twitter handles which have made sexist, racist and anti-semitic comments in the past. While Modi may not have shared violent abuse or posts from abusers himself on Twitter, many of the people he followed have a documented history of making rape threats, Islamophobic comments and sharing fake news.
Yet, come Friday, India's Prime Minister's timeline will have them all, jostling for his attention.