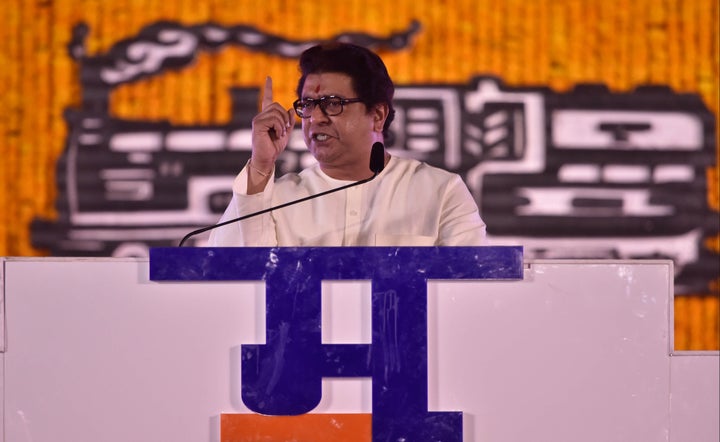 "I don't know about the world but probably no political party in India has ever asked to be voted in the opposition. I have come to you today with an agenda and that agenda is to provide a credible opposition party to Maharashtra. Because if the opposition is weak, then the rulers can run havoc," said the MNS chief, who addressed back-to-back rallies in Mumbai. The party's first schedule rally in Pune on Wednesday had to be cancelled after heavy rainfall led to water-logging at the venue.
Thackeray also criticised the judiciary for its handling of the Aarey forest issue and mocked his cousin and Shiv Sena chief Uddhav Thackeray for aligning with the BJP despite being given only 124 seats out total 288 assembly seats in the state.
The MNS chief's rhetoric will come as a relief to his supporters, who weren't even sure if they would be contesting the election until a few days before the deadline for filing nominations.
HuffPost India reported in September that Thackeray had decided not to contest the state assembly election until some party workers and younger leaders threatened to quit the party.
The party finally put up candidates in 104 assembly seats in the state. Though it hasn't struck an alliance with any other party, reports say the MNS is secretly hoping that a "tacit understanding" with Sharad Pawar's NCP will tide it through in a few seats at least.
In the rallies, Thackeray admitted that he had contemplated boycotting this election as part of his larger tirade against EVMs.
"This state desperately needs a strong opposition party which won't buckle under any pressure. The ruling MLAs can't question their own government today and if you don't have opposition, this government will run bulldozers on you. I know my limits, which is why I am asking you to vote me in opposition," he added.
Thackeray, who left the Shiv Sena to form the MNS in 2006, has often been considered his uncle Bal Thackeray's "true heir" both in terms of oratory skills as well as whipping up xenophobia. While the MNS won 13 seats in the 2009 assembly election, five years later, this came down to just one seat (and even that MLA deserted the party for the Shiv Sena later).
On Thursday, Thackeray questioned the timing of the Bombay high court ruling on the cutting of trees in the Aarey forest to build a Metro car shed and criticised the Shiv Sena, which has protested against the move despite being a part of the government.
"Whose government it is now? Do you consider people fools? They (Shiv Sena minister) said they will resign. When? He (Udhhav Thackeray) had boasted that he won't go begging to anyone for alliance then why has he settled for 124 seats now? Don't trust these people," he added.
Thackeray also slammed the Devendra Fadnavis government and claimed that every city in the state is collapsing due to mismanagement and improper administration.
"The leader of opposition in the state assembly from the Congress switched over to the BJP (Radhakrishna Vikhe Patil). Who is going to raise your concerns and give voice to your problems? Industries are shutting down, people don't have jobs, banks are sinking, farmers, labourers, and students are crying and people can't withdraw their own money. I have decided to contest this election to give voice to your anger and your agony. I am asking you to vote for me to give this state a credible opposition party that cannot be bought. I will ask you to vote me in power when there is time but this time vote for me to form a strong opposition in the state," he appealed.