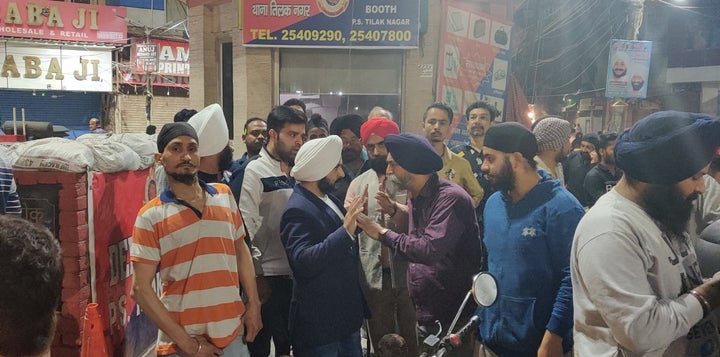 Panic spread through parts of west and southeast Delhi on Sunday evening following rumours of violence, even as the Delhi Police and AAP leaders denied any incident and appealed for calm.
The Delhi Metro Rail Corporation (DMRC) shut down the entry and exit gates of seven metro stations—Tilak Nagar, Nangloi, Surajmal Stadium, Badarpur, Tughlakabad, Uttam Nagar west and Nawada—without providing a reason. The stations were later reopened
Shopkeepers downed shutters and people rushed to reach home early in several areas including Subhash Nagar, Tilak Nagar, Janakpuri and Khyala in west Delhi, News18 reported.
Joint CP (Western Range) Shalini Singh told Indian Express the rumours had begun after a team from Khyala police station went to raid a gambling racket in plainclothes during which 25 people managed to escape and cops started chasing them.
Times of India reports that WhatsApp groups of Resident Welfare Associations were buzzing with forwarded messages of "riots" breaking out.
Soon, the Delhi Police began putting out statements saying there was no truth to the rumours and appealed for peace.
"The situation on the ground is very normal. It is under control. We received many calls. All the calls were found to be fake. We sent the calls to the SHOs, inspectors. We are dominating the area. We are talking to the people," Deputy Commissioner of Police, Southeast Delhi, RP Meena told NDTV.
Politicians, including AAP leaders, said they had spoken to the police and tweeted out photos of the areas to assure people that there had been no fresh violence.
Tilak Nagar MLA Jarnail Singh said: "I reached at the site as soon as I heard of the rumour of riots, shops were shut people were in a state of panic but no one saw any riots happening. It was a conspiracy to spread rumours and spoil the atmosphere. I appeal to people to maintain peace and brotherhood and do not believe the rumours."
Joint CP Shalini Singh said she took out patrol in the area and interacted with people at Khyala-Raghubir Nagar and Madipur.
Over the weekend, Delhi Police detained six people for raising the "desh ke gaddaron ko, goli maro sa***n ko" chant at the Rajiv Chowk metro station.
PTI's reporter said the "shoot the traitors" slogans had also been raised inside a train on the Delhi Metro's Blue line by five-six men wearing saffron T-shirts and kurta.
On Sunday evening, reporters tracked the chaos the rumours had caused in various parts of Delhi.
News18′s Saahil Murli Menghani said he visited each area to verify no violence had taken place.