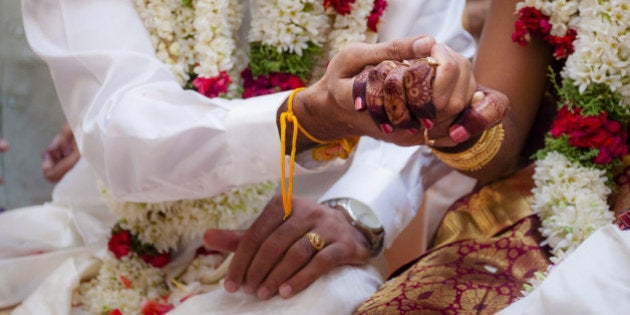 Kathakoli Dasgupta was about 26 when she found her first husband through a newspaper advertisement. That was about a decade back.
"I used to be in love with the idea of being married and getting married too with all the hullabaloo in my 20s," she said.
It wasn't her parents, or her family, or her friends that pushed her into the marriage; it was Kathakoli herself. "There was no pressure, it was just me who romanticised the whole thing. I wanted to have a husband, kids, a huge big family visiting and to visit," she said.
She grew up believing that marriage was an important part of a woman's identity in society, and was influenced by romanticised versions portrayed in Hindi cinema.
"It ended in a divorce," she said.
The idea of marriage has undergone constant evolution in India. In recent years, perhaps no demographic has felt that evolution more than urban, educated women. Before, marriage simply marked the passing of economic stewardship from a woman's father to her background-checked husband. But as more women join the workforce and become economically independent, the meaning of their marriages has changed.
As my Facebook feed testifies, Indian women continue to marry. And as I scroll through my friends' engagement announcements, pre-wedding shoots, honeymoon adventures, and children's first birthdays, I find myself wondering what convinces my female friends to marry today.
As more women join the workforce and become economically independent, the meaning of their marriages has changed.
Even as some of the old familial pressures to wed have fallen away, are we now subject to new ones in different forms? As marriage ideals shift from fulfilling a familial duty to finding your own perfect love story, how many of my women friends don't want to be left paddling their solo boat in the sea, afraid to lose sight of the popular marriage ship? How do they negotiate these internal pressures?
Shruti Rao, at 27, has started questioning her ideas of marriage. "My younger self just automatically assumed I'd be married around now because it's a 'nice' age — not too old, not too young," she said. It didn't go exactly according to script — and for a period of her life, she said, she couldn't bring herself to feel joy for someone else who was getting married.
Over time, however, she said she's slowly stopped looking at marriage as a milestone for herself. "I've only just learnt to embrace my singledom (as cliché as it sounds) and enjoy the feeling of not running to my phone or drowning the failings of one lover into another."
Now, as her best friend gets ready to marry this year, she sees it as a way of renewing her faith in the institution of marriage. "I could have easily slid down that waterway of thinking marriage in general is obsolete and pointless and will always fail and it's better to be single instead," she said, "but I also see how it can be wonderful for two people who decide they want it."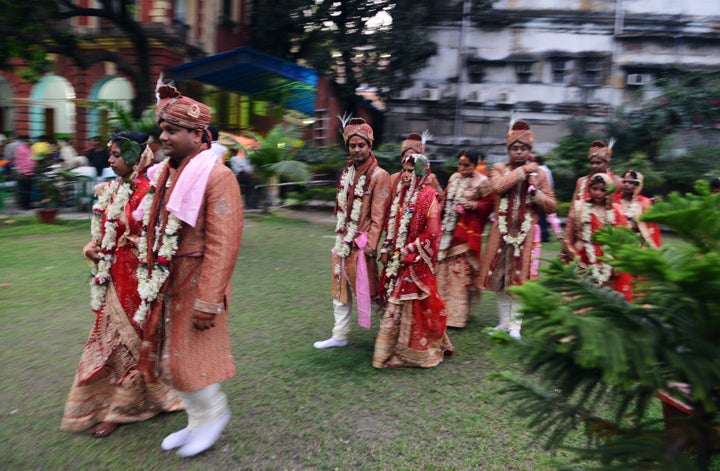 Newly married Indian couples walk to perform traditional Hindu marriage rituals during a mass marriage ceremony in Kolkata on 28 February, 2016.
Shruti herself is far away from marriage — in fact, she joked that her decision to leave for Vancouver for a second Master's degree is the closest to a marriage ceremony she could have had, for now.
"When my dad took out the loan to send me here to Vancouver, the house became akin to shaadi-ka-ghar, expenses bled out from every nook, lots of people came to stay before I left the country, there was a general sense of farewell and end-of-a-phase," she recalled. "In so many ways, I see my leaving the country as my marriage ceremony. It cost as much, if not more."
Even though her perspective has evolved with time, her belief in marriage is solid. Her parents have been together over 30 years, and she said she wouldn't rush into something like that in a hurry, but rather spend a few years with someone before committing to a marriage.
"It's never too late to get married, but it can always be too early," she said, referring not just to two people's ages, but also the length of their relationship.
Kathakoli met Dave Hogg when she was well into her 30s, after what is traditionally considered "marriageable age" in India. After her first marriage ended, she wasn't actively seeking a second go at it.
"I don't think people necessarily have to be married," she explained. "Neither for sexual, nor emotional reasons."
Yet, last June, the 38-year-old took the plunge a second time.
It was the little things — Dave staying by her side when she was nervous in a public function, him moving his strictly planned routines around to make space for their relationship, his readiness to be part of things she loved so they could enjoy different experiences, and their shared passion for running and fitness — that helped her decide she wanted to commit for the longer haul.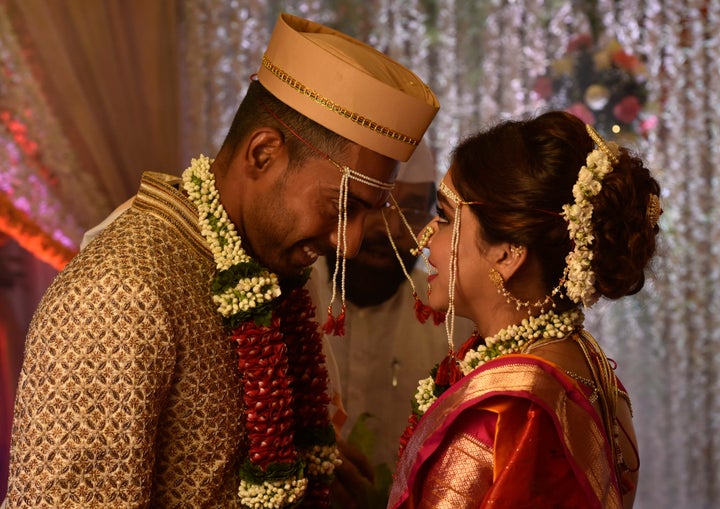 Indian cricketer Dhawal Kulkarni and Shraddha Kharpude during their marriage ceremony on 3 March, 2016 in Mumbai.
Armed with the wisdom from her two very different marriages, Kathakoli now recommends that two people commit only when they are absolutely ready, without any pressure, be it from others or from within.
"It took me a divorce and getting back on my feet again to understand the difference between want and need," she explained. "I wanted the relationship/marriage with Dave, didn't need it, as did he. And this helps to make it a marriage of equals."
It's advice that Saumya swears by, it would appear. The 36-year-old university teacher, who asked to be identified only by her first name, was born in a small town of Uttarakhand but grew up in Delhi. When she was approached by the family of a bank manager eight years older than her while she was still studying, Saumya vehemently refused to agree to the marriage offer. She also insisted that she didn't want to be married to anyone outside the city, because she wanted to stay here.
Even as the years passed and she continued to wait for the right person, her age and weight became "issues of serious concern" to everyone, even though she advanced academically and found a teaching job for herself, she said.
"My marital status continues to bother my neighbours, though, thankfully, the relatives have struck themselves off from this list," she said.
Age, weight, and ability to bear children are some concerns that are a matter of intense scrutiny in the marriage market, from where she said she has "disappeared".
"It took me a divorce and getting back on my feet again to understand the difference between want and need."
"I have always believed in marriage and the companionship that it brings into the relationship," she said. "I am looking for a soulmate with whom I can be myself even though I may not be in the best of my reproductive health."
Yet, being financially independent and living alone as a single woman on her own has opened up "new and unthinkable possibilities" for her, she said, adding that she feels more confident and mature enough to take on life's challenges.
She advocated financial freedom for women as an important way of ensuring they are able to take their own decisions. Another, she said, was family support.
"At 36, I am still single, happy and content with my life," she said. "Never more have I felt settled and satisfied than now. I have found myself and am extremely comfortable with who I am."
Kolkata-born Madhubanti Niyogi's marriage is perhaps what Saumya envisions for herself in the future. Early on, Madhubanti, a 42-year-old Dubai-based research consultant, refused to "succumb to [the] social stigma of getting married just to fulfill the social beliefs that a girl should marry to be considered settled." Though one of her younger sisters found love early and is happily married, Niyogi continued to travel for work and found herself in UAE in 2011. Her other sister holds multiple degrees and is a "happy globetrotter".
Though Madhubanti identifies herself as a "romantic at heart", she believes that fairytale notions of love and marriage have discounted the work that goes into relationships.
"I have seen a lot of broken marriages in my friend circle and within my close family circle and knew the pain as I stood by my friends and my cousins to support them overcome their personal traumas," she said.
Now, she has found her "soulmate", and they are planning their social marriage date, she said. "He is 10 years younger to me but we complement each other and there is a perfect rhythm between us in understanding."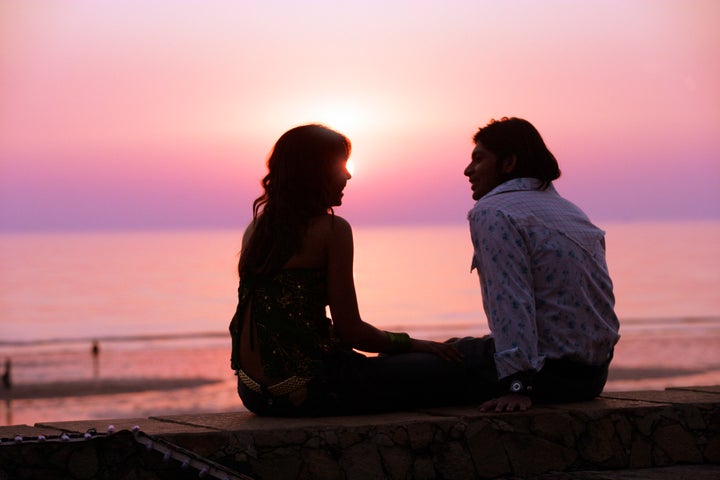 It wasn't like this for Madhubanti's mother, who, despite getting a job as a lecturer in Calcutta University, had to leave her job to move to Rajkot with her husband when he got transferred. Yet, it is Madhubanti's parents who encouraged their three daughters to pursue their independent dreams, she said.
Neither was it like this for Kathakoli's mother, who did not even see her husband's photograph when their match was arranged. "I don't think my mum or women in her generation had a choice in the matter, no matter how liberated their family was," she said. "My generation, I would like to believe, has a say in the matter."
"A lot of us have learnt from our marriages to know better," she said. "And many of us have been fortunate enough to be able to evolve with changing times and learn to view marriage as an option, a matter of choice, not the inevitable."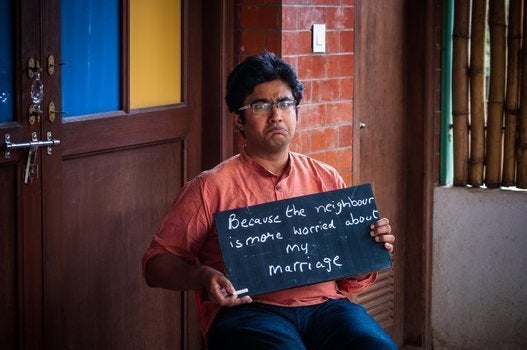 Happily SIngle campaign
Popular in the Community