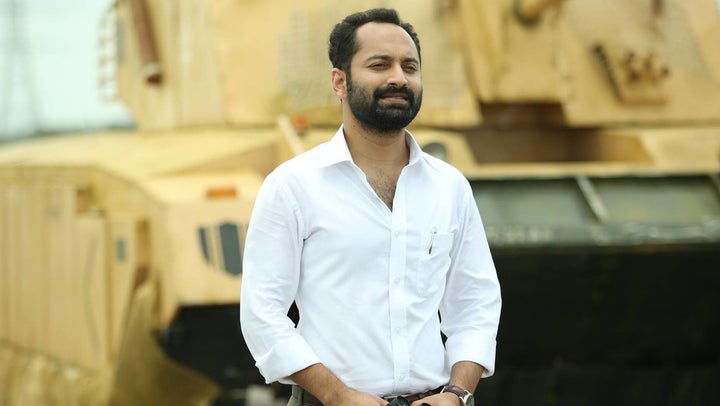 It is not unheard of for actors to make a spectacular debut and then fade from sight after their next few films bomb and acting offers dry up. But what makes Malayalam actor Fahadh Faasil stand apart is that his career trajectory has been just the opposite—anyone who saw him awkwardly match steps with Nikita Thukral in 2002's Kaiyethum Doorathu would have to have been a modern-day Nostradamus to predict that he would not only be around in Malayalam cinema 17 years later, but would also be considered one of its finest actors.
The 19 year old, son of veteran director Fazil, went into hibernation after some cruel reviews and derision. He moved to the US, enrolled for an engineering degree, dropped out midway and did a philosophy course.
Coming into his own
He was next seen by Malayali viewers in Mrityunjayam, one of the segments in the anthology film Kerala Café. Fahadh played a journalist working on an investigative story on a decadent, spooky house, and this time, at least some viewers noted the subtlety of his performance.
Post Mrityunjayam, he slowly, and cautiously found his way in the competitive world of Malayalam cinema. Soon after, he did a cameo in Cocktail—even in a film that revolved around two strong male protagonists, Fahadh's Naveen Krishnamoorthy, a pleasant, silver-tongued boss, was hard to miss. It was around this time that he signed Akam, the debut directorial of Shalini Usha, although it was released only two years later (2013). In the adaptation of Malayattoor Ramakrishnan's Yakshi, Fahadh played Sreeni, a young architect who suspects his beautiful wife may be a witch, and it remains one of his best performances till date.
But it wasn't until his role as an urbane, high-flying business tycoon in Chappa Kurishu (2011) that he really broke out of the conventional male hero image. "Sameer (Thahir, director) and I thought there was something distinctive about his look and attitude in the film. We were in the middle of casting actors for Chappa Kurishu then. His urban look was the decider. On the first day of the shoot, we knew he was an actor," recalls cinematographer Shyju Khalid, who filmed one of Fahadh's best movies, Maheshinte Prathikaram.
In Chappa Kurishu, Fahadh played Arjun, a rich, spoilt Casanova who finds himself in trouble after a sex tape featuring him and his girlfriend gets leaked. The movie, loosely based on a Korean film, was a dark thriller, and one of the scenes that stood out was a kiss between Fahadh and Remya Nambeesan—since then, commercial Malayalam cinema has become more comfortable about depicting intimacy on screen, but Fahadh was among the first of the new breed of actors who ushered in the change.
"It would not be wrong to call Fahadh Malayalam cinema's first metrosexual actor."
Perhaps Chappa Kurishu is also when he got temporarily boxed into the character of an urban, promiscuous man.
A year later, he continued with that image in Aashiq Abu's revenge thriller 22 Female Kottayam, where he played a canny event manager who betrays his girlfriend (Rima Kallingal)—she ends up castrating him but he remains remorseless till the end.
"I don't know how many actors would have done a 22 FK," said journalist Krishna Kumar, who counts Fahadh as one of the most competent performers in Malayalam cinema today.
Khalid concurred, particularly about the climax.
"No one knows how someone in that situation would react. It was a scene which, if not done properly, could change the course of the film, but Fahadh was spot on," he said.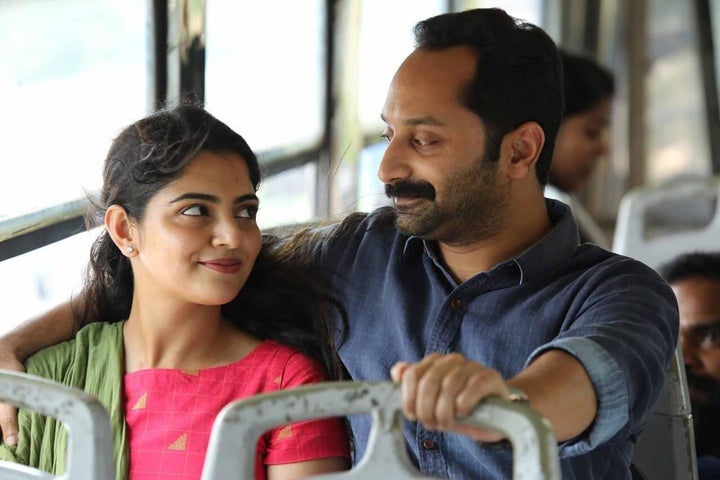 A metrosexual actor who shines in 'ordinary' roles
It would not be wrong to call Fahadh Malayalam cinema's first metrosexual actor, a contrast to the moustache-twirling, sexist alpha male heroes who had been dominating the screens for long. This is evident in the way he picks his films—they never fall under the easy labels of celluloid heroism. Materialistic womaniser in Diamond Necklace, man with OCD in North 24 Kaatham, chicken-hearted lover in Amen, egoistic painter in Artist, biker-turned-stuffy-husband nursing a painful past in Bangalore Days or pompous, selfish politician in Oru Indian Pranayakadha.
Why, even two of his most feted roles—Mahesh (Maheshinte Prathikaram) and Prasad (Thondimuthalum Driksakshiyum)—are brazenly ordinary. Just last year, he was part of three films completely different from each other—there was Director Venu's Carbon where he played Sibi, a local ten percenter, Amal Neerad's Varathan in which he was Abin, one half of a couple who moves from Dubai to a village in Kerala where they seem to be surrounded by perverts and finally there was Sathyan Anthikad's Njan Prakashan, in which he played a mix of various Anthikad coming-of-age heroes. He plays a villain in the much-anticipated Kumbalangi Nights, which released on Thursday. His line-up for this year also includes Anwar Rasheed's Trance and Tamil film Super Deluxe, where he is pitted against Vijay Sethupathi.
HuffPost India reached out to Fahadh, who was unavailable for comment.
Very few actors use their eyes as evocatively as Fahadh—this worked brilliantly in the opening scene in Thondimuthalum Driksakshiyum, where he steals a gold chain from Nimisha Sajayan's neck and in Rasool's searing gaze in Annayum Rasoolum.
Director Amal Neerad says that Fahadh starts working with a brief character sketch.
"He is very intense. There are actors who will try to bend a character for their own comfort, but Fahadh will try to grasp the character and mould himself to be like him. I haven't been able to explore him properly as an actor. Iyobinte Pusthakam was just the tip of the iceberg," said Neerad.
A performer who guards his privacy
It's also interesting to draw parallels between Fahadh and two of his popular, affable contemporaries, Dulquer Salmaan and Nivin Pauly. While Dulquer has never shied away from experimenting (Kammati Paadam, Njan, Solo), he hasn't really dodged the "hero" trap yet. Nivin's boy-next-door images work best for him, but he wants a finger in every pie (Mikhael is a recent example), which can backfire sometimes.
"It is interesting that Fahadh, for all his metrosexual appeal, can pull off rural characters with élan."
Fahadh is a more dependable performer who, through a mix of successful and failed experiments, now has viewers waiting for the next surprise he will spring on them.
As Kumar puts it, Fahadh has "clarity as to the kind of films he wants to be part of".
It is tempting to call him an actor who tries to fit into the Mohanlal school of acting (and that is a comparison that often comes his way, especially on social media). There is nothing theatrical about his expressions or body language. But Fahadh's performances seem more methodical than Mohanlal's instinctive ease with his characters. Like the scene in Amen where he acts coy, or the one where he sprints on the stairs after meeting Jimsy in Maheshinte Prathikaram, these are instances of the actor stylising even the most natural of actions.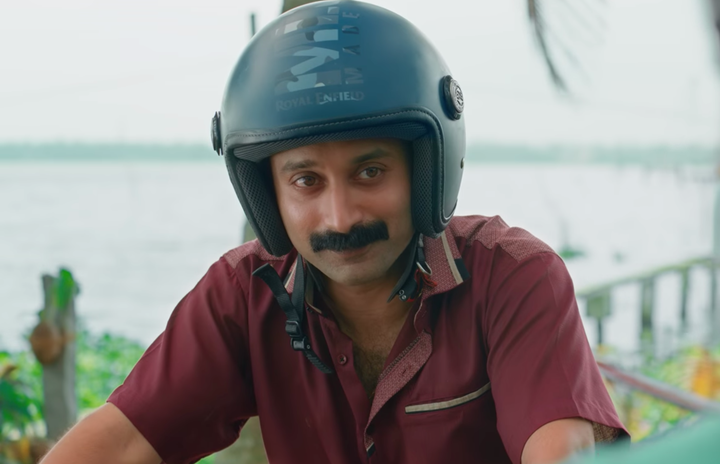 It is also interesting that Fahadh, for all his metrosexual appeal, can pull off rural characters with élan.
"I believe he is a villager at heart, hailing from Alappuzha. He is very grounded, and a village isn't unfamiliar to him. Initially I was apprehensive as I was a new director and Fahadh wasn't a box office draw but then the film didn't require a star. That he is a good actor has been the main criteria. I gave him space to perform and he revelled as an actor," said Dileesh Pothan, who directed the much-acclaimed Maheshinte Prathikaram and Thondimuthalum Driksakshiyum.
"He is an actor in the purest sense. He isn't addicted to stardom nor is he particular about drawing all the attention to himself in a film. He just wants to be part of good cinema," said Aparna Prashanthi, a film critic for online portal Azhimugham.
This extends off screen as well—while every big and upcoming Malayalam actor has fan clubs dedicated to him, Fahadh has refused to encourage fan clubs in his name—he has always maintained that "young people should study instead of spoiling their lives for film stars."
From his own admissions in interviews, he has the ability to say no, even to friends. He is also enthusiastic about working with new directors. In fact, veteran directors have often spoken out against him for backing out from projects he had given his word to or for refusing to be part of their films. "I think it's better that way for both of us," Fahadh had said in a television interview.
Most of his notable films are character-driven (Annayum Rasoolum, Thondimuthalum Driksakshiyum, Bangalore Days), and many of his popular characters have been flawed, vulnerable heroes. He is a product of new-age Malayalam cinema, where superstardom has begun to wane, and alpha male heroes have been exiled.
He has co-produced three films so far and that too with his closest friends—Iyobinte Pusthakam and Varathan (with Amal Neerad) and the upcoming Kumbalangi Nights (with Dileesh Pothan).
"Fahadh is known to work only with friends and though it has worked in his favour, I am not sure he should restrict himself to a certain group," said Sreedhar Pillai, film analyst. It's also interesting to note that Fahadh's production company is called Fahadh Faasil and Friends. A director said on condition of anonymity that it is difficult to convince Fahadh to do a film but once he is on board, he is a delight to work with.
Fahadh is married to another popular actor, Nazriya Nazim, but has always been careful not to let his private life overshadow his acting. Last year, he was also part of a group of actors who refused to attend the National Film Awards function after being told that I&B minister Smriti Irani would hand out their awards instead of President Ram Nath Kovind.