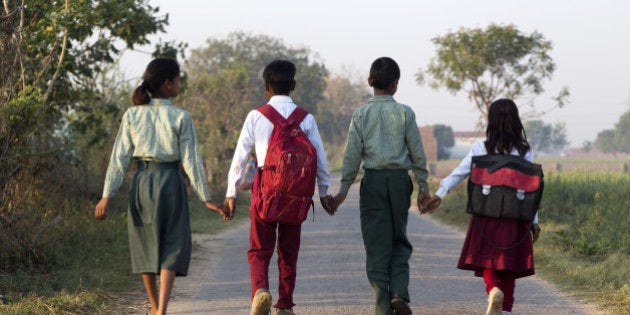 Raunak Banerjee was scared of heights. On 29 June, 2016, the 14-year-old school boy threw himself off the 10th floor of his apartment in JP Nagar, Bengaluru, leaving behind a suicide note that allegedly hinted at sustained bullying by his classmates.
How does one apportion blame for the death of the teenager? One may start with society and the education system as the obvious culprits, but it doesn't take long before one gets entangled among the tentacles of a many-headed monster.
It is not clear if Raunak, a Class IX student of the Baldwin's Boys' High School in the city, was subject to such behaviour since his school opened on 1 June after a break, or if his ordeal had begun more recently.
Nor is it certain if the incident took place in the school bus or at the school where he had attended a mock United Nations session, unsupervised by any teacher, the day he went home and killed himself.
The police have not revealed the contents of the entire suicide note he left behind, even to his aggrieved parents, except to reveal one crucial portion of it, where he wrote, 'One of my schoolmates bullied me, it has been happening and it is intolerable. Those who I considered my friends have betrayed me.' Irrespective of the exact reasons for his decision, the trigger must have been strong enough for the boy to take such an extreme step.
In the week since the incident, the police have made little progress with the investigation, while the school has asked Raunak's father to speak to the parents of the other students to learn more about his son's death. More insensitive reactions would have been hard to come by under the circumstances.
The delay in the proceedings has not only worsened matters for the grieving family but also allowed for time to tamper with any evidence. Raunak's sister has launched a campaign for justice on change.org, urging the Karnataka education minister to initiate 'a state-wide anti-bullying drive'.
The Karnataka State Commission for Protection of Child Rights has issued a notice to Baldwin Boys' High School. Any suicide, even one that may have been caused by seemingly obvious reasons, is hard to fathom. But Raunak's death, apart from the pain and suffering it has inflicted on his family, has brought attention to some longstanding failings of the Indian education system.
Indian schools, even the most elite ones (Raunak's school, for instance, is fitted with CCTV cameras) have a long way to go in dealing with bullies. Punitive actions, such as issuing transfer certificates to defaulters, are not enough to stop incidents of cruelty and humiliation.
Bullying is hardly ever directed at an individual by another. It is usually fostered by a peer group and requires intervention at a collective level. Schools need to take every complaint with utmost seriousness, instead of being flippant and treating it as minor aberrations.
Few, if any, Indian schools have trained in-house counsellors as a mandatory part of their staff. As a result, generations of young boys and girls, have had to learn to navigate through adolescence, perhaps the most difficult phase of their lives, without anyone lending a sympathetic ear to them.
Apart from having a support system in the form of mental-health experts, schools need to introduce compulsory life skills lessons at an early stage to inculcate certain core values.
Change needs to begin at home. Most young people in India do not have a space to discuss their deepest worries with members of their families – and that itself is one of the roots of the trouble.
As Raunak's family awaits justice, it is now up to the schools to ensure that no young lives are snuffed out because the system failed them.
Popular in the Community