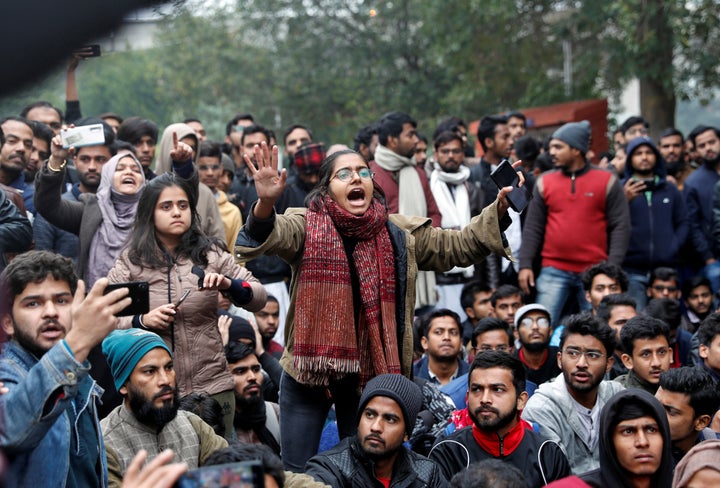 There are multiple protests and political rallies being planned across the country, including one at India Gate in New Delhi at 6pm today, following widespread outrage after several reports showed Delhi police and CRPF personnel brutalising students from Jamia Millia Islamia University on their own campus on Sunday night.
Students were protesting against the Citizenship Amendment Act and several others claim they were not even part of the protests but were attacked anyway.
Thousands gathered at Delhi Police Headquarters in ITO late Sunday night, expressing solidarity with Jamia students, several of whom were detained by police while about 200 others were injured, including some who were trapped on campus and couldn't seek medical help.
All detained students were released by police around 2:30am on Monday, 16 December.
Political activist Harsh Mander and advocate Choudhary Ali Zia Kabir released a statement after meeting with the students who were detained at Kalkaji police station, repeating students' reports of police violence against them, and adding that the police and CRPF had sexually abused women in the girls hostel after switching off the lights to avoid their acts showing up on CCTV cameras.
NDTV's interview with a distraught Jamia student, Anugya, went viral as the sobbing woman told reporters that she and several other women had decided to go home and leave the hostel after Sunday night's events.
She angrily asked what the point of an education was and said today, of all days, she was meant to take an exam on constitutional law but there was nothing left of the Constitution now.
Several opposition parties, including Congress, have condemned the police's actions, while Delhi CM Arvind Kejriwal is meeting with Home Minister Amit Shah, since the police come under the latter's purview.
West Bengal CM, Mamata Banerjee has led a rally against the Citizenship Act in Kolkata today.
Mumbai, Lucknow, Hyderabad, Aligarh, Chandigarh, Bengaluru, Chennai, Varanasi are just some of the cities seeing more student protests today as students across the country mobilise to express solidarity with Jamia students and protest against the Citizenship Act.