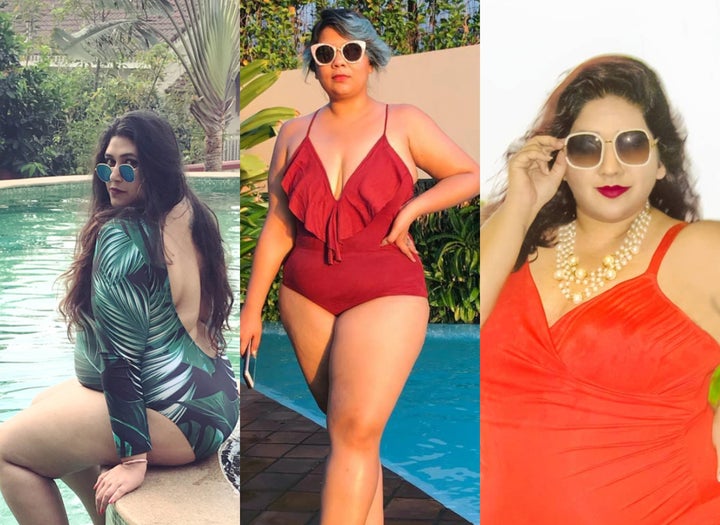 When Tanvi Geetha Ravishankar decided to do a swimsuit photoshoot, she had to ask a friend to buy and carry one back from the US because no brand was shipping to India, and Indian brands weren't making anything in her size. Two years on, while the fashion scene has marginally improved, people, unfortunately haven't. Trolls, Ravishankar said, go to the length of morphing her face on pictures of thin bodies to insist those are the bodies which 'deserve' to wear a bikini.
Being a plus-sized model is hard, being one that has the audacity to model beach and intimate wear is infinitely harder in India, given the ideological war that society insists on waging on women's bodies. We spoke to six plus-sized professional and self-styled models and influencers about their lives, and how they navigate a world where viciousness and hatred needs only a laptop and an active Internet connection to rear its ugly, vitriolic head.
Neha Parulkar, 27, Mumbai
Following days of scouting websites and shops to find one that fit, I was finally in Goa in my first ever swimsuit! A greater part of my life before that had been spent thinking swimsuits look good only on thin people — my parents were among the people who believe that to be true.
This was in March last year and I remember feeling very nervous and awkward, because so many people around had these clearly disapproving looks on their faces. But then my boyfriend took a photo and I thought I looked fabulous, so I asked him to take more. That's how it started. Now I love doing it. Late last year I wore a two-piece swimsuit, and last week I shot for a calendar in lingerie.
In 2016, I entered a contest for a lark and ended up walking the ramp for Lakme Fashion Week. However, after that, I worked for free for almost an entire year. Brands treated plus-sized models very shabbily. I managed to pull through because I have a full-time job at a bank in the corporate marketing department. I'd love to be a plus-sized model and influencer full-time but I can't afford it, given how brands still exploit plus-sized models in India.
At LFW, brands would pay thin models, but wouldn't pay plus-sized ones because they thought, and still think, that they're are giving us exposure, and we need them, they don't need us. Even when they do pay, brands pay thin models way more than us. Most brands just want to give us their clothes in exchange for our work. My first paid assignment was in 2017, and I was so thrilled because more than the money it was about knowing that my work and I were of value.
Even now, despite growing acceptance, I have to face derogatory, dehumanising comments every day. Trolls, especially men, flood my private messages asking for my charges per night, what my boob size is, calling me a slut, buffalo… the list is endless. I choose to focus on the positive comments and all the people who call me a role model, instead of those who take sick, sadistic pleasure in hurting people.
I tell myself that they have no life of their own, so they are so consumed by what others are doing. And I think about my wonderful, supportive boyfriend who I only found because he loved my photos on Instagram and reached out to me one day, about 18 months ago. Life's good, when the blessings outnumber the pricks."
Roshini Kumar, 25, Mumbai
It's taken me 10 years to get completely comfortable in my body. I was about 15 when I was diagnosed with stage four cancer. By the time I got rid of the disease, I had the body I had always dreamed of, but I couldn't even sit up without support.
Over the next 10 years, my relationship with myself changed, as I taught myself to love the body that was witness to my battle to stay alive. In 2015, I did a nude shoot because that was the time I started accepting my body for what it was.
When my mum saw the photos for the first time, she was shocked. We had a chat about why I was doing it — the nudity was about self-acceptance, not 'skin show' as people tend to label it.
Professionally, I'm a photographer, and I refuse to do any skin retouches in the edit. I never called myself an influencer — offers for brand endorsements came due to my activism about body-positivity. When you post photos of yourself in lingerie, it becomes the thing that defines you, and your partner becomes the person who is dating "that" person. I've had a couple of boyfriends who were uncomfortable with what I was doing. I find it very off-putting and don't have patience for people who can't accept me for who I am.
Neelakshi Singh, 27, Mumbai
The first time I did a photoshoot in a swimsuit for a fashion magazine last year, my parents were pretty upset because "what will people say". As someone who has suffered from bulimia, I know how unhealthy the obsession to look a certain way can be. So, I told them that I was going to keep doing it.
I have been a plus-size model for six years and thankfully, I haven't encountered too much trolling, even when I started modelling swimsuits. I know that people can be very cruel on the Internet, but people have been overwhelmingly kind to me. I try to know my followers, and interact with them, and help them in whatever capacity I can. Besides, I regularly screen my followers and block the ones who try to spread negativity.
Being photographed in swimsuits or intimate wear is not a form of rebellion for me. It's just something I really enjoy, and it makes me feel good about my body. My best friend is my photographer for most of these shoots because he's always encouraged me to push my boundaries.
I teach fashion visualisation, branding, innovation and history at NIFT and Pearl Academy. I have come to realise that brands still look at the plus-sized segment as a media wave they need to ride. A regular model or influencer will be approached for collaborations by other industries like travel or beauty or F&B, but plus-sized models will only be approached when brands want to project themselves as body positive warriors or when they want to make a statement. We are not part of their 'normal', and so we get paid lesser, don't get the same treatments.
Designers don't want to pay plus-sized models for walking the ramp for them at fashion week — as if they're doing us some favour. And a lot of the times the plus-sized clothes, beach and resort wear, are ridiculous and unflattering.
Rachna Baruah, 25, Mumbai
When I started posting photos in beachwear last year in July, I wondered if I should block my mother on social media. But I didn't because I wanted her to find a way to accept this part of me.
I knew she would disapprove. When she first saw the photos, she told me that she couldn't understand why my generation needed to take photos in bikinis like this.
I told her it wasn't about 'skin show', it was about taking charge. I can still sense her disapproval, though she's not vocal about it anymore. There are relatives who will try to create mischief by calling my mum and making snide comments. I just called them up and shut them down.
What kept me going, however, were messages from friends who told me they too felt dejected and trapped in their bodies, and watching me celebrate my body was empowering for them too.
I was always a skinny person, but about two years ago I put on weight due to PCOS. The image I had of me in my head and what I saw in the mirror were completely at odds. I did not post photos in swimsuits online to become an influencer or a model — I run my own PR company and I'm very happy with my career. Those photos were simply my way of telling myself and the world that all kinds of bodies deserve to have fun, and be seen.
I'm also fortunate enough to have a very supportive boyfriend who is always taking pictures and encouraging me to put them up. Thank god he doesn't feel entitled to tell me what I should and shouldn't do with my body!
Kripanjali Tellis, 30, Mangalore
I was raised by my grandmother single-handedly. She is 94, but I can't remember a single incident when she shamed me, even as a child. As a result, I grew up feeling confident about my body, and did not have the apprehensions most women are conditioned to have about wearing clothes termed "inappropriate".
But I live in Mangalore, which is a very small and conservative place. So I have to be very careful about where I wear clothes that show skin, even though I have been posting on social media for almost three years. I've been approached by brands for collaborations, but between my job as a nurse and taking care of my grandmother, I don't have the energy to take this up professionally.
I've started modelling beachwear and lingerie, but I haven't yet found the courage to post them on my own accounts — I'm not prepared for the judgement yet. I share them on a a third-party Instagram account dedicated to talking about body positivity. I am better at dealing with nasty people in real life. Just a month ago, a group of young boys at the pool made fun of me and my friend saying, "Look at your bum, it's like a watermelon."
They haven't been seen at the pool again, after the sharp dressing down they received from us. I'm working up the courage to post swimsuit photos online, but I know that once something is on social media, it's hard to control the reactions and trolling. Even so, it's definitely on the cards.
Tanvi Geetha Ravishankar, 30, Mumbai
The only time I've been unhappy in my body is when I had my heart set on becoming a professional dancer after college and I was told that I couldn't be one unless I lost weight. I starved myself and lost 35 kilos, but even then I was told I wasn't thin enough. I decided I didn't want to go through life hungry and unhappy, so I became a fashion stylist.
I posted my first photo in beachwear on Instagram in 2017. My husband was my photographer and we were on a holiday in Maldives. But I remember how I could not find a single nice swimsuit in India that would fit. I requested a friend to get me one from US before the trip. In 2016, when I was getting married, I got a swimsuit custom made because no one sold them in my size here.
Then there's the issue of trolls — online and offline that women have to deal with. Often acquaintances call up my mother and make snide remarks about my photos. Thankfully, she knows how to shut them down.
The internet is a cruel place and more so if you're a woman. Very recently, one Instagram user went to the extent of morphing my swimsuit photos to tell me that I look like a fat cow and I should only model them when I became as thin as the photoshopped version.
I took up modelling and blogging in 2016 after getting visibility at the plus-sized show of Lakme Fashion Week. Seeing me in swimsuits is very natural for my family — they've seen me in them all my life and never had any issues. I'm glad that's not changed just because I decided to be photographed in them.