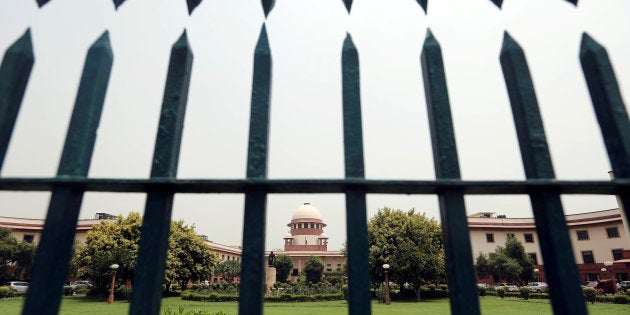 Bengaluru, KARNATAKA: On Wednesday, the Supreme Court ruled on the constitutionality of India's controversial biometric identity project called Aadhaar. It is still mandatory for filing tax returns and to access welfare schemes, but bank accounts and phone numbers don't have to be linked to it anymore.
Critics have described Aadhaar as a gateway to building a police state, but supporters insist that the project reduces corruption, brings about savings and greater efficiency in governance.
If you've missed the many twists and turns of the case till now, here is all you need to know:
What Is Aadhaar?
The Aadhaar project, overseen by the Unique Identification Authority of India (UIDAI), came online nine years ago, and is on track to become the world's largest repository of biometric information—containing the fingerprints, iris scans and personal information of over 1 billion Indians.
The idea behind the Aadhaar was to make it simpler to identify people and better target the delivery of government services, while also making it easier for companies to use the data for business, and encourage new start-ups to take advantage of the platform.
Over time, Aadhaar transformed from an identity document required only to access government subsidy programmes, into a ubiquitous form of personal identification to get passports, bank accounts, cellphone connections and everything in between.
It also forms the basis of India Stack, a set of programme-interfaces that serve as a platform for the government and businesses to build infrastructure that allows for payments, and a "Know Your Customer" service to authenticate people.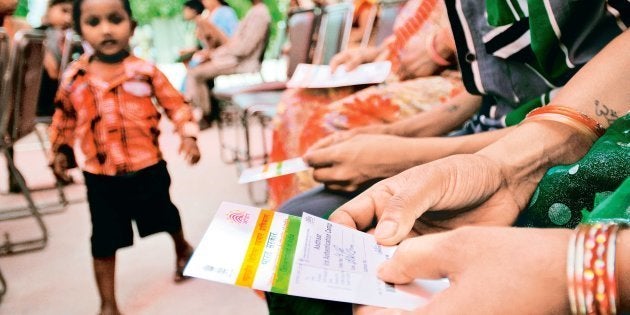 Why Is Aadhaar Controversial?
Most of us know Aadhaar as an annoyance—having to link it to our income tax payments, requiring it for death certificates or maybe being asked to produce it to get deliveries from Amazon.
But for many Indians, Aadhaar has been much more dangerous. For instance, an 11 year-old-girl in Jharkhand, Santoshi Kumari, starved to death after being denied government subsidised food, because her family did not have an Aadhaar card linked to their ration card. Apart from her, there have been at least 14 more starvation-deaths linked to Aadhaar, where the unpredictability of the service has meant vulnerable citizens have been denied access to state support.
There's the war widow in Haryana, Shakuntala Devi, who died in a hospital because she didn't have an Aadhaar card. She was brought to the hospital in a critical condition owing to a heart problem, and her son was able to produce his own Aadhaar number, but not his mother's.
There are many stories of manual labourers being denied Aadhaar benefits, since their work leads to damage to fingerprints, so the biometric checks don't clear. This is also a problem for the elderly, and for an 81-year-old former ISRO scientist, Aadhaar has meant he faces uncertainty about his disabled son's future, as he can't carry out biometric authentication at his bank.
At the same time, the exponential growth of the project has sparked concerns among security researchers and academics that India is on the first step toward setting up a surveillance society to rival China's.
In the state of Andhra Pradesh in India, there's a war room next to the state chief minister's office, where a wall of screens shows details from databases that collect information from every department. All of this is gathered together into dashboards that can be accessed by the officials over the Internet—and anyone else as well, as many departments set up no access controls.
Is Aadhaar Secure?
Aadhaar's ubiquity means that almost every government department, and other public institution you interact with, uses the number. And many of these bodies have not taken steps to secure the data they collect. Government websites leak the Aadhaar numbers of students, while the Department of Posts asked people to paste copies of their Aadhaar cards on top of parcels. Another leak put the bank account and Aadhaar number of people just one Google search away.
"They can't protect it until they encrypt it and stop sharing data," said Srinivas Kodali, an independent security researcher.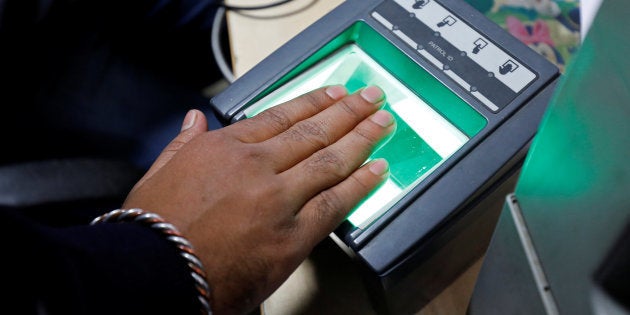 To make things worse, the Aadhaar software itself has been built up over the years as the result of a series of pragmatic choices, which today compromise its security as well.
HuffPost India found evidence that the enrolment software used to add people to the Aadhaar database was compromised, and versions of this software are being sold over WhatsApp.
Gustaf Björksten, Chief Technologist at Access Now, a global technology policy and advocacy group, was one of the experts who analysed the patch used to compromise the software at HuffPost India's request. "To have any hope of securing Aadhaar, the system design would have to be radically changed," he said.
To enable a fast rollout of the Aadhaar, even in villages where electricity and Internet access are a problem, the designers chose to build a system where the operator's laptop carries all the relevant software, and can collect people's information even offline. This decision to install the software on each enrolment computer, said Björksten, "puts the running of critical components of Aadhaar in the hands of the enemies of the system".
What Did The Supreme Court Decide On Wednesday?
The court reviewed 27 different petitions—each challenging a slightly different aspect of the system. For instance, the courts had to decide if it is legal to make Aadhaar mandatory to access government subsidies, because the state is constitutionally required to deliver them, and requiring the Aadhaar document can lead to exclusion.
It also needed to decide if the method by which the Aadhaar Act became a law was constitutional, since it was passed as a money bill. There was also the question of whether it violates the fundamental right to privacy, which was declared by the Supreme Court in a separate judgement a year ago, based on one of these 27 petitions, brought by the 92-year-old retired Justice KS Puttaswamy.
Petitioners also argued that using Aadhaar to track and profile people is unconstitutional, and builds a surveillance state. This is already happening in some parts of India and combines databases of information about citizens, with those that include cameras, data from IoT devices, and social media feeds from across the state.
In its judgement, the Supreme Court declared the Aadhaar to be constitutional, and said that it could be brought in as a money bill, although Justice Chandrachud in his judgement in dissent strongly disagreed.
The court also ruled that the use of Aadhaar for welfare schemes should continue, and upheld the validity of linking Aadhaar to PAN cards. However, the court held that linking of Aadhaar numbers to bank accounts was unconstitutional.
The majority judgement of the court also read down Section 57 of the Aadhaar Act of 2016, holding that private companies cannot insist on Aadhaar numbers from citizens to provide services.