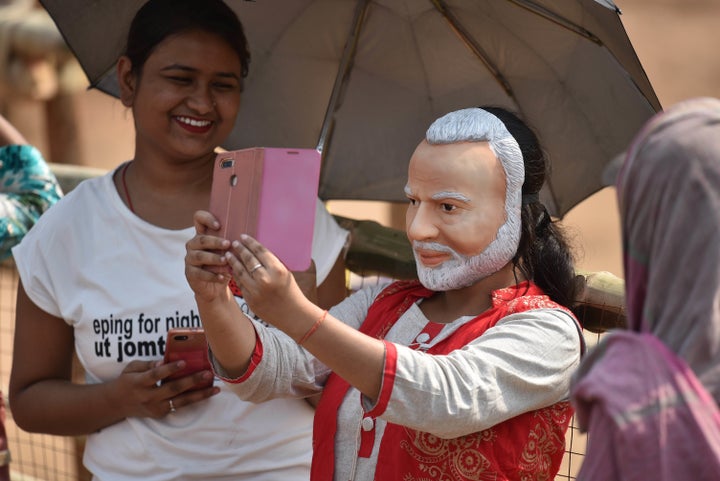 During fieldwork in 2011–14 and again in 2016, I began to see political supporters of Chief Minister Narendra Modi engaging in the curious practice of collective masquerade. In various public venues at the time, still visible today on countless photographs and in video recordings, large groups of people gather in which every single individual makes the same face. They all wear a Modi mask. The photos seem eerie for what they lack: individual facial expressions. The mask, one of which I purchased, is a rubber contraption that depicts the face of the Indian politician not as parody but in typifying detail. The practice started around 2007 when Modi had not yet entirely overcome major legal and political hurdles linking his administration to the Gujarat pogrom. It had, for Modi, a brilliant effect: the sea of masks made every photograph of a crowd gathering in his name a permanent visual advertisement for his face. Crowds of every kind are ubiquitous in India. In linking name and face via the crowd, Modi's face became iconic beyond Gujarat. With his mass appeal and popularity steadily increasing, the Modi mask soon became an item en vogue.
Several types of masks circulated in various periods of electoral and public agitation leading up to the general election in 2014. Street workers, Modi supporters, and sometimes accidental bystanders, wore these masks during mass events. Some were made of stiff plastic, others of colored paper, but the most popular one was made of a soft, pliable rubber—the type one finds in Halloween stores in the US. It reminded me of the masks worn in the famous British comedy series Spitting Image. The soft rubber is produced by an India-based company and when worn causes heavy perspiration. It also smells strongly of the petrol chemicals with which synthetic rubbers are made. This most popular version of the Modi mask, covering only the front part of wearer's face, depicts the politician's facial features most accurately. During his national campaign in 2013–14, it far outnumbered the others. It faithfully depicts Modi's distinctive features: smoothened white hair, high forehead, light skin tone, small ears, rimless eyeglasses, thick, full lips framed by a white mustache that blends seamlessly into the edges of his beard. The soft rubber material is of a kind that allows adjustment to any head size or shape while also minimising distortion of facial features. For an Indian today, it is impossible to doubt who this mask presents.
These masks acquired an unintended humorous quality at times by transferring the politician's increasingly familiar features into strange social televisual contexts: dark-skinned tribal women as Modi-versions in interviews espoused economic development in their own unique tongues and voices; dusty rickshaw-drivers looked like Modi clones as they stuttered awed excitement about the prospects of a decent living wage into a reporter's microphone; an athletic muscle-man in a T-shirt stretched his pecks into the TV camera, impersonating the somewhat plump and more humble politician while speculating about the future of health in the nation. And then there were countless children hidden behind a single overlarge adult face with white hair—all of them sweating profusely under the soft plastic in the incredible heat. In the mask their voices resounded hollowly through its orifices articulating their hopes for a better India, all hiding behind the rubber contraption.
"The Modi mask is the plastic symbol of a new political formation that the BJP came to dominate. By presenting a single face and focusing all attention on only one man's features, some degree of definite clarity in appearance was achieved which in the election attracted many voters."
The popularity of Modi masks can be contrasted with the popular disenchantment with the Congress system. There is no face in the Congress Party today that could do the work that Modi's face does for the BJP. It's former leader, the Italian-born Sonia Gandhi, represents a cosmopolitanism that is popularly disparaged as 'Western'. Rahul Gandhi, its current leader, after winning his father Rajiv's old seat in Amethi, UP, in 2009, did very badly in 2014 by bestowing on Congress one of its worst defeats. Congress has other problems relevant to representation and delegation: a very complicated mechanism of segmented representation; and the internal layering of dynastic rank, primogeniture, and traditional power as against the promise, however naive, of a singular strong authority. While Modi was able to oust his immediate predecessors, Rahul can ill afford to show disrespect to his mother. The Congress umbrella doesn't open properly any longer. Such a decisive identification with a political leader like Modi is a phenomenon that has not taken place at a national scale in India at least since the days of Indira Gandhi. The Modi mask is the plastic symbol of a new political formation that the BJP came to dominate. By presenting a single face and focusing all attention on only one man's features, some degree of definite clarity in appearance was achieved which in the election attracted many voters.
A crowd is usually understood to be a faceless phenomenon, but these political crowds found their face in Narendra Modi's. This identification through masking becomes more intelligible when placed alongside the context of how people used them for the ubiquitous Indian ritual of tilaka: putting a mark of red vermillion on the center of their foreheads in order to honour the receiver. By putting a tilak on the rubber mask instead of one's actual face, it suddenly became unclear, who was being honoured by this habitual act. Is it the anonymous individual wearing the mask or is it the important persona depicted by the mask's surface features? The convergence of the anonymous member of the crowd with their designated leader was now complete: the politician as the representative face of the group and the group as the embodiment of the man.
A mask is an object that depicts and conceals at the same time. While the facial features depicted in and through the mask are shown, the face beneath it remains hidden. There is something strange happening when someone puts on a mask. Something breaks in the air. There enters a new presence, a supplementary address by a third, and this address becomes interrupted once it is taken off again. Masked supporters of Modi never seem to want to take off their masks while cameras are rolling or while photos are being shot. This, despite the fact that it was highly unlikely they would ever again be on live TV. I found the insistence on remaining concealed surprising, because I assumed that one way to emphasise the authenticity of one's opinion is to add one's individual features to it—i.e. to take off the mask. It reminded me of veiled Muslim women in Gujarat, who will often tie a niqab tightly when cameras are rolling for the duration of what they have to say, only to relax the practice a moment later, when they hail their rickshaw and drive home. The women want to become visible to an anonymous public only as pious and veiled and without their individual facial features. The Modi supporters similarly did not want to add something that might disturb the smooth surface of their leader's rubber replica. Instead of becoming visible as who they were, they made themselves invisible as members of his crowd.
And yet, it is insufficient to understand this practice, the wearing of a mask of the leader by political supporters, as a unidirectional affair. The mirror works both ways. In India, politicians, too, wear the coverings of their potential voters. Election campaigns include elaborate tours through regions and the countryside, as well as cities in the Indian union during which candidates engage in spectacles of costuming that sometimes approximate a veritable carnival of sorts. Enveloped by playful accoutrements, such as coats and shawls, they pose bearing typifying swords, and especially colourful turbans or other headgear originating from various ethnic, regional, and caste communities. Sometimes the head coverings make them even look silly. Such productions are a remnant of a once much more elaborate ceremonial logic of honouring the stranger as a visiting guest.
For electoral candidates, sartorial styles, wearing garments and displaying other regalia, are symbolic strategies, especially while on the campaign trail.They offer token recognition to particular identities of which there are many in India. The practice of wrapping oneself in unfamiliar clothes is indexical of the inclusion and mutual consideration demanded in the world's largest and by far the most diverse democracy. Nowhere can one find such a density of kitsch and superficial yet also endearing symbolism as when Indian politicians take on the garbs of their respective audiences, offering studied postures and making bland, complementary statements. Yet, the exchange always remains reciprocal: the attention the people give to the candidate (the guest) is reciprocated by the attention the candidate gives to the regional specificities and particularities of the hosts. Wearing the Modi mask marks a dramatic break with this customary reciprocity: under the mask, the people do not become present except in the leader's image.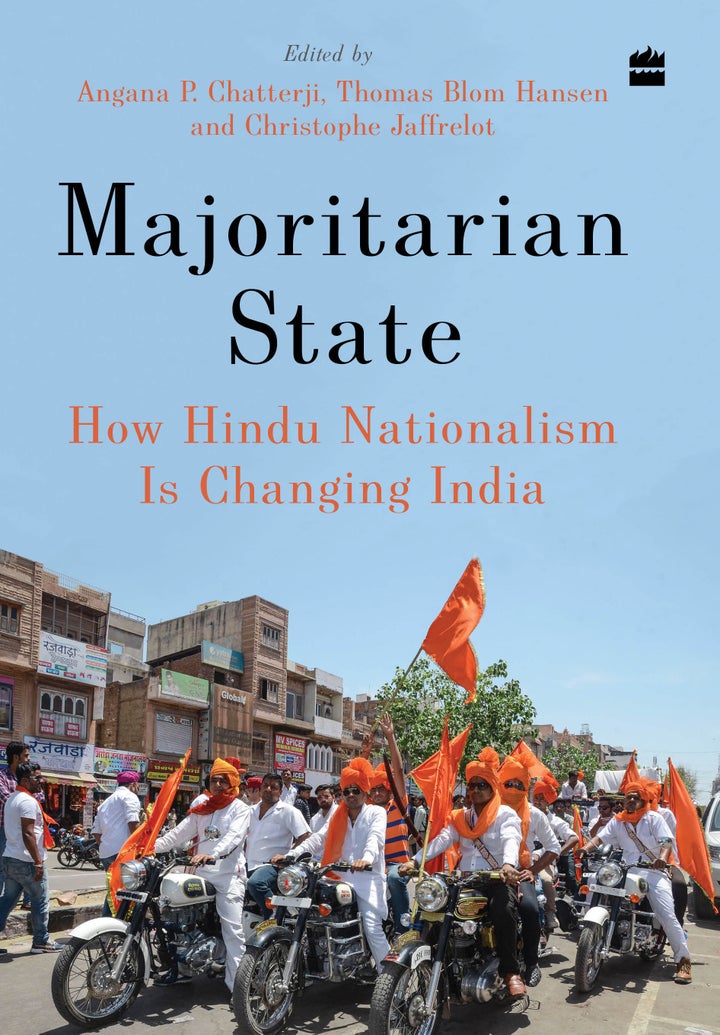 Parvis Ghassem-Fachandi is an Associate Professor of Anthropology at the Rutgers University.
Excerpted with permission from 'Majoritarian State: How Hindu Nationalism Is Changing India'. Edited by Angana P Chatterji, Thomas Blom Hansen and Christophe Jaffrelot.
2019/537 Pages 537/Hardback: Rs 899