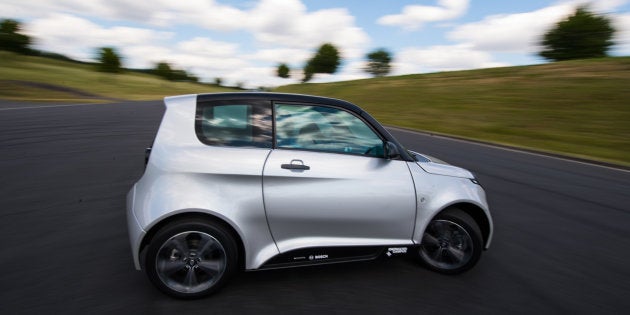 By 2030, says Power Minister Piyush Goyal, India would like to be a 100% electric vehicle nation. Calling it ambitious would be an understatement; Norway, the world leader in electric vehicles, introduced its wide-ranging and generous subsidies in the 1990s and only this year were 18% of all new car sales those of electric cars.
Here's where we are right now. The annual sales of electric vehicles in India are less than half the daily sales of non-electric two-wheelers alone. India sold around 25,000 electric cars and bikes in 2016-17, of which just 2,000 were cars, according to the Society of Manufacturers of Electric Vehicles. In comparison, India sold nearly 60,000 two-wheelers every day in 2016-17, according to the Society of Indian Automobile Manufacturers. (In addition, around 250,000 e-rickshaws were sold last year).
What everyone working in the renewable energy and automotive sectors in India agrees on, though, is that there is undoubtedly commitment and drive from the Modi administration on electric vehicles. The source of much of their excitement stems from a May 2017 report jointly published by the NITI Aayog and the US-based Rocky Mountain Institute. The report proposed a roadmap towards going all-electric by 2030, and its proposed fiscal and non-fiscal incentives in particular have industry players excited. On the fiscal side, it suggests introducing incentives to bring all Battery Electric Vehicles to cost parity with conventional base models, lowered excise duties and funding battery infrastructure development. On the non-fiscal side, it suggests providing priority lane access, free parking, limiting registration of conventional vehicles and others.
Realistically speaking, though, manufacturers of electric vehicles do not anticipate that Tesla--whose entry in India remains mired in confusion--is going to disrupt the Indian market or that India's Alto, WagonR and Swift-driving car majorities are going to switch to electric cars. "The shift is not going to happen with personal car ownership, primarily because of the cost," Mahesh Babu, CEO of Mahindra Electric, said in an interview to HuffPost India. His company is currently India's only manufacturer of electric cars. "There is a small group of people who are evangelists about the environment, and those people are the ones buying private electric cars," he said.
Where the shift will happen, industry sources anticipate, is in the fleet arena. In recent months, Mahindra Electric has tied up with cab companies/ aggregators including Ola and Zoom to launch electric cab fleets. "What we're going to see is that the number of electric four-wheelers in fleets are going to go up. Fleet operators find that it's not just environment-friendly, it's also economical to run EVs," says Babu. "Over a two-three year time period, the operating costs of electric vehicles go down substantially to 70-80 paise per km. In comparison, it will cost a fleet operator Rs 4-5.50 per km to run a petrol or diesel car over the same time period, assuming we're looking at a travel time of 200 km/ day," he says.
The authors of the NITI Aayog/ RMI report concur. "Our assessment of the opportunity is that market segments with favorable economics exist today, and these segments should be targeted for immediate deployment at scale. By doing so, India can lay a foundation for eventual market wide transformation. These segments include two-wheelers, three-wheelers, and commercial or fleet four-wheelers. The reduced operating costs of electric high-mileage four-wheel vehicles outweighs their higher capital cost in these applications, making them cost competitive with internal combustion engine (ICE) alternatives today. Over time, personal EVs can compete with ICE alternatives, but our vision for India's mobility revolves around shared and connected electric mobility," Clay Stranger, Principal at the RMI and joint lead author of the report, explained in an email.
The biggest question marks that remain are over battery and charging infrastructure. The battery remains the most expensive part of an EV, but there is a lot of innovation going on in the battery space, says Babu. Among the key players in this field is likely to be Chetan Maini, the founder of the Reva, India's first electric car. Maini's SUN Mobility is planning to build smart batteries for electric vehicles like cars, buses and scooters. Bringing down battery costs and building charging stations for millions of vehicles is a massive challenge for which there appears to be no clear roadmap yet.
Another option being discussed by manufacturers and the government is that of battery swapping--allowing the car to be sold without a battery, and for charged batteries to be picked up for use and returned after use at charging stations as and when needed. Unfortunately, battery swapping has failed in most countries and Tesla too is believed to have abandoned a pilot. In India, swapping could work for two- and three-wheelers which constitute roughly 80% of India's domestic vehicle sales and about 20% of India's national mode share, Stranger believes.
"Three obstacles for electrifying these segments are the higher capital cost, concerns about charging time and uncertainty of vehicle range. By stripping the battery out of the vehicle, the capital cost to the consumer comes down dramatically, making it a less expensive choice than an alternative internal combustion engine equivalent. It also reduces the recharging time to less than the time it takes to fill a tank, and essentially establishes unlimited range, since the batteries are modular and can be stacked. Other countries (notably Israel) have failed rather spectacularly in attempting to deploy a swappable battery business model, but that effort was directed at heavy, four-wheel vehicles, where the battery swapping technology is less applicable and more expensive," says Stranger. For two and three-wheelers, battery-swapping makes sense; for four-wheelers, fast-charging is the future, Babu agrees.
And then there is the question of power availability. While electricity generation in the last few years has missed its (admittedly ambitious) targets, demand has also slowed. With power growth rates now below GDP growth, supply isn't the biggest bottleneck for electric vehicles, says Rahul Tongia, a Fellow with Brookings India and an expert in energy, electricity and sustainable development, who was Technical Advisor for the Government of India's Smart Grid Task Force. "Even if we talk about two million vehicles drawing household sized plugpoint energy of 3 kilowatts at a time, that's six gigawatts--not unmanageable for the Indian grid, especially at non-peak times," says Tongia. What we need to be clear about is what we want from the grid, and this depends on vehicle type, usage pattern, time of use etc. says Tongia.
Undoubtedly, the Modi administration, and Goyal in particular, seems poised to strongly support the move to electric. The NITI Aayog/ RMI document suggests that the path forward could be first moving to electric two- and three-wheelers, then commercial four-wheelers, and then private four-wheelers and public buses. India's electric future may be better represented by the e-rickshaws hurtling through Delhi's by-lanes than by Tesla's Model 3; accepting this might help plan better for 2050, if not 2030.
Popular in the Community