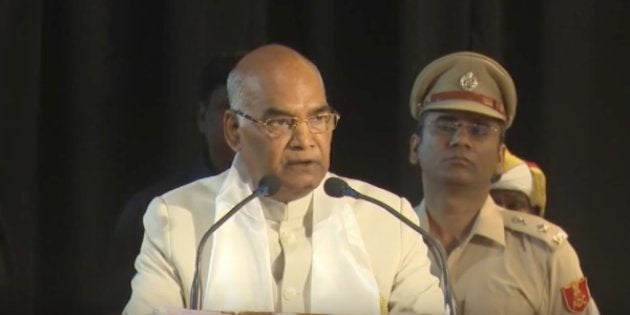 During his two terms in the Rajya Sabha, spanning twelve years from 1994 to 2006, BJP's Presidential candidate Ram Nath Kovind championed reservation for scheduled castes. However, he also held some unusual views on several subjects ranging from reservation to satellite television.
A look through Rajya Sabha's archives show that Kovind was an active Parliamentarian and frequently raised questions regarding the implementation of reservation for SCs and STs. He also often discussed the implementation of schemes in his home state of Uttar Pradesh.
However, as an opposition MP, he clashed with the UPA on the issue of private unaided educational institutions run by religious and linguistic minorities being exempt from reservations for SCs and STs.
He also occasionally demonstrated the fear of cultural 'invasion' through the advent of satellite television channels and foreign broadcast content that gripped many leaders in the late 1990s. In a question posed in July 1996, he worried about adult movies and uncensored content on television, and asked what the government was doing to "stop the cultural invasion by foreign channels".
In a question posed in July 1996, he worried about adult movies and uncensored content on television.
In March 1995, he wanted to bring to the government's attention the fact that 8 to 10 movies were being screened on television every week and "whether Government are aware that most of the time is wasted by the children in seeing TV movies and serials; and...if so, what steps are being taken to reduce the number of movies being telecast in view of health hazard and deterioration of education standards". (The then Minister of State of the Ministry of Information and Broadcasting K P Singh Deo responded that regulating TV watching was the job of parents.)
When the format of the music show Chitrahar was changed, he complained about the new look and said that it was "not liked by the masses". The minister replied that the show had been modernised and its viewership had gone up.
Kovind also held some unconventional views on electoral reform.
Kovind also held some unconventional views on electoral reform. During a June 1998 debate on a Private Member Resolution on electoral reform, he proposed that the term of the Lok Sabha and state assemblies be fixed for five years, compulsory voting be introduced, only pre-poll and not post-poll alliances be permitted and that the number of political parties allowed to contest be restricted to a small number.
Some of Kovind's Rajya Sabha interventions have interesting modern-day resonances. In June 1998, he asked then Finance Minister Yashwant Singh whether the Rs 1,000 note that had been demonetised in 1978 "to curb black money" was likely to be reintroduced. (It was, later that year.) He also asked whether it had, in fact, curbed the circulation of black money.
In a 2006 discussion on a Bill introducing truth as a defence against contempt of court, Kovind remarked on the extraordinary privileges of the judiciary, privileges that he said set it above even the President: "Sir, judiciary is also a part of the system of the Constitution. And, we can say that the Judges of the High Courts and the Supreme Court are appointed by the President of India. If the President of India, i.e., the appointing authority can be criticized, if we can react as people's representatives or any citizen of this country can criticise the President of India for his wrong-doing, I don't think, it could be a valid reason if judiciary is exempted. But it has been done so, just to maintain the independence of the judiciary." Kovind supported the Bill.