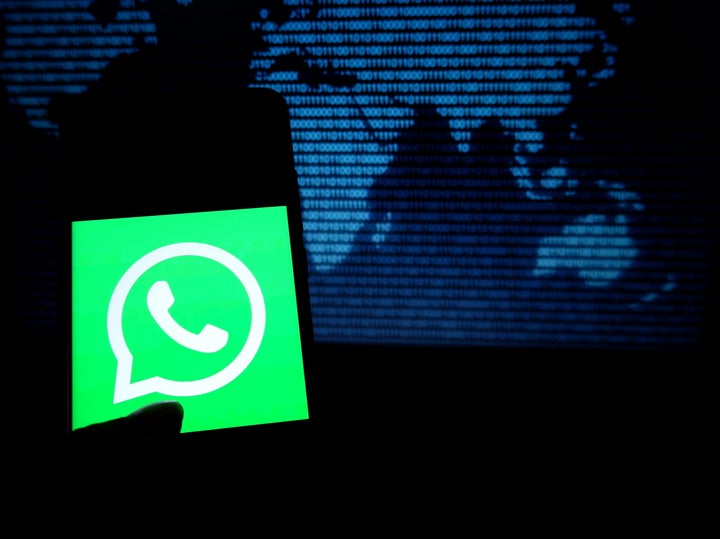 NEW DELHI — "Is your name Sandeep? Tell me your real name," shouts a man off camera, as he films his conversation with another man, who appears to be a street hawker.
The hawker nervously tries to pass himself off as "Sandeep," before admitting his name is Faheem.
"All you Muslims are selling these kinds of things," his interrogator said. "Money is getting stolen in villages. You are making Hindu children sick by selling adulterated food."
Anti-Muslim content like this three-minute video is frequently shared in the Whatsapp group of the Residential Welfare society of a Delhi colony, a Supreme Court lawyer who resides in the colony told HuffPost India.
Five years after Narendra Modi first swept to power, and months after his re-election in a polarising general election, anti-Muslim rhetoric has been normalised to point that it is freely shared in Whatsapp groups meant to coordinate the activities of Resident Welfare Association (RWA), in professional groups set up by work colleagues, and in family groups.
Election related content — like jokes, videos, and memes directed at politicians — have stopped since the 2019 Lok Sabha election concluded in May, but communally charged, anti-Muslim propaganda continues.
"This is an organised attempt," said Pratik Sinha, the founder of fact-checking website Alt News."The communal misinformation has become more aggressive now. There is a continuous churn."
While May 2019 kept Alt News's fact-checking team busy with election related news, six of the seven viral fake news stories Alt News fact-checked in June targeted Muslims.
A recent Reuters study on news habits in India found that 52% of their respondents received their news from Whatsapp, and 34% of news consumers trusted news from social media (compared to 36% of news consumers who expressed faith in the media).
Sinha said political parties were using this "lack of digital literacy" — where people do not distinguish between real and fake news — to create false and divisive narratives.
The decentralised and private nature of these Whatsapp groups makes it hard to pin down exactly who is pumping this venom of communal hate through the veins of the Indian polity.
In April this year, HuffPost India reported on a secretive BJP-financed company devoted to producing propaganda that could not easily be traced back to the ruling party.
"The communal misinformation has become more aggressive now. There is a continuous churn."
A BJP voter
The Supreme Court lawyer who allowed HuffPost India to peek through his Whatsapp groups, has lived in this residential society for the past ten years.
As more people started using Whatsapp, he recalled, residents created these groups to coordinate society events, and pass on useful information.
The anti-Muslim propaganda, he said, started after 2014. One message, which was doing the rounds in 2015, invited people to join a training program as a volunteer of the BJP's campaign through Whatsapp.
"The message said that your progress would depend upon how active you would be with the campaign of BJP in social media," he recalled. "I strongly believe that such people are the result of that drive."
"Such people," the lawyer said, are the few people in the group who repeatedly post hateful anti-Muslim messages.
The Supreme Court lawyer says that he votes for the BJP because his family is loyal to the party. He liked former prime minister Atal Bihari Vajpayee for his "vision," infrastructure development, building highways, interlinking rivers, and his efforts to resolve the complex issue of Kashmir.
"I have always been a liberal person and I rate myself as secular. I liked Vajpayee for his vision but always had an inclination towards socialism adopted by Congress. However, I always believe that their understanding of secularism is flawed," he said.
This BJP voter is not a fan of how the Hindu nationalist party's present brand of politics. He believes, however, that it is Congress's failure to separate religion from politics that is responsible for BJP's success.
"I hate Modi because I feel that for immediate gain he has divided the country on religion. BJP was a Hindutva party but now it has turned itself into anti-Muslim party and is propagating something which intends to make our thinking regressive," he said.
"I hate Modi because I feel that for immediate gain he has divided the country on religion."
No one objects
Worryingly, no one objects to the hateful messages targeting Muslims.
One reason is that his residential society does not have a single Muslim family.
The second reason, the lawyer said, is that no one wants to get into a messy debate or argument with the people who post these messages.
"I decided to remain in such groups as it's easier to raise some issues relating to society, and also to be updated with society's activities," he said. "But such messages keep coming and no one ever resists or objects."
In April this year, HuffPost India reported on the messages shared in the Whatsapp groups of a Meerut-based businessman and BJP supporter, which were mostly targeting Muslims, and Congress Party leaders, especially Rahul Gandhi. Earlier this week, he too said that while election-related content had stopped, the communally-charged messages are still coming.
One recent message said, "While casting his vote, he becomes Muslim. While taking benefits, a minority. In a bomb blast, an innocent."
"Such messages keep coming and no one ever resists or objects."
On the one hand, the Modi-led BJP government says it is rolling out a major outreach program for the employment, education and empowerment of minorities, and in banning triple talaq, claims to have corrected a "historical wrong done to Muslim women." On the other, the public discourse under its stewardship casts Muslims and Islam as a threat.
The messages in the Whatsapp group of the Delhi-based residential society denigrate and demonise Muslims in many contexts.

A message, which was posted shortly after the video of the man harassing the Muslim hawker, was an anecdote in which a teacher asks students to name the world's most famous monument of love.
After one student named the Taj Mahal in Agra, another one objects and picks the Ram Setu bridge, a bridge between India and Sri Lanka, which many Hindus believe was constructed by Hindu god Ram in his campaign to rescue his wife from Ravan.
"Ram did not cut off the hands of the monkeys that helped him construct the bridge. He lovingly took them back to Ayodhya. What Shah Jahan did was not love. It was cruelty and madness," the student said, dissing the 16th century Mughal emperor who had the Taj Mahal constructed for his wife, Mumtaz Mahal.
Historians have found no evidence to back the gruesome tale of Shah Jahan severing the hands of the artisans and craftsmen who built the Taj Mahal.
Another message, a very long one, rails against former vice president Hamid Ansari, who, in 2017, said that Indian Muslims were feeling uneasy and scared.
Another message says, "Challenge any Muslim in Hindustan to give the names of five generations. The fifth generation will be Hindu."

Another message is a tale about how a snake, who used to live in a mosque, and was chased away by Muslim, and ultimately found a safe haven wrapped around a Shivling in a temple. "This is the difference between Islam and sanatan…"

Another message refers to a recent the Hindu-Muslim flare up over parking a scooter in Lal Kuan in Chawri Bazaar, located in Old Delhi, last month. It says, "Lal Kuan was the right step taken by Hindus."
Change is possible
This has prompted fears that any fixes are simply going to increase censorship at a time when civil liberties are already under threat.
But change is possible when people object.
When someone tried posting similar messages in Whatsapp group of Supreme Court lawyers, people objected, this lawyer said.
"That person had to stop," he said.
Popular in the Community