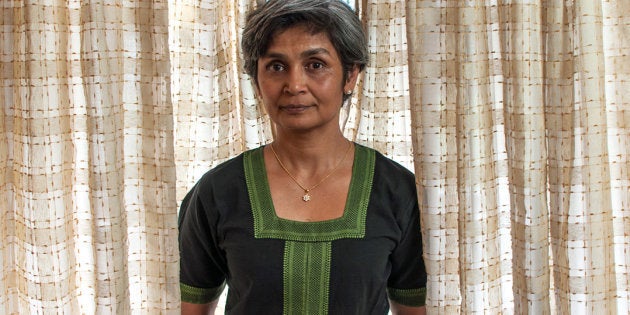 Purnima Govindarajulu vividly remembers the event, but not the exact year. She was 22-23 years old and it was 1986 or 1987. She was watching television at her brother's home in Montreal, Canada, where she and her mother had moved, following her father's death in Chennai in 1986.
"I was channel surfing," Purnima recalls. "And I chanced upon a show that talked about child sexual abuse—they were interviewing survivors. And I remember suddenly thinking—that's what it's called. Child sexual abuse. That's what was done to me all those years. I am not unique. I am not alone."
Between the ages of six and 13, Purnima, now 53 and an ecologist working with the provincial government in Victoria, Canada, was sexually abused by her cousin's husband, some twenty years her senior, she says. The abuse, which she has detailed in a report to the Victoria police and a complaint to the Chennai police, consists of acts which would today be defined as rape under the Protection of Children from Sexual Offences (POCSO) Act—penetration of the vagina using fingers and tongue, placing of his genitals on her face, molestation of private parts. But by its very nature, child sexual abuse, particularly by a family member, can take years and decades to emerge. It is only now, says Purnima, that she has found the words, the courage and the confidence to speak out.
"He says he only touched you in a loving way. Whatever it is, he is my God and I forgive him."
And when adult women and men in India are finally able to speak about the abuse they endured as children, they are finding themselves falling through the cracks of the law. The police and the judiciary say they are helpless. And families are all too often more worried about being torn apart than about fixing the past.
"There was something wrong with me. I was evil. I was dirty."
Purnima was close in age to the man's daughter, which is why she was often sent over to stay at their house as a child. During those years, her father had lost a lot of money and was trying to recover it by going out to sea. Her mother's Multiple Sclerosis, which took her life when Purnima was 29, had first begun to manifest itself at the time.
The first time it happened, Purnima was six. She woke up in the night from a bad dream or from fear of ghosts and he was there, beside her bed. In the day, it usually involved him putting his hand down her panties. In the nights, he used his hands and his mouth. There were always other people in the room—his wife sleeping on the bed while the kids slept on the floor, or a hotel room on a family holiday full of kids—but that didn't seem to change anything. "I remember thinking it was disgusting, but feeling that I was dirty. I was evil. There was something wrong with me."
"It was my father, wasn't it?"
Purnima told no one the entire time. "Forty years ago in India, I had never even heard the word sex. I didn't know what it was that was happening to me, that there was a name for it, but I thought I was to blame. They were also much wealthier than us, and I remember feeling scared that if I said something everyone would be angry and the help his family gave for my mother's illness would stop." Now, in hindsight, Purnima says, she knows that "grooming" or preying on vulnerable children, is an important and common part of child sexual abuse.
As is a common practice in south India, Purnima's brother married the man's daughter. "One day in Montreal, we were watching TV together and another show came on about child abuse. She started talking about how this would never happen in India. I listened for a while and I said no, no it could. It could, because it happened to me."
Her sister-in-law froze; "it was my father, wasn't it?" she asked Purnima. She told Purnima that she had always thought there was something strange about the way her father behaved with Purnima and the fact that while he appeared to dote on her, Purnima sometimes cursed him out, which was unlike her. "I said yes, it was him, and we didn't talk about it again."
Speaking out
In 1999, Purnima's brother asked her for the first time. His wife, the man's daughter, and he were planning to visit India for the first time with their newborn daughter, and her brother wanted to know if his infant daughter was safe. "I told him she was not," Purnima recalls.
Unknown to her, her sister-in-law had in the intervening years confided in her husband. Now it was time for Purnima to tell her brother the whole story. He confronted his father-in-law about it when he went to India. His father-in-law said, Purnima's brother said in his report to the Victoria police, that he had touched Purnima as a child but in a loving way and that if she had perceived it in a sexual way, he was sorry. When her brother spoke to the man's wife later, she recalled frequently finding her husband by Purnima's bed at night but said it was to console her from nightmares. Later she called Purnima and said, "He says he only touched you in a loving way. Whatever it is, he is my God and I forgive him." Purnima never spoke to her again.
Purnima and her brother decided that it was not enough to protect his daughters only; all the girls in the family needed protection. They sent an email to the entire family detailing what she had experienced as a child.
"It is hard, emotionally, pursuing this. It occupies my psyche and is disturbing for me to talk about and disturbing for people to listen to."
Soon after, another female family member got in touch with them; she had the same story with the same man, and she had told no one, not even her siblings and parents who are still alive.
Manisha's story
Manisha (name changed) consented to sharing her story but did not want to be identified in this article. She has also submitted her complaint to a lawyer in Chennai. Her description of the abuse is uncannily similar to Purnima's; the timing, the places, the nature of the abuse.
What is also strikingly similar is the impact that both women say that those years of trauma had on their lives. Both struggled with trusting other men. Both struggled with intimate relationships; Purnima says she had a bad marriage for 16 years, which ended in divorce. "My parents were wonderful parents, and they weren't able to stop this happening to me. I was scared to have children because I was scared I wouldn't be able to protect them from this," Purnima says.
"I have spent most of my adult life trying to patch up these huge tears in my personality that [he] gouged out," Manisha's* statement to her lawyer says.
The man, who said he was now nearly 75 years old, declined comment for this story. "I have already spoken to the police about this last year. There is nothing more that I would like to say," he said during a brief conversation on the phone.
Why the cops? Why now?
Purnima works as an ecologist in Victoria, British Columbia, a stunning island just off the mainland of Canada's west coast. She studies frogs and loves her job, loves the city: "I can go for a run after dark if I feel like it. I leave my house and car unlocked. If it all gets too much, I can just take off into the woods," she says.
After making it a rule that she would never again see the man she accused of the sustained abuse, Purnima was forced in 2013 to visit his house in Chennai for a family event. There she grew worried by the behaviour of the daughter of the family's long-time domestic help, who was heavily dependent on the family, behaviour she recognised in herself. "That's when I decided that it isn't enough that the family is protected. This needs to stop. He cannot do this to anyone else, ever."
In 2015, she decided to speak to the Canadian police about the abuse. "The cops were wonderful and were very clear that if this had taken place in Canada, they would have immediately taken a complaint and begun investigating. The problem was that everything took place in India and everyone involved was an Indian citizen at the time," she says. Nevertheless, the Victoria police encouraged her to speak to them and file a 'General Occurrence Report', which she did. "Speaking to them was emotionally difficult for me. I began to have panic attacks. But I am so fortunate to have got counselling and the medical help I needed," she says.
In March 2016, Purnima made a trip to India and submitted a police complaint to the Director General of Police and the Chennai Police Commissioner. "I spoke at length to a senior police officer who was very kind and welcoming and told me that it was great that I was coming forward, and that more women should. But she said that after all this time, she didn't think there was anything she could do. She told me that she could understand my personal reasons for speaking up so late, but that it wouldn't fly in the courts."
Purnima had largely reconciled herself to her case never going to court, and took eight months off work this year to see if she could find a way to raise awareness in India instead. However, Manisha is now also willing to file a formal police complaint, and with two complaints the possibility of police action seems slightly more likely, lawyers have told her. A senior police officer with the Chennai police who is following the case told HuffPost India that they are still in the process of taking legal opinion on how to proceed in the case.
Falling between laws
What this action will be is complex and unclear. Several lawyers HuffPost India spoke to listed the inapplicability of the usual laws. For one, the POCSO Act came into force only in 2012 and like all criminal laws in India, does not apply retrospectively. Then, at the time of the alleged abuse, penetration by finger or tongue did not fall under the definition of rape under IPC 376. By the laws that stand today which were applicable in the 1970s, IPC Section 354 (assault with intent to outrage modesty), known more commonly as molestation, appears to be the only applicable law. But with Section 354, this case will run into the so-called statute of limitations, which prescribes the time frame within which an offence should be tried. Prior to 2013, the maximum punishment under the IPC 354 was two years, which meant that a case had to be brought within three years of the offence being committed.
Moreover, whether the police and courts will be willing and capable of taking on crimes that occurred 40 years ago, with the obvious lack of conventional evidence, is in doubt. "Since this is a report about child sex abuse, most of the questions have been about the what, how and when of the sexual acts he engaged in with me," Manisha's statement says. "But to be able to answer or respond or even describe requires an articulate understanding of what happened to me. And it's taken me approximately 34 years to do that."
Purnima and Manisha are not alone here; lawyers say that India has not yet come to grips with the issue of dealing with historical child sexual abuse, even though more and more adult women and men are coming forward with such stories every day. These are issues countries like the United Kingdom, Canada and Australia have had to grapple with of late, particularly while tackling institutional abuse as in the Catholic church and foster care institutions.
"It isn't just what Purnima and I went through. It is the fact that he still seems to be doing it. There is a currency to it."
In India, courts still routinely cite "delay in filing complaint" as something that weakens the prosecution's case. Do courts then need to consider relaxing evidentiary standards for cases of historical child abuse in India? "While it is true that many children do not speak up till they become adults, the law will have to balance the rights of the abused child with that of the perpetrator," senior criminal lawyer Rebecca John explained. "Courts or the legislature would be reluctant to introduce new evidentiary standards for fear that the same would be misused. As it is, we are facing a huge backlash with respect to the 2013 [amendments to the rape] law—it has broadened the definition of rape and extended sentences—so I don't think we will see any new evidentiary standards any time soon," she said.
"We have made a mistake in the articulation of the law, by focussing almost entirely on the specific acts that constitute the crime, and ignoring the behaviour that goes into a long period of grooming, which is why the child keeps quiet," senior lawyer Vrinda Grover, who was instrumental in the framing of the POCSO Act, said. "These kinds of cases have not come out enough, but I am beginning to see more of it now. We need the courts to understand this issue of why it might take someone so long to speak out, but we haven't even begun to grapple with this," she said.
"There is ambiguity in the law when it comes to the applicability of POCSO to adult survivors of child sexual abuse," Bharti Ali, co-founder of the Delhi-based HAQ: Centre for Child Rights and a veteran child rights advocate, said. There have been very few such cases where adult survivors want to push for criminal action, and so there has been very little thinking about what to do in such cases, she said. "It is going to be interesting to see how they prosecute this case. I think we need a new section in the POCSO Act which pertains to adult complainants—the law must provide certainty," she said.
Walking away
In person, Purnima is an energetic, witty and articulate woman. She speaks about the abuse clearly, without hesitating or breaking eye contact and without tearing up. But there is no doubt that speaking up has taken its toll on her.
"They wish it could all go away and we could be one big happy family again."
"It is hard, emotionally, pursuing this. It occupies my psyche and is disturbing for me to talk about and disturbing for people to listen to," she says, quietly. When she first spoke up about it, Purnima asked herself—when do I walk away from this? "I decided, it was after I filed my complaint. Part of me feels unlucky that this happened to me, but part of me feels lucky that I had access to counselling and medical help in Canada, and lawyers in India. Now that I've been given this privilege, what is my responsibility? Do I walk away or do I take it forward, and for how long?"
Manisha wants the man investigated and charged, she told HuffPost India; "It isn't just what Purnima and I went through. It is the fact that he still seems to be doing it. There is a currency to it," she said. "If this was in Canada, I would have gone to court and was willing to see him charged," says Purnima, who is more circumspect about legal possibilities in India. "But what I want here, now, is not so much punishment as I want him to stop. I don't want to carry this guilt that he might do it to anyone else. I already know that he did it to one more person—Manisha. I don't want to keep adding to this guilt. If someone could give me a guarantee that he would never do it again, I would sleep easier," Purnima says. What she would like to see in India is the ability for survivors to file complaints and a support system for survivors who are all too often told by their families to forget it.
Purnima says she did get support from some of the members of her family "but at the same time they wish it could all go away and we could be one big happy family again."
For both women, speaking out is an act of assertion. "I didn't want my silence to be seen as complicity," Purnima says. "I'm filing this report because as an adult I don't want to be silent about what happened to me," Manisha says in her statement. "I want to articulate. And I want to do this officially because to me it signifies that my abuser no longer exerts any control over me."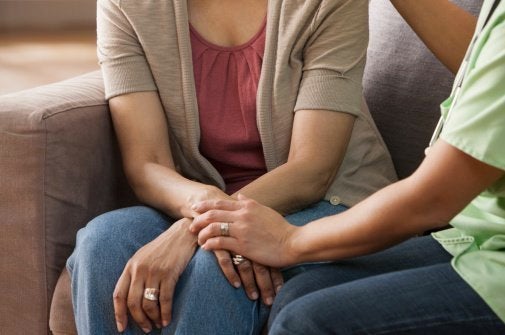 How To Help Someone Struggling with Mental Health issues