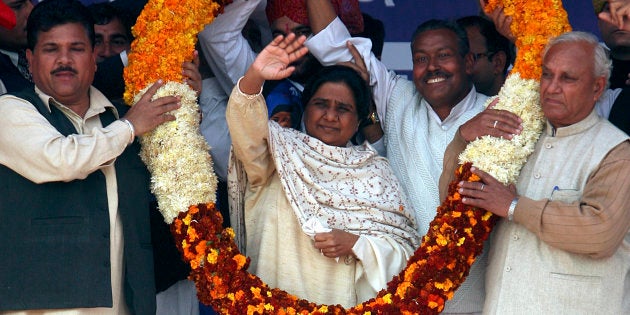 With all key parties beginning to put out candidate lists ahead of Uttar Pradesh assembly polls, one fact has yet again become clear--parties will give dalits only the minimum political representation mandated by law. Despite the fact that reserving constituencies for dalits was not meant to debar their from unreserved constituencies, political parties have shut out dalit candidates from 'general' seats, ensuring that these seats have become, in effect, reserved for non-dalits, HuffPost India's analysis of election data from Uttar Pradesh and Lok Sabha elections shows. Parties only give dalit candidates tickets in general seats in elections where they are not competitive, the data shows.
While seats in India's parliament and state legislatures are reserved for Scheduled Castes and Scheduled Tribes, consultations during the Constituent Assembly debates made it clear that 'general' seats were not meant to be closed off candidates from these communities. Of 543 Lok Sabha seats, 84 (15.47%) are reserved for Scheduled Castes who form 16.6% of the population. State assemblies have varying levels of reserved seats depending on their share of the SC population; with 21.1% of its population dalit, UP has 85 seats reserved for SC candidates of its 403.
In 2017, the Bahujan Samaj Party (BSP) has given scheduled caste (SC) candidates tickets in only two of the state's 318 non-reserved seats. This has been the trend for at least the last ten years for which data is available. In 2007, the BSP nominated five scheduled caste candidates in 'general' seats, one of whom won, while in 2012 the party nominated three SC candidates, one of whom again won. Other parties do no better; the Congress gave three SC candidates tickets in general seats both years while the BJP gave 3 in 2007 and just 1 in 2012.
In the Lok Sabha elections, where the BSP is not competitive in any state except Uttar Pradesh, it nominates far more dalit candidates, data available for ten years shows. In 2014, the BSP gave 135 dalit candidates tickets in the 386 general seats it contested. However, not one of these was in Uttar Pradesh, the state where it stood a chance. In 2009, the party gave 54 dalit candidates tickets and in 2004 it gave 83--but, again, none were in UP.
"SCs make up 22% of the population, and proportionate representation has been given to them," BSP spokesperson Sudhindra Bhadoria said. "The purpose of ticket distribution is to give fair representation to all. Ultimately, that is what a democracy is. Accordingly, it was important for Mayawatiji to give tickets to all groups--Muslims, OBCs and upper castes also," he said.
The two major national parties do far worse. In 2014, the BJP gave two SC candidates tickets in non-reserved seats (Kollam in Kerala and Kalahandi in Odisha). The Congress gave just one (Valmiki Nagar in Bihar). This is in line with the two parties' past performance; in 2004 and 2009, the two gave just three tickets to SC candidates in general seats between them. Both parties admit that anti-dalit sentiment remains high, and given that SCs are minority, in a first-past-the-post system they become a political liability. "You have to be able to stitch together more than one caste group in most constituencies. It is not a good state of affairs, but this is realpolitik," a BJP spokesperson who asked not to be quoted said. The Samajwadi Party did similarly--it gave two SC candidates tickets in general seats, but in Bihar and Jammu & Kashmir.
The Left does no better. The CPM gave two SC candidates tickets in Kerala where it is competitive, but these were constituencies (Chalakudy and Ernakulam) where it stood no chance. Only in one constituency in West Bengal (Hooghly) did the party give an SC candidate a ticket in a general seat where it was actually competitive.