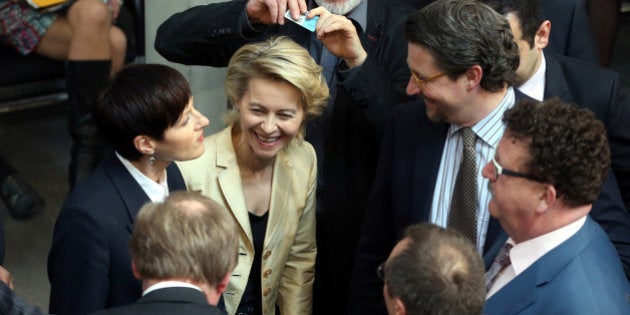 India's market regulator has mandated listed companies to have atleast one woman director on their boards, but that move has led to poorer corporate governance.
Instead of appointing women who bring expertise to the role, promoters of some of India's biggest companies have opted to put more family members — wives and daughters — as directors. That dilutes the very purpose of giving more representation to women, and to help break the glass ceiling that has long held them back from reaching leadership roles.
The Securities and Exchange Board of India had set a deadline of April 1 to appoint more women directors, to ensure compliance with the new Companies Act of 2013. Apart from companies that appointed family members, about 400 firms are yet to comply.
Among those that installed family members are Reliance Industries, India's largest conglomerate, which installed Nita Ambani, wife of chairman Mukesh Ambani as a director. Vijay Mallya installed his stepmother on the board. Nawaz Modi Singhania, wife of Gautam Singhania, chairman, Raymond Group, serves as a non-executive director on the board. Other major companies like the Aditya Birla Group, TVS, Apollo Hospitals, and Asian Paints all have women directors who are part of the family.
Women with proven leadership skills are in such short supply that many of them are turning down invitations to be directors. They include Vinita Bali, former managing director at Britannia Industries, Kiran-Mazumdar Shaw, chairperson and managing director at Biocon, Chanda Kochhar, managing director at ICICI Bank among others. Some of them — such as Ramni Nirula, former CEO of ICICI — sit on upto seven boards, the maximum allowed for independent directors.
This means that mandatory appointment of women directors on boards is not having the desired effect of expanding the pool of qualified women leaders. "These women shall have the same voice as the promoter, defeating the very purpose of genuine gender diversity," said Pranav Haldia, managing director at Prime Database, which has analysed the percentage of women in Indian boardrooms.
Adding more requirements might help. "What can be done to make it more meaningful is prescribing the amount of active work experience so that they can add value to the board in terms of their contribution, at the same time encouraging and expanding the pool of women leaders," said Vaibhav Sanghavi, Managing Director, Ambit Investment Advisors Pvt Ltd., in an interview with HuffPost.
Popular in the Community