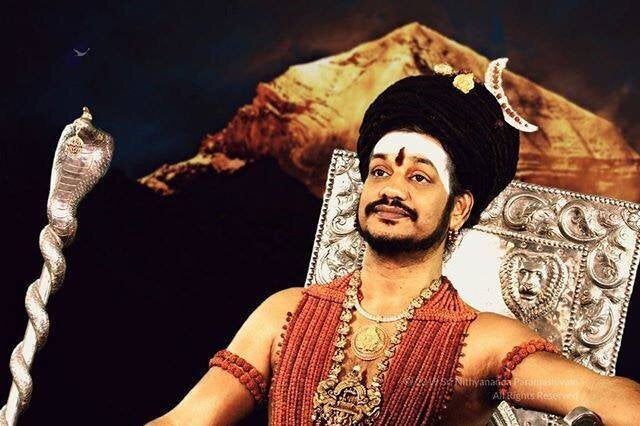 Many self-styled godmen in India have landed behind the bars for being involved in criminal activities, especially against women. But here is a first: one has not only managed to evade the police until now, he also seems to have founded his own country.
Nithyananda is a rape-accused fugitive who has been charged with kidnapping and wrongful confinement of children. The Gujarat police announced last November that he had fled the country.
The Hindu had quoted Ahmedabad (Rural) Superintendent of Police (SP) R.V. Asari as saying, "We have learnt that Swamy Nithyananda has escaped from the country after a rape case was registered against him in Karnataka."
Does anyone know where he is now?
Since then, there has been no confirmation of where he actually is. The News Minute, which has followed the case closely, had reported on 22 November that whistleblowers said he could have left for Ecuador through Nepal.
The report had said that he may have gone to Ecuador because the country does not have an extradition treaty with India.
However, he has been posting videos on social media and even went live on YouTube recently.
The News Minute reported that on 28 November, Nithyananda went live on YouTube at 1:30 pm and said, "Some people against me, they are looking for me, but I am in the Himalayas, in Kailasa."
Meanwhile, the Ahmedabad police alleged that he could be shuffling between Ecuador and Trinidad and Tobago.
A report in The Times of India had said that the two women who had been charged in the same case and had gone missing along with him were using proxy servers to upload videos on YouTube.
The report also quoted a police officer as saying, "While communicating with a friend of hers, one of the sisters said she was in Trinidad and police confirmed this. Nithyananda was traced to Trinidad month ago, and a week ago he was believed to be in Ecuador... Another thing that we have noticed is that the locations of all three were the same for around two weeks. It seems that the
sisters are with the religious leader," the police officer told The Times of India.
So what on earth is Kailaasa?
On Tuesday, the link to an elaborate website began popping up on social media platforms and news reports. This website claims that Nithyananda has established "the greatest Hindu nation" that has existed. The website, which goes into excruciating detail about the law and functioning of this place, is quiet on where it is located, for obvious reasons.
Kailaasa (which has quite a resemblance to Atlantis) also has its own government and constitution.
"Kailaasa is a nation without borders created by dispossessed Hindus from around the world who lost the right to practice Hinduism authentically in their own countries," says the website Kailaasa.org.
Much what is said in the website is indecipherable and sounds like hokum.
The website claims Kailaasa has a population of 100 million Adi Shaivites and 2 billion (!) practicing Hindus. It claims:
"The nation of Kailaasa is dedicated to the restoration, preservation and propagation of authentic Hindu culture and civilization after centuries of oppression and subjugation. It is the home and refuge for the international Hindu diaspora. Historically, Hinduism has comprised of numerous national communities spanning from Afghanistan across India to Southeast Asia. Hindu scriptures and historical records identify 56 desas, or Hindu national communities, including Nepal, Bhutan, Sri Lanka, Kashmir, and Cambodia, 200 states, 1700 samasthanas (provinces) and 10,000 sampradayas (traditions)."
The website also claims Nithyananda is a successor of lord Shiva:
"His Divine Holiness 293rd Guru Maha Sannidhaanam Sri Nithyananda Paramashivam is the 293rd successor of Paramashiva on this earth. As an Avatar of Paramashiva, he exists in the same space of Paramashiva and reveals the Agamas from the original space that created it. He is able to reveal the deep truths from the Agamas relevant to every new situation – as the world changes, He reveals new truths which continue to be relevant to this world."
It also compares Nithyananda to the Dalai Lama, the spiritual leader of the Tibetan people. Yep, you read that right. Let's not forget that Nithyananda fled the country after he was charged with rape.
"The Dalai Lama and HDH Nithyananda Paramashivam are incontrovertibly two of the most powerful spiritual figures of the present times. Both are outspoken, against the tyranny of the establishment and are working towards a new world order – one where divisions disappear and people live in peace, powerfulness and prosperity. Both are exiled from their homes and have hence become citizens of the world. Both are ancient beings who have re-incarnated to bring back order into the chaos that the world has become today."
If you want to read more (but why), head to the website here.