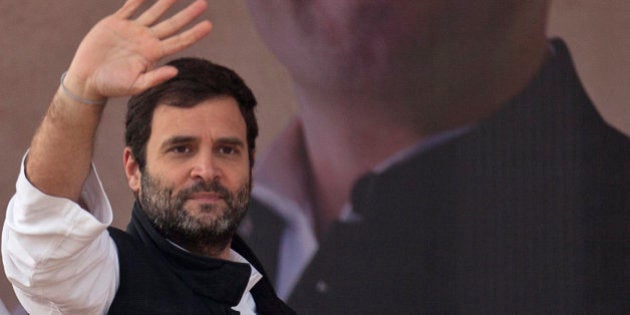 Amid intense speculation about his whereabouts in the last two months and questions about filling the leadership vacuum in Congress, party Vice President Rahul Gandhi finally returned to Delhi on Thursday on board a chartered Thai Airways plane from Bangkok.
According to a report in Newsweek, Gandhi has been "introspecting on the future of the Congress Party" -- first in Myanmar and then in Cambodia. Reportedly, he has been visiting a famous meditation resort in Yangon, Myanmar.
John Elliott of the Newsweek wrote in his March 23, 2015 report no one, apart from his mother and a few party insiders knew where Gandhi was amid rumours of a fallout with Sonia. Myanmar has been one of Gandhi's rumored hideaways in the past, Elliott wrote.
Sources said Gandhi had requested that Special Protection Group cover not be with him during his stay.
Gandhi arrived in Delhi at 11:15 AM on a plane, which was scheduled to land at 10:35 AM, and was reportedly delayed by 40 minutes, reported PTI. Congress President Sonia Gandhi reached the 12, Tughlaq Lane residence of Gandhi before 11 AM and was soon followed by daughter Priyanka.
Wearing a dark shirt and seated in the back seat of his vehicle, he arrived escorted by his security personnel and drove straight into the house without interacting with the waiting mediapersons.
Curiosity about where Gandhi spent his 56-day sabbatical peaked amid an intensely fluid political season that saw his mother and Sonia Gandhi leading the opposition's protest against the controversial land acquisition bill that sought to scrap the existing requirement of securing consent from farmers before acquiring their land.
He has been on a leave of absence since the parliament's budget session began on February 23.
The Congress party has been defending Gandhi's absence, saying he needed to chart out the party's future in "isolation" after a series of humiliating electoral drubbing. But the party has confirmed that Gandhi will address a 'kisan-mazdoor' (farmer-worker) rally in Delhi on Sunday.
Party sources, however, said that Rahul Gandhi is expected to hold meetings with party leaders to discuss preparations for the rally after his return before Sunday. Ever since the announcement of his temporary break from political life, there has been speculation that he was unhappy for not getting a free hand to run the party, a contention which the party has officially denied.
Rahul's leave had come amid talk of an AICC session, where he was expected to be elevated as Congress President.
During his absence, several party leaders came out in the open pitching for Sonia Gandhi to continue as president and raised questions over his leadership. Congress leaders had announced that Rahul would be back by April 19 as he would be addressing a farmers' rally on land bill issue at the Ramlila maidan here on that day.
Meanwhile, the party has asked its senior leaders to refrain from making "open" comments that could potentially rake up "unnecessary controversy".
"Senior leaders should refrain from making open comments. They should not create unnecessary controversy as interested sections want to create confusion," party spokesperson P.C. Chacko told reporters.
Chacko maintained that there was "no conflict" between mother and son as their leadership was "totally acceptable" to all Congressmen. "The entire Congress party is in full support of both the leaders. President and the vice president are two different positions in the party and they are discharging their duties very efficiently and all the people are happy," he added.



Popular in the Community