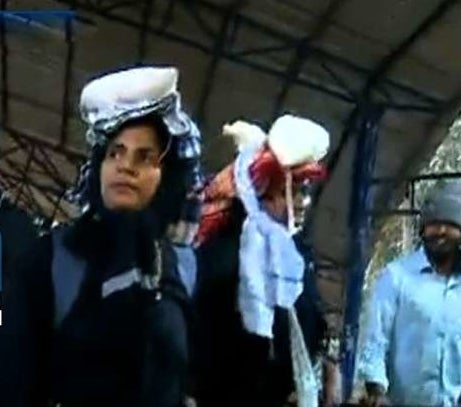 Two women's entry into Sabarimala on Wednesday to offer prayers, the first since the Supreme Court verdict allowing women of all ages entry into the temple, has caused a stir in the state. Reports say Bindu and Kanakadurga's entry into the shrine was facilitated by the state government and the police.
According to news reports, Bindu, 42, who was earlier a lawyer, is an assistant professor at the Thalassery Palayad School of Legal Studies under Kannur University. She is also a CPI(ML) activist
Kanakadurga, 44, is a civil supplies employee who lives in Angadipuram in Malappuram.
The two women had first attempted to enter the shrine on 24 December. They came within 500 metres of the temple, but had turn back due to protests.
According to Mathrubhumi, on Wednesday, the two women began their trek to the temple from Pampa at 1:30 am and reached the shrine at 3:30am.
"We requested for police protection when we arrived at Pampa. As per this, police had given all protection to trek the shrine," Bindu told Mathrubhumi. She also said devotees at the shrine recognised them but did not protest.
Kanakadurga's brother Bharat Bhushan has alleged conspiracy by the ruling CPI(M) and Kottayam Superintendent of Police Harinshakar in taking his sister to Sabarimala. Bhushan told the Times of India that Kanakadurga had been kept at a hideout in Kannur for one week and police had not allowed the family to contact her.
Before travelling to Sabarimala on Tuesday night, the women were at a secret location under the protection of the policewomen until arrangements were made by the state government for the women to travel to the shrine, Malayala Manorama reported.
News of the two women's visit sent shockwaves through Kerala, which has seen a number of protests by devotees since the Supreme Court verdict.
Police arranged for security at the homes of both the women. During their December attempt, both their houses had been surrounded by protesters.
Following the women's visit, the chief priest at Sabarimala closed the steps to the shrine and conducted 'purification' rituals following their visit.
Dozens of women have attempted to offer prayers at Sabarimala, since the Supreme Court order, but were unsuccessful due to protests by devotees.
In response to the protests, in which thousands had participated, the Kerala government on 1 January organised a 'Women's Wall' stretching from the northern tip of Kerala to the south to uphold "progressive and secular" values.