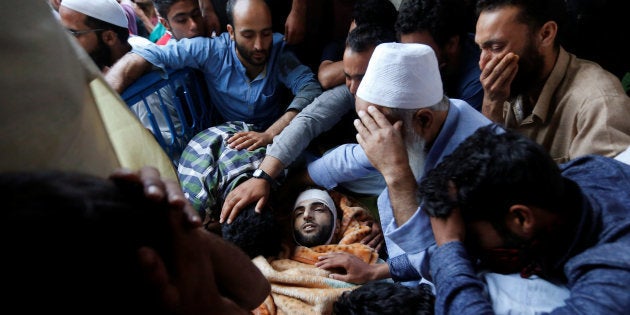 In a video uploaded on YouTube on 7 June this year, Burhan Wani calmly informs his viewers that anyone who tries to promote Indian laws in Kashmir will face 'action'. He goes on to urge Kashmiris that instead of siding with 'Indian authorities', they should keep a close watch on the police and Army and keep informing Burhan and his associates about their movements and whereabouts. Also, with a hint of regret, he explains that they don't want to attack the police--their own people--but as they keep helping the Indian Army and cracking down on Kashmiri youth, he is left with no choice. The Indian Army is repeatedly referred to as 'dushman' (enemy) in the six-minute video.
Following the killing of the 22-year-old Hizbul commander, the comments section of the video is littered with people--with non-Kashmiri usernames--calling Burhan names, showering him with expletives and commenting that he very well deserved to get killed. On the other hand, in Kashmir itself, Burhan's death has sparked mass protests. Reports suggest that over 50,000 people congregated to mourn his death and joined his funeral procession. Till now, 22 more people have been killed in clashes with the police and security forces. The Amarnath yatra has been put on hold. The comments section of the YouTube video and the spiralling unrest in Kashmir represent the gaping gulf of knowledge and empathy that exists between thousands of Kashmiris and a majority of non-Kashmiris.
Which brings us to the question--just who is Burhan Wani? And why has his death brought masses in Kashmir out on the streets?
Burhan, who had a bounty of Rs 10 lakh on him, picked up arms when he was merely 15-years-old.
Burhan, who had a bounty of Rs 10 lakh on him, picked up arms when he was merely 15-years-old. His father and his friends single out one incident as having had an outsize influence on him in his decision to take up arms against India.
Born to an affluent village headmaster, Burhan was a class X student when he went out with his brother Khalid to take a spin in the latter's new bike in Tral, in Pulwama district where they lived. They were accompanied by a friend. The friend later told The Greater Kashmir, that they were intercepted on their way by a group of Indian Army personnel who ordered the teenagers to buy them cigarettes. Back in 2000, the friend said, this was routine.
Officers allegedly stopped young Kashmiri boys and frisked them, or asked them to buy cigarettes in return of letting them use the road. Khalid Wani went to buy cigarettes and returned. However, the friend said, the officers still attacked them and beat them up. Khalid fell unconscious, his new bike was damaged, while Burhan and his friend managed to run away. While fleeing, Burhan, threatened the Army officers that he is going to 'avenge' what they did to his brother. According to the same report, six months later, Wani fled his home and joined the Hizbul Mujahideen.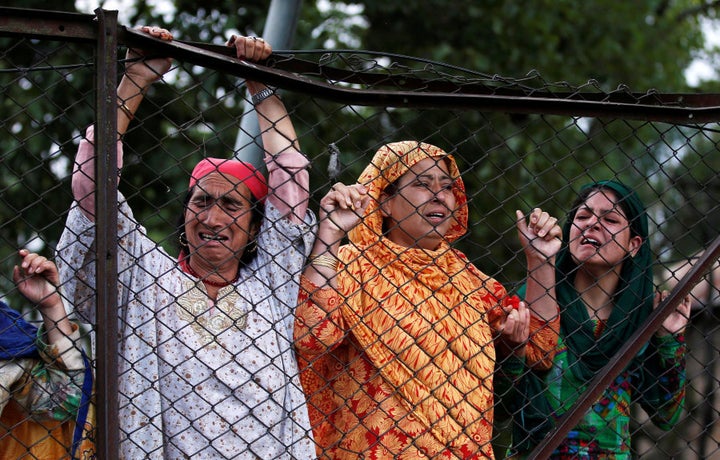 Burhan's mother is a postgraduate in science who now teaches in Quran to schoolchildren. His two younger brothers are still in school. A Scroll article describes Burhan as being remembered as a class topper who loved to play cricket and was a fan of Virender Sehwag and Shahid Afridi.
Speaking to Youth Ki Awaaz, Muzaffer Ahmed Wani, Burhan's father, explained why his son couldn't be held back. "Almost everyone here has been beaten up by the Army. You also must have had your share. But everyone didn't become a militant. It depends on how much one can take. Yeh aap ki ghairat pe depend karta hai (It depends on your self-respect). Someone's 'Ghairat' got challenged time and again, so he decided to answer back. Others decided to stay quiet. My son couldn't bear to see the atrocities and the humiliation, so he was forced to choose the path which he is on right now."
The report in The Greater Kashmir adds that several of Burhan's cousins had already joined militancy by then and it was fairly easy for him to take the leap.
Burhan swiftly rose in the ranks of Hizbul Mujahideen and soon came to be called the 'poster-boy' of militancy in Kashmir. He is said to have recruited at least 100 people from Kashmir to Hizbul Mujahideen and was known to use social media to reach out to and urge Kashmir's youth to join the militancy group.
An article on Catch News explains why Burhan turned out to be a nightmare for security agencies in Kashmir at the same time he became some sort of an 'inspiration' for Kashmir's youth living under relentless surveillance. Burhan was one of the first militants from Kashmir to reveal his face and identity on social media, belittling security forces of the country. One picture that went viral on Facebook showed Burhan, accompanied by ten new recruits, sitting in forested area possibly in south Kashmir, looking smugly into the camera, Kalashnikovs strapped across their body.
What the rest of the country called 'terrorism', took the concrete, believable form of a 'rebellion' for them with Burhan's face to promote it
The article explains that young Kashmiris--who support the view that Kashmir should be allowed to separate from India and resent the presence of armed forces in their home--finally found a face and a name they could identify with. What the rest of the country called 'terrorism', took the concrete, believable form of a 'rebellion' for them with Burhan's face to promote it. Burhan's throw-caution-to-the-wind stance bore his outfit rich rewards too. Catch News reports: "For the first time in a decade, the ratio between indigenous and the foreign militants had changed in favour of the former. Out of 142 active militants in Valley, 88 were locals and the rest from Pakistan. The equation still holds. By the latest count, around 145 militants are active in Valley out of which 91 are locals and 54 foreigners."
Writing for the Kashmir Monitor, Seema Mustafa says, "He went on to discard his mask, take ownership of the path that he had chosen as a reported Hizbul Mujahideen recruit, and disclosed that he was from Tral and a well educated family."
YouTube is abound with videos of Burhan Wani--one uploaded as recently as 20 May--that clearly underscores why he had turned into an icon for enraged Kashmiri youngsters. Some of the videos portray Wani and his accomplices as regular youngsters--giggling, cracking jokes and occasionally humming as they sit around a wildfire, earphones plugged. Another shows Burhan and his friends playing cricket. The opening lines of the song playing in the background says: "Humne rasme mohabbat ko zinda kiya, zakhme dil jeet kar .. (We have brought love alive, by winning wounded hearts)."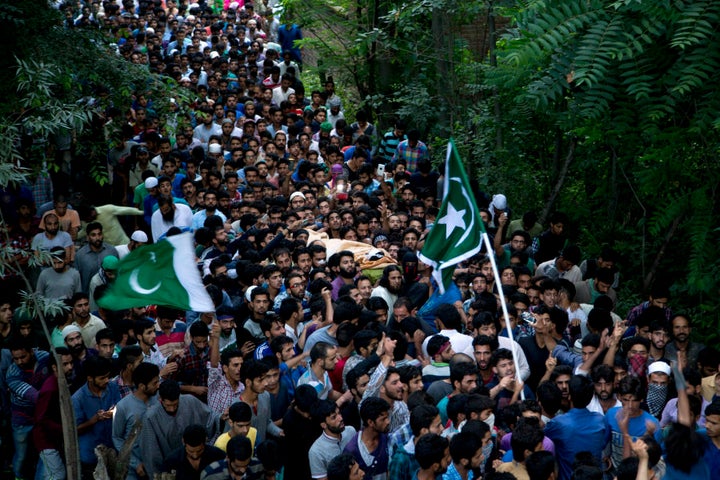 Security forces couldn't trace specific attacks on armed forces back to Burhan but he was believed to have masterminded quite a few. That apart, his overwhelming appeal among radicalised Kashmiri youth turned him into a security threat for the armed forces and other agencies.
In April 2015, commerce post-graduate Khalid Wani, the brother whose harassment Burhan reportedly wanted to avenge through militancy, was killed. Though security forces said that Khalid had been trying to take new Hizbul recruits to meet Burhan, locals say he had only gone to meet his brother in the forest. Before he was shot down by security forces, Khalid had faced the consequences of his brother being somewhat of a 'celebrated' militant. Muzaffar Wani told Youth Ki Awaaz how he and his elder son used to be picked up and thrown behind bars at the smallest hint of a disturbance in South Kashmir.
Muzaffar later told Scroll this about Khalid's death: "They did not shoot him. They hit him in the back of the head with a rifle butt. There are two pictures of him. In one, you can see his face, blood running down it. In the other, his chin and forehead are bandaged. He did not have a single tooth left."