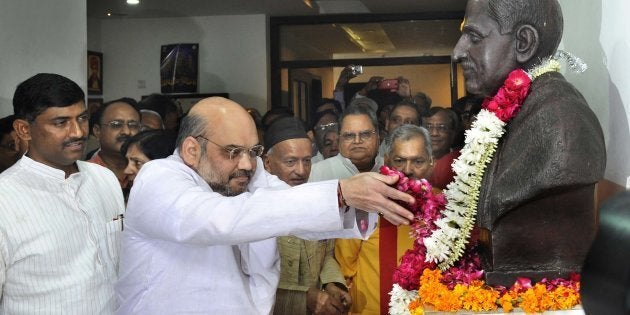 Last week the Bharatiya Janata Party (BJP) launched a yearlong programme to commemorate the birth centenary of Deen Dayal Upadhyay, one of the most prominent rightwing ideologues who was the leader of the Bharatiya Jana Sangh (BJS), the BJP's initial incarnation, between 1953 and 1968.
At a conclave in Kozhikhode, Prime Minister Narendra Modi reiterated Dayal's philosophy, especially his call to empower ordinary Indians — Muslims, Dalits, the poor and the deprived, the PM specified — across the board.
"Fifty years ago, Deendayal Upadhyayji said Muslims should not be treated as different people," Modi said. "Do not reward them, do not rebuke them, but empower them." Muslims should not be looked down upon, he added, nor should they be seen as merely a vote bank. "Consider them your own," he urged his audience.
Modi's invocation of Upadhyay as one of the intellectual forerunners of his party is both strategic and expedient.
A spate of atrocities against Dalits and Muslims by gau rakshaks, or self-styled cow vigilantes, across the country, over the last several months, has put the prime minister in a spot recently. After maintaining a studied silence for over a year, he finally spoke out to condemn the cow protectors in terms that were both harsh and dramatic. But his message led to a rift between the Rashtriya Swayamsevak Sangh (RSS) and its ultra-Hindutva wing, the Vishwa Hindu Parishad (VHP).
As a former RSS pracharak currently donning the mantle of a statesman, Modi is acutely familiar with the nature of this conflict and the challenges thrown by it: chiefly, the need to reconcile a rightwing notion of nationalism (which defines national identity on the basis of indigenous cultural affiliations, while privileging some social and religious groups over others) with the aspirations of a modern, industrial nation-state hungry to reap the dividends of a capitalist, free-market economy.
Upadhyay's reputation in the annals of Indian history is of one such figure, who tried to walk the middle path, much like our prime minister. In fact, the similarities between Modi and Upadhyay are remarkable, starting from their RSS antecedents to their common dislike for the Planning Commission.
Born on 25 September 1916, in Nagla Chandrabhan village near Mathura, Upadhyay became an orphan early in life. His intellectual achievements, often recounted with a fairy-tale-like fascination, could be deemed bright. Son of an astrologer, he did well in school, won scholarships, passed the Intermediate examination with distinction and went on the earn a BA in English Literature — an unlikely choice of subject, given his later intellectual leanings.
The death of a close cousin allegedly sent him into despair and he left his Master's degree unfinished, in spite of a promising start to it. Urged by his aunt, he sat for a public service examination, which he went to write wearing dhoti, kurta and a cap. He was mocked by fellow examinees as "Panditji" and the name stuck, though it was used with affection by his followers later in life.
He came out a topper but chose to follow a different career in public service by enrolling himself with the RSS in 1942. He launched the monthly magazine, Rashtriya Dharma, to propagate the ideology of nationalism and went on to found two more journals, a weekly, Panchjanya, and a daily, Swadesh.
In 1951, he founded the Rashtriya Jana Sangh with the veteran ideologue, Syama Prasad Mookerjee, who, moved by Upadhyay's dedication, is believed to have said, "Give me two Deendayals and I will completely change the face of the nation." After Mookerjee's death in 1953, Upadhyay succeeded him as the convenor of the Jana Sangh and held the role till his mysterious death in a train accident in 1968.
Upadhyay is mostly remembered for his philosophy of integral humanism, which, as scholars have pointed out, bears similarities with Gandhian views of rural economics, though it is overwhelmingly grounded in Hindu spirituality. Ostensibly, this school of thought conceives of "a classless, casteless and conflict-free social order", though the prejudices against certain communities, especially Muslims, are evident from a close reading of Upadhyay's lectures.
A man of simple habits, who reportedly abjured every trace of luxury, Upadhyay rejected the strident march of capitalism as well as the secular framework of socialism. The quest for greater wealth hasn't necessarily made the West any happier, he argued, nor has socialism been able to ensure human dignity.
In his estimation, the integration of an indigenous "Indian culture" into the social, political and economic fabric of the nation had to be the political way forward. The nation, in Upadhyay's understanding, is like a human being in which body, mind, intellect and soul are unified into a wholeness. A nation, too, has an identity, he said, its chitti .
In his formulation, the principles of dharma, which bring about peace and harmony, constitute the chitti of the nation. A person subjected to such a national ethos has to subsume their individual urges for the sake of the interest of society. As a result, Upadhyay sees no conflict in the caste system, for instance.
In one of his lectures, quoted here, he says, "Here too, there were castes, but we had never accepted conflict between one caste and another as a fundamental concept behind it." Further, he goes on to say, "If conflict among them was fundamental, the body cannot be maintained.... If this idea is not kept alive, the castes, instead of being complementary, can produce conflict. But then this is distortion."
From this glimpse into Upadhyay's vision, it is evident that his philosophy would not travel well into the 21st century. To transplant it to our time would be a colossal political miscalculation; to modify for the need of the hour a severe challenge.
Postscript
A vast amount of literature on Upadhyay exists in the Indian languages, though not as much in English. An online resource, created by the Syama Prasad Mookerjee Foundation, is available for English readers as a primer, to be followed up with independent reading and research.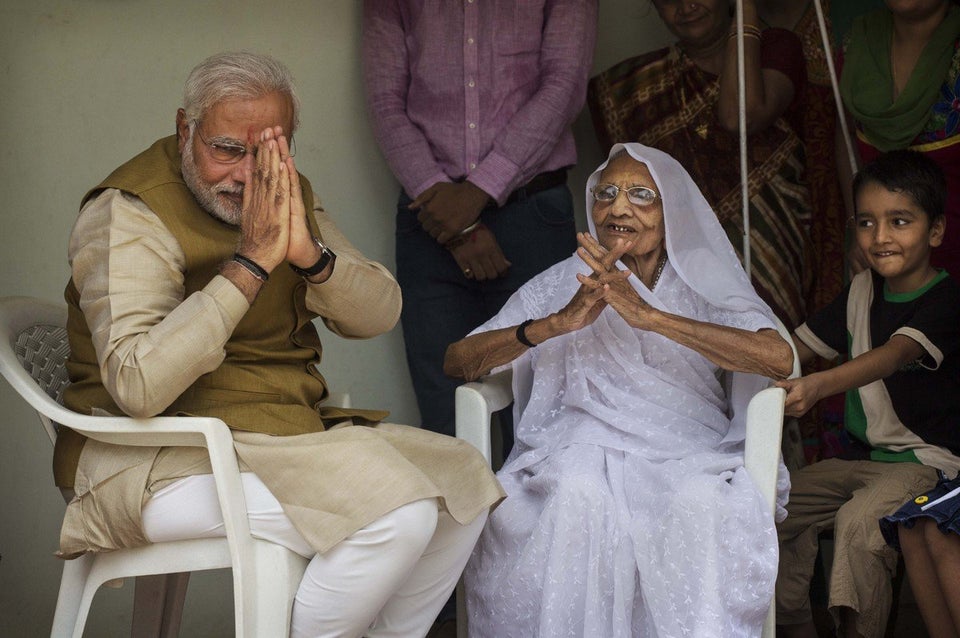 BJP's Narendra Modi Becomes India's Prime Minister