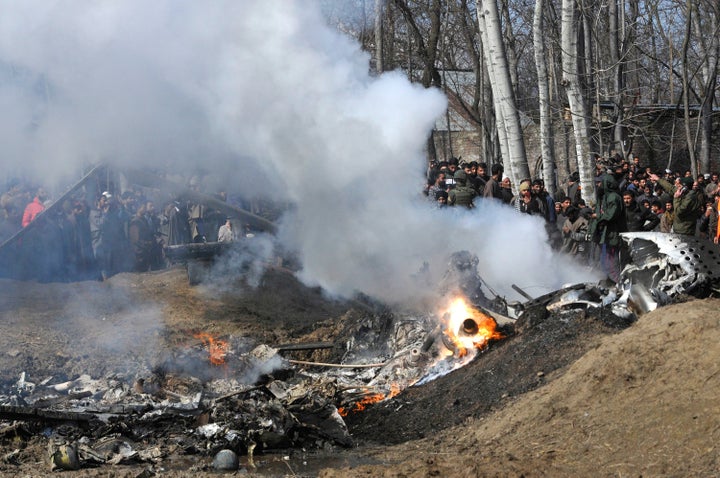 On 27 February 2019, one Mi-17 V5 helicopter of Indian Air Force got airborne from Srinagar airfield at 1000 hrs for a routine mission. The helicopter crashed around 1010 hrs near Budgam, J&K. All six air warriors on board the helicopter, suffered fatal injuries. A court of inquiry has been ordered to investigate the accident.
Some of this morning's papers were careful to include the word "routine" in their copy, as if to say these six deaths, like the helicopter sortie, were part of the everyday life of the Indian Republic.
"Keep Moving Folks," the press release seemed to say. "Nothing to see here."
Just some routine deaths that routinely happen on a routine sortie.
These six deaths, the IAF press release and most of the media wanted us to believe, were in no way related to the Air Force led operation along the Line Of Control, where the Pakistan Air Force had shot down an Indian MiG 21 and captured its pilot.
Yet surely no Air Force sortie in Kashmir, on a morning when the Indian and Pakistan Air Force are literally shooting each other's jets out of the sky, can be described as entirely "routine." So why is the Air Force so determined to distance this one helicopter flight from everything that happened in Kashmir that day?
Because these deaths, Prime Minister Narendra Modi and the Ministry of Defence, desperately want us to believe, were not related to Modi's impulsive decision to upturn decades of Indian foreign policy and military doctrine.
These deaths, in short, should not be included in the human costs of Modi's misadventure.
The whitewashing was so determined that when external affairs ministry spokesperson Raveesh Kumar read out a brief press statement in the afternoon on 27 February, he didn't even mention the crash.
Air Vice Marshal RGK Kapoor sat beside Kumar; he must have known that his men were dead — many in the media already knew. But Vice Marshal Kapoor said nothing.
And of course, neither gentleman took any questions.
Silent Deaths
So how much we account for these deaths?
Two weeks ago, when a suicide bomber killed 40 troopers when he crashed an explosives-laden van into a Central Reserve Police Force convoy, everyone knew the drill:
The media and the political establishment swung into action like a well-oiled machine: television channels rounded up relatives who bayed for blood, television anchors bayed for blood as well.
At one point, Modi addressed a public rally beside a poster emblazoned with the faces of the troopers killed in the explosion. Blood had been spilt. And blood must be avenged; deaths must be marked, and mourned, and publically saluted — except when they are "routine".
The silence around the six deaths in Budgam is fresh evidence of the sad truism that for the state-media nexus, not all deaths are not equal. In my time as a conflict reporter, I used to think this meant that the lives of civilians mattered less than the lives of soldiers. Or that deaths during peacetime matter less than deaths during war.
Yet the Budgam helicopter crash suggests that even in the teeth of a military operation, some deaths are more equal than others.
Speaking of which, the death toll in the Budgam crash was not six. It was actually seven. Qifayat Kifayat Ahmad Ganaie, a 20 year old Kashmiri civilian, was out in his fields that morning when he was hit by shrapnel from the exploding helicopter.
Yet Qifayat was not mentioned in the Ministry of Defence press release. In fact, this is the first time he's being mentioned in this piece. And that, in a nutshell, sums up the situation in Kashmir: that for India and Pakistan, the "Kashmir Conflict" is almost never about Kashmir, or Kashmiris. It is about India and Pakistan.
Up until the Budgam crash, the India-Pakistan air sorties had the giddy excitement of a three day test match.
On Day One India sent jet fighters across the border, but Pakistan insisted they hit nothing of consequence. On Day Two, Pakistan sent jet fighters and India insisted they hit nothing of consequence. An Indian pilot did get captured but on Day Three, Imran — impeccable cricketing manners, that chap — announced Pakistan would release him.
The helicopter crash proved that where there is war, there is death — as a matter of routine.