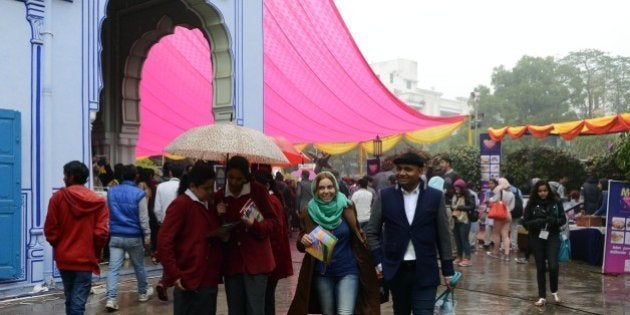 The murmurs begin as a cricket's chorus, rising in credenza as the days fly off your calendar: are you going to Jaipur this year? It's the end of January, the weather is (predictably) cold and grey despite hints of a warm spring this year, and everyone who is within flying, driving or walking distance is making their way to the Jaipur Literature Fest 2016. (JLF to regulars, friends and family.)
Now you've probably read a zillion curtain-raiser pieces by now already, the hacks cobbling together the best of the schedule, but it's still easy to get a little overwhelmed, especially if you're a JLF virgin.
Even seasoned pros have a tough time navigating: it's a small space packed full of people and Every. Single. Thing. On the schedule is actually pretty fascinating. How to make a choice? Some people just average out the venue in which most of their favourite talks are going to be, and camp there, marking out chairs as territory, not even leaving to go to the toilet. (Which reminds me: ladies, the best loo for you is the one right behind the Front Lawns, tucked away close to the delegate area so it looks like it's private, but really is a public one. The delegates have separate facilities inside. Don't even bother going to the one near the cafe, it's pretty much always full and/or out of toilet paper.)
A brief list of people to stalk this year. Check back for the daily updates for more!
This year, by far the most anticipated author is Margaret Atwood. If you haven't read anything by her yet, rectify that immediately by getting a copy of The Handmaid's Tale (my personal favourite) but really, any of her books are fantastic. Need an Atwood cheat-sheet? She's 76, a Canadian poet, critic, novelist, essayist—as well as an environmental activist.
Next to stalk is Stephen Fry, another big-draw name. You might already know him from the TV shows Jeeves and Wooster or QI. He's here to talk about his memoirs, which are brilliant: dry, crisp humour and so revealing, you'll feel like you're best friends by the time you're done. Pick up the first volume: Moab Is My Washpot in anticipation.
Returning to JLF is Alexander McCall Smith, author of the 42 Scotland Street and No. 1 Ladies Detective Agencies series among others. From seeing him at past festivals, he seems super approachable, and was always surrounded by fans, so get in there and get a book signed. (I'm partial to the Botswana tales myself.)
Booker-winner Marlon James will be there as well—his book A Brief History Of Seven Killings has been getting rave reviews, even before it won the big prize. Also, here's something aspiring writers can sympathise with: his first book was rejected 70 times before it finally got published. And who's laughing now, eh, publishers?
Cornelia Funke, German children's fantasy author. I'm currently devouring her Inkheart trilogy, about a book-loving girl whose father gets taken away and how that leads to her going on adventure. Scores of kids around the world love this book, with over tens of millions copies sold worldwide She's like the German JK Rowling, plus hipster points because it's likely your friends won't know who she is.
(Point of note: these parties are by invitation only. Guests lists are tight and checked. If you are not on a list, you don't need to feel left out. There is a musical evening after every day's session at the Hotel Clarks Amer. These are usually quite fun and worth a visit.)
The festivities begin tonight, Wednesday, January 20th with the welcome drinks and dinner for the delegates at the Rambagh Palace.
On the 21st, literary agent Mita Kapur is hosting her legendary festival opening party in her Jaipur home, plus launching festival director Namita Gokhale's mother Neerja Pant's book Bhoole Bisre Chand Tarane.
On the 22nd is the other annual event: the Penguin Random House party at the Rambagh palace again.
The 23rd shows a surfeit of parties. Of these, the most exclusive is the Vogue-Juggernaut dinner, in a location so hush-hush, that I'm not even allowed to write about it. Seated dinner (with seating charts, so it's all very curated) and only 32 people in attendance. Both Vogue features director Anindita Ghose and Juggernaut publisher and founder Chiki Sarkar have thrown fabulous exclusive parties before, so this one will probably be remarkable.
The same night is the Elle party in honour of Margaret Atwood in Samode Haveli, in association with Bloomsbury. There's also the Harper Collins party called "An Evening With Gulzar," again at the Rambagh palace, which seems to be the most popular party venue at the festival!
The 24th is oddly free—unless there's a last minute player added to it, which brings me to the 25th, Monday night and the last day of the festival, which wraps up with the Writer's Ball. This year it's at the Le Meridien.
Miscellaneous Points Of Note:
If there was ever a time to wear your OTT woollen dress or carry along your collection of fedoras, this is it. People dress beautifully and fashionably—it's not a requirement, of course, and no one will look at you funny if you're only in jeans and a sweater—but think of it as the lit world's fashion week.
To make the massive schedule slightly easier to navigate, download the Teamwork Arts app. There were a lot of outdated JLF apps in the Google play store when I checked, but this one is up-to-date and you can add the different sessions you're interested in to your own private schedule which I find very useful.
Carry warm clothes! It will probably be very sunny and pleasant during the day, but the nights are chilly.
Drive, bus, train or fly safe, and I will see you on Day One.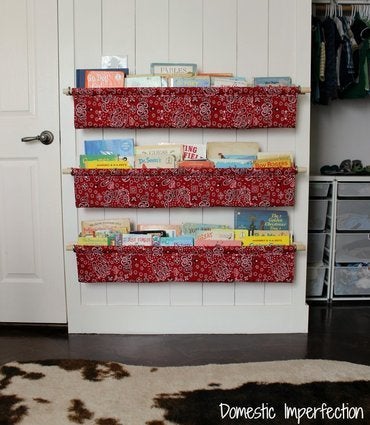 11 Brilliant Ways To Store Kids' Books
Popular in the Community