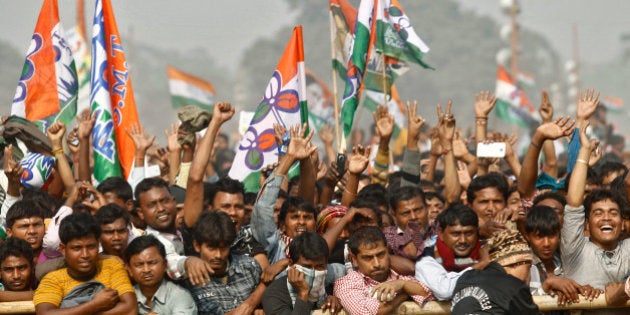 Rahul Gandhi has promised at a rally in Murshidabad that if the Congress-Left combine comes to power in Bengal it will end the syndicate raj.
Gandhi sidesteps the inconvenient truth that the syndicate is not a Trinmool invention. The very same Left that the Congress is now allied with, presided over the birth of the syndicate in Bengal. That under Trinamool it has grown, prospered and become institutionalized, is a different story.
CPM politburo member Mohammad Salim says, "We have learnt from the past. There is a nexus between crime, politics and administration behind these syndicates. If we come to power, we will break this nexus."
But the Communists cannot wash their hands off it that easily. As has been noted by the Indian Express, syndicates started around 1995 when the building boom in Rajarhat suburb of Kolkata began. An estimated 2,50,000 families were affected by the land acquisition. The CPM government encouraged these people, who were without jobs and skills, to supply construction material.
Even Rahul Gandhi inadvertently acknowledged that in his speech.
"Paanch saal pehle jab humne Mamataji ko samarthan diya tha tab humne kaha tha ke syndicate raj aur goonda raj ko khatam karna hoga (Five years ago when we supported Mamataji we said that syndicate raj and goonda raj had to be ended)" Rahul told the rally.
What he did not mention was that five years ago, the CPM was the one in power. Thus the "syndicate raj" and "goonda raj" that Rahul is talking about was in its fiefdom. Now the CPM is trying to wriggle away from their role in it by trying to make it a story of employment vs extortion. Their syndicate offered employment, the Trinamool syndicates have turned to extortion. CPM leader Gautam Deb, tells The Telegraph, "It has become coercion and extortion … We have to remove this evil and it requires political will and we have it."
Deb ironically is the godfather of the syndicates. When the Rajarhat building boom started he was the one who began a cooperative of 2,000 people to supply construction material like sand and stone chips. Deb called the creature he created a cooperative. But it was a cooperative that provided election muscle and election money. Now it's taken off that mask and become a syndicate.
A CPM syndicate member tries to finesse the difference in an interview with Scroll.in. "We spoke nicely to people. We said please. Trinamool people you know how they behave. They threaten you, 'Will you buy from us or not?'"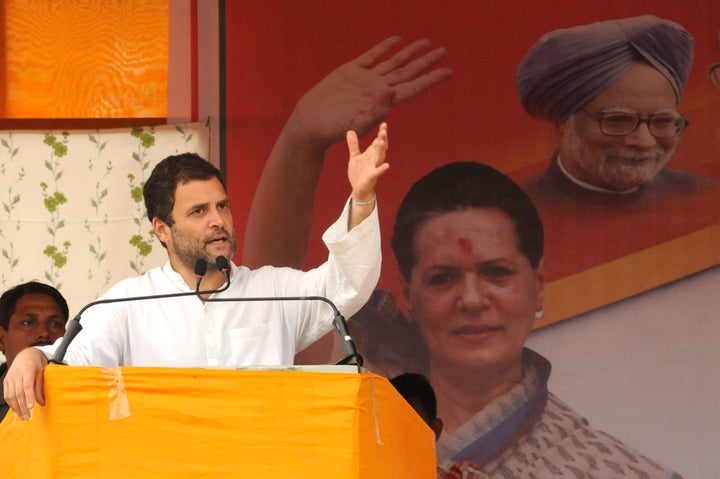 What is true is that in over three decades in power the Left had a system in place even when it came to corruption and coercion. A small businessman in Bengal remembers walking into a corporate office in Haldia and finding a slew of tough looking men sitting in the front room. The officer said ruefully that in the heyday of local CPM supremo Lakshman Seth, he would just pay his dues to Seth and no one else bothered him. Trinamool is a multi-headed hydra operation riven by factional rivalries and his front office was filled with competing dadas all of whom were demanding favours and contracts and claiming to be THE Trinamool player in the area. A building promoter in Kolkata said that during the days the CPM controlled the municipal corporation he could factor in how much he would need to pay to whom to get his permits and the work would get done. Under Trinamool, he said he would pay off one person, only to find another claimant showing up at his door.
Now the CPM is trying to wriggle away from their role in it by trying to make it a story of employment vs extortion. Their syndicate offered employment, the Trinamool syndicates have turned to extortion.
That internal syndicate civil war sometimes spills out in the open with rival groups, both affiliated to the Trinamool fighting each other with guns in broad daylight. In 2014, for example, just days after the party leadership issued a diktat against its leaders being involved in syndicates, two groups, one allegedly close to a Trinamool MP and one close to a Trinamool MLA clashed with bombs and bullets in New Town, just outside Kolkata. "We are all members of Trinamool but evidently some of us are less equal than others," said the wife of a Trinamool panchayat leader who was wounded in the fight.
When Mamata Banerjee warned her party members not to "do syndicates" what she was really warning against was this unseemly Trinamool vs Trinamool public bloodletting. The opposition can call syndicates a Trinamool creation but there's nothing ideological here. Trinamool currently controls the levers of power and thus the muscle and money of the syndicate has moved to it. If alleged syndicate kingpin Bhajai Sardar is close to Trinamool now, once he was close to the Gour Mandal and Louis Mandal land mafia dons of New Town who enjoyed the blessings of the CPM writes Indian Express. Sardar was on stage with the current Bidhannagar mayor Sabyasachi Dutta who said he is a "leader who is loved and respected and his son is doing M. Tech. We are all proud of him."
The syndicate is the buzzword of this election. Rahul told his rally "One man from Mamata's party got the contract. Materials of bad quality were used and the bridge came crashing down." Rahul is conveniently joining the dots to serve his own ends. There is no evidence yet that even if there were bad quality materials they came from a Trinamool subcontractor. As the Scroll.in article shows many engineers and architects here say the quality of materials is not the problem, the syndicates make their money by inflating the measurements. And the bigger headache can be the labour syndicate that forces builders to pay for syndicate-sanctioned labourers instead of their own as opposed to the construction material supply syndicate.
The Opposition clearly thinks the syndicate raj will be the Achilles heel of the Trinamool the way they hoped the Saradha chit fund scam would be the last time around. "Look at the people in the Saradha scam. You will find the same people are caught in the Narada sting. And again these very people are linked to the flyover collapse," said Narendra Modi in a speech in Bengal.
Modi and Rahul can promised an end to a syndicate raj but the most they can realistically deliver is a syndicate with somewhat better manners.
No one in Bengal believes a chastened Left or new-kid-on-the-block BJP can actually get rid of syndicates. As Trinamool leader Sabyasachi Dutta admitted in a Times Now sting syndicates are the main source of employment for a huge swathe of people and elections cost money. "I cannot provide livelihood to them. If 20,000 people die of starvation, the government will fall. If I tell 20,000 people you have to die, even if 2,000 goons die, it would be a major crisis."
Neither Modi nor Rahul is offering a plan B for those 20,000 people. And when push comes to shove no party wants to take on the crisis. The syndicate has turned into Frankenstein's monster. Modi and Rahul can promised an end to a syndicate raj but the most they can realistically deliver is a syndicate with somewhat better manners.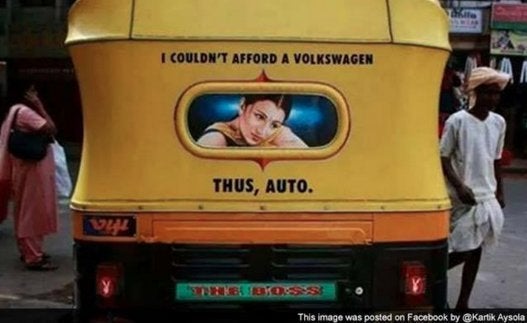 Bumper Stickers In India
Popular in the Community