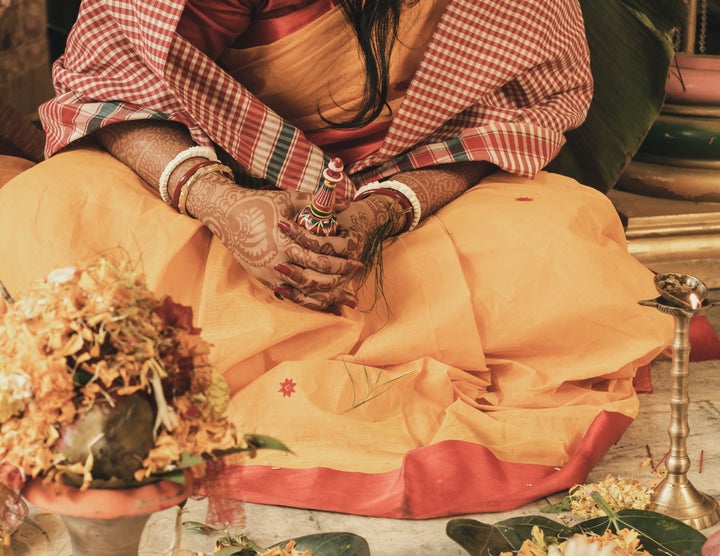 My first memory of the white shnaakha and red pola (the Bengali version of what north Indians call choodha) is tied to my mother who'd smear the parting of her wet hair with a dash of sindoor, and then slip on the bangles every morning after a bath. She looked radiant — clad in a saree, her sindoor in place and the bangles clasping her wrists — and I would keep looking at her, my epitome of the woman I wish to be.

She looked brutally soft and brightly glowing in that red colour. Whenever she wasn't at home, I would steal a pinch of sindoor from a the small, round tub she stored it in and wear it the way she did, trying to see if I looked as radiant as her. I'd also hastily rub it off before anyone saw — isn't it amusing how girls learn to toe the lines of patriarchy right from childhood?

And the bangles intrigued me. They were beautiful — the uneven circumference of the white conch-shell white bangles, with little incisions on the surface every few centimetres. The fiery red of the smooth, shiny red lacquer of the pola, and how beautiful they looked — the red against the pristine white — when they were slipped around your wrists. I loved them for how simple, yet beautiful they were — kind of like my mother who I associated them with — but a part of me was always sad that they were out of bounds for me.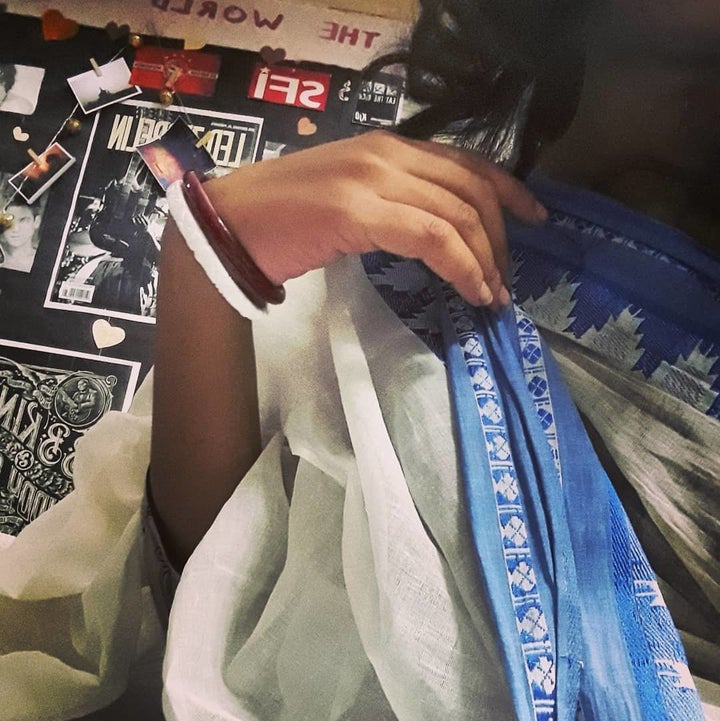 Then there was Durga Pujo. On Dashami, there would be sindoor khela in our ancestral home in north Kolkata and that red colour would feel so bright! But as Hindu customs have it, we the kids and the unmarried women would be strictly kept out of this celebration. As I grew up, the charm of those shnaakha pola never withered though my beliefs in the customs shattered. I mean, what good are customs if they can't make you happy?

So this year, I had decided that I would give it a try. Start wearing accessories I like, even though traditions directed something else. My first experiment was with these beaded chokers made out of Tulsi wood more often than not associated with the Vaishnavite tradition. I remember getting asked at least about 50 times that week by acquaintances if I plan on visiting the Iskcon temple or suddenly have developed a passion for the religious tradition embodied by the Krishna-worshipping sect. Though they weren't very excited about the idea that I am using the beads just as an accessory, no one seemed particularly riled by it. Of course, some said it was 'weird' that I would wear those necklaces.

Some others were actually excited at the thought of it and wondered if they should wear them as well. No harm ever came from wearing accessories, has it? The case remained almost unchanged as I proceeded to buy myself a black beaded Mangalsutra with a small pendant. Women seemed to focus on the part that it really went with my saree. The men, however, were a different story. While some were flabbergasted, others generally accused me of practicing 'poor feminism'.
"While some were flabbergasted, others generally accused me of practicing 'poor feminism'."
By now, I had grown fairly confident of wearing things that I wanted to and it was time for me to try something I have cherished for very long — the shnaakha and pola. So I landed at a small shop in Chittaranjan Park — a predominantly Bengali neighbourhood — in New Delhi.

The shopkeeper knew me as I made frequent trips to buy Bengali snacks and also bought some of the Tulsi chokers from there. However, when I asked for a pair of red and white wedding bangles, he of course asked me if I was getting married.

"Nope," I told him.

His eyes widened in surprise and he said he had never, in the many years he had run the shop, encountered someone asking for a pair of shnaakha pola to wear just like that. But then he added, to my surprise, 'Porte bhalo lagle porun na, ki ar hobe apni porle!' (If you like to wear the choodhas, go ahead. What bad can come out of you wearing them?).

So the next day I put on my favourite saree and wore the bangles and stepped out. Ironically enough, most women seemed to find it delightful that these bangles looked great with the white saree while the men, both on and off my university campus seemed to find it odd.

The dominant argument made by these men — some of who identify themselves as 'feminist' as well — was what is the harm in preserving a 'little tradition' without subscribing to the patriarchal beliefs behind them? Most men I encountered that day looked at me as if I have done something really scandalous by wearing a pair of bangles!
"The dominant argument made by these men — some of who identify themselves as 'feminist' as well — was what is the harm in preserving a 'little tradition' without subscribing to the patriarchal beliefs behind them?"
It was surprising to see that people were more acceptable of the idea that my Tulsi beads had nothing to do with religion but the choodhas, apparently 'hurt a lot of sentiments'. Whose sentiments, may I ask? Well, mine gets definitely hurt when I can't even wear things I want to because of meaningless traditions!

Now one might ask me, what was the reason for this little act, that seemingly, is not bringing in some radical social change? My answer would be, it makes a statement that women are not required to choke their wishes and fancies because of 'tradition', a nicer word used to sugarcoat the ugliness of patriarchy.

Whenever a woman breaks a patriarchal tradition, it's met with great discomfort and self-righteous chiding. I remember the time a woman laughing loudly in Parliament was considered so 'inappropriate' that it became a full-blown political controversy. The Prime Minister of the country found it necessary to take a dig at her.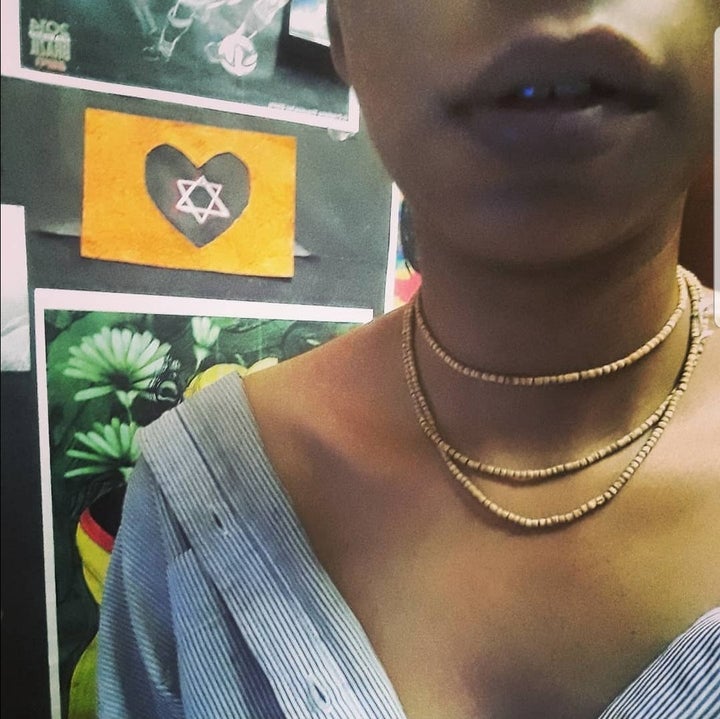 And now an entire political class, and much of the country has gone up in arms to 'protect' a temple from women who want to enter it. Men have 'purified' the said temple after women entered it. It just goes on to show how fragile Brahminical or any form of religious patriarchy is. It takes something as small as a woman laughing or wearing a pair of bangles she likes to wound it.

Much has been said about women of influence embracing things like the choodha or sindoor and helping reinforce patriarchal values. However, I am trying to give women like me a chance to reclaim markers of patriarchy and turn them into weapons to exercise our agency and tell the world that they cannot control our bodies on the pretext of 'traditions'.

You think 'traditions' are beautiful? I'll say there's nothing as beautiful as woman free from traditions that try to cage her.
Shreyasi Biswas is a doctoral student at Jawaharlal Nehru University.