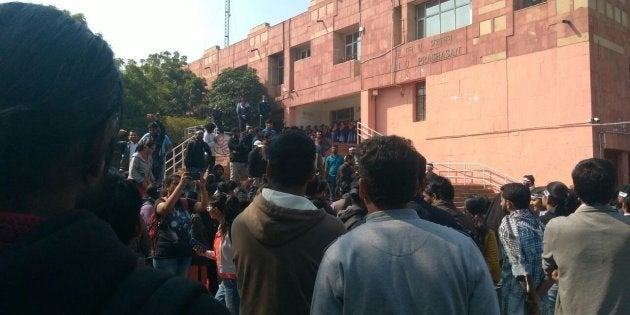 "A silent Tiananmen Square is happening here. We need help."
This appeal by 28-year-old *Preeti Singh, an MPhil student of International Politics, strikes at the heart of an ongoing protest by students from various faculties at the national capital's prestigious Jawaharlal Nehru University (JNU). For over a month now students have been demanding that the Vice Chancellor roll back a decision Singh calls Orwelian — to make 75% attendance mandatory for all students at the end of each semester.
Women research scholars say the decision will hit those who have not qualified for a research fellowship available after qualifying the National Eligibility Test (NET), and are paid a meager stipend, the hardest, for most of them take up teaching jobs to supplement income and support families. Non-compliance would mean that they will face the prospect of losing their hostel seats, which for many who travel from all corners of the country to stay and study at JNU, will prove disastrous. But as many see it, it's also a war against the pluralistic, free thinking ideology that JNU stands for.
"We really need help. Else the very culture of education, of research, of questioning, will die. We are a country that fought to get all that we have today. Education, is important. JNU has repeatedly proved that it marks India's excellence in education world over. Our faculty has proved that, we have proved that. We really need a narrative," Singh says in an appeal to journalists and others outside to write about what's happening at JNU.
"We want to study, for some of us this is the only access to world class education. And we are fighting just so that we can study. We need someone to put that out. To help us. Else, we will perish. JNU will die."
"And we are fighting just so that we can study. We need someone to put that out. To help us. Else, we will perish. JNU will die."
In a circular dated 10 January, the university mandated 75% attendance in an academic year to avail of scholarships and fellowships, based on the recommendations of an attendance committee. Students of MPhil and PhD students will now need prior approval from either their supervisor or chairperson of the centre if they are away on course work. They have been granted 30 days of leave in an academic year. The students are asked to come in every day to sign a register.
But students and teachers have dismissed the circular as a unilateral decision taken by the administration without taking them into confidence. They claim it's illegal because the Academic Council meeting in which this matter is supposed to be raised has been indefinitely postponed.
Protests are a mainstay of the university where independent thinking is encouraged and dissent is considered the highest form of democracy. On the outside of the green campus this very thought rankles conservatives who see any form of critique of the country or its government as treason. To mark their civil disobedience, students have been scribbling "I refuse to sign this sheet" on an attendance register made mandatory. One cheeky student scribbles 'Wonder Girl' as their nom de guerre.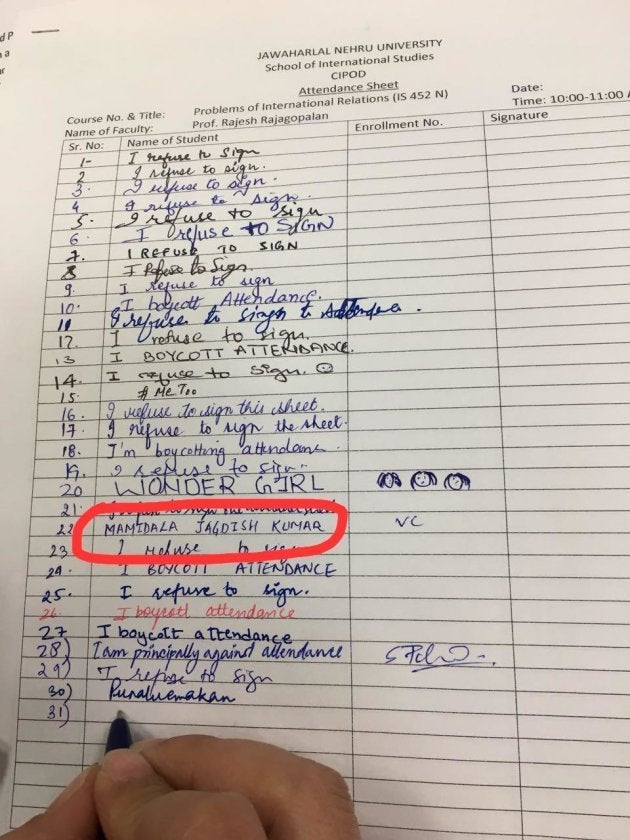 Sympathetic teachers have been holding open-air classes to accommodate the protesting students – sitting out on the grass lawns of the sprawling campus because, as one student puts it, "we're not against attending classes, just against compulsory attendance."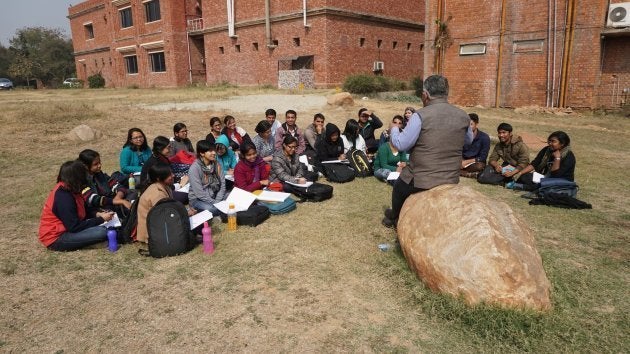 On Thursday, as I enter the campus, a large crowd is starting to gather at the Administrative Block to seek an audience with the Vice Chancellor who they claim has chosen to tweet rather than to meet them in person and hear their demands, the main being the rollback of the attendance policy and convening an immediate meeting of the Academic Council, the highest decision-making body of the institute.
Guy Fawkes masks are being handed out and students line up in front of a bust of Nehru, India's first Prime Minister after whom the University is named, to hold up victory signs, even though they've not been able to achieve the victory they seek in the past one month. They mill around on the steps of the Admin block and crack jokes on CCTV surveillance on campus.
"That's recording everything," a student says, pointing at a post beside her with a CCTV camera perched on top. "I'll soon get a notice asking me to pay a fine for turning up at this protest," she jokes, referring to a series of notices issued by the administration warning students of punitive actions if they failed to mark daily attendance. Several senior office bearers of the JNU Students Union (JNUSU) have been fined Rs 10,000 each for violating a Delhi High Court order on demonstrations around the Admin block.
The JNUSU is leading the stir. Interestingly, the BJP-backed Akhil Bharatiya Vidyarthi Parishad (ABVP) is supporting the attendance boycott, at least on pen and paper. They have called it 'Tughlaqi farmaan' (dictatorial), understanding that it has united students for a common cause.The protestors have also the solidarity of many science students for whom daily attendance is a way of life, given the time spent in labs. They realise, students say, that this affects everyone. Everyone needs to stand united.
Even the JNU Teachers' Association (JNUTA) has issued a statement in solidarity with the students. Late on Thursday night, in a Facebook post, they condemned the administration for "framing the whole issue". For teachers, the attendance policy means an added work load with little by way of productive output. Many claim it's just surveillance.
"Instead of speaking to the students demanding a dialogue and Teachers association urging administration to speak to the agitating students, the administration waited whole day to frame the whole issue. They also tried to project to a group of teachers who are close to the VC as the saviours. No respect for teachers democratically elected body and student representatives. And the administration appeals as if they are the real saints," JNUTA says.
As students continue to wait for him to come out of his office and talk to them, M Jagadesh Kumar, Vice Chancellor, puts out tweet after tweet asking them to "not bring disrespect to JNU and destroy the future of thousands of other JNU students."
'You're Shutting Down Upward Mobility'
As I walk towards the School of International Studies, Soumya Awasthi, a 30-year-old, third-year PhD student from SIS meets me in front of the building. "Let me quickly check up on my son," she says. A woman colleague is gently rocking the sleeping two-year-old while another begs her to let her hold the toddler. Her classmates help babysit whenever she is forced to bring the toddler to the campus. Awasthi, a day scholar, is raising her son alone.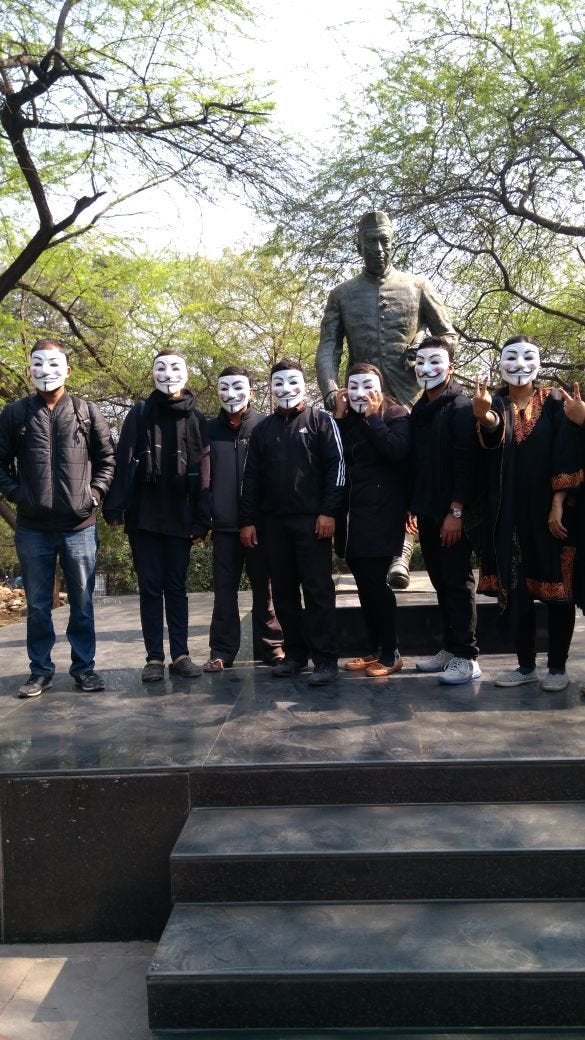 "I am single parenting because my husband is not in town. I have double responsibilities as a mother as well as a father to my son whom I'm grooming him on my own. There are logistical issues, I can't come here everyday leaving my child behind when there's nobody at home to look after him," she says. There is no creche facility available for women day scholars with children who are now required to come in every day to sign attendance. Many students who are not junior research fellows are paid as little as Rs.5,000 a month and take up work outside campus to support themselves.
Many come from far-flung areas and send home money. For social sciences, field work is an essential part of the curriculum that the compulsory attendance will inconvenience. JNU, the students say, just does not have the infrastructure to support 7,000 students coming into campus, plugging in their laptops, finding a place to sit and work. Losing hostel facilities has been suggested as a punitive measure against those who fail to show 75% attendance.
For many women, it would actually mean losing control over their lives.
"Much of my work is in archival research, for which daily attendance isn't needed. If hostels are taken away on non-compliance of the attendance criteria, you put us in a precarious position. For women, one option of breaking out of the patriarchy is getting an education. If you force women, especially those who come from the hinterlands to study at JNU, out of hostels when they cannot put in the 75% attendance due to various practical reasons, they are forced to discontinue their education, return home, and what is the next step? Marriage."
Which is what she says happened when last year JNU announced massive seat cuts in MPhil and PhD programmes across courses.
"For a lot of women, JNU remains the only option at getting a world class, subsidized education. Every country aspiring to become big, needs to spend on education. When you shut down a place like this, you are shutting down upward mobility," says Singh.
16 Feb, 2018 marks two years since the arrest of then JNUSU president Kanhaiya Kumar on charges of sedition and a subsequent campus uprising. Since then there have been campaigns online to portray the university as a hub of Leftist reactionaries wasting tax payers' money to indulge in political protests instead of studying.
Debangana Chatterjee, a student of International Politics, says she has always had more than 95% attendance record in her BA and MA courses in Jadavpur University and JNU. "What comes after a good track record? When I think about it, there are only a few influential and important classes which are there in my mind and others are not. Here in JNU there are some classes in which teachers use microphones to give lectures, people sit on the floor to hear the lectures, even without the attendance rule."
"For my field work 2018 July onwards, I have six cities to visit. which means I cannot schedule this so tightly," says Chatterjee who is working on female genital mutilation.
For Ananya Sharma, a last semester PhD student, getting an education in social sciences is no less that than waging a war against society. "We fight at all levels," she says.
"There are many who have made this decision to study here against their families' wishes, against (the pressure of) taking up technical education, because doctors and engineers are apparently the only two options in our country," she sarcastically adds. For most women, the commonest form of societal coaxing she says, is, "you can continue your studies after marriage".
"And now with the restriction of hostel, a lot of us are fighting at many levels. You are just going to break a lot of us down at so many levels and coerce us into signing (the attendance)," Sharma says.
Research scholar Sanjukta Nath who travels every day from Delhi's Guru Teg Bahadur Nagar in the north to JNU in the south, says since she does not have a junior research fellowship grant, not all students have, and does not have hostel facilities, it's pretty tough to come in for attendance. Renting a flat around campus is difficult and expensive.
"I come for weekly seminars and if I have to meet my guide, or if there's some work. It's very difficult for us to commute every day from North. Money is a problem for most research scholars," she says.
"When my guide is meeting me in the evening, it makes sense for me to come during that time than coming and spending the whole day on the campus to sign the attendance in the morning. There's no direct commute. I have to change metros every day to come here. There's a safety issue after hours. Plus what I'm working on, isn't available in this library," she says listing the myriad ways women, already fighting for equality in all available spaces in society, will be inconvenienced by the new rule.
"This rule says we are granted 30 days of leave, as if we are working a 9-5 job, and get graded paid," Awasthi says and smiles. Her son has now woken up and is running around the campus and a couple of her male classmates are keeping an eye on the child so that she can chat in peace. She gets paid Rs 8000, of which Rs 5000 is spent on transport and the rest on xeroxing course material.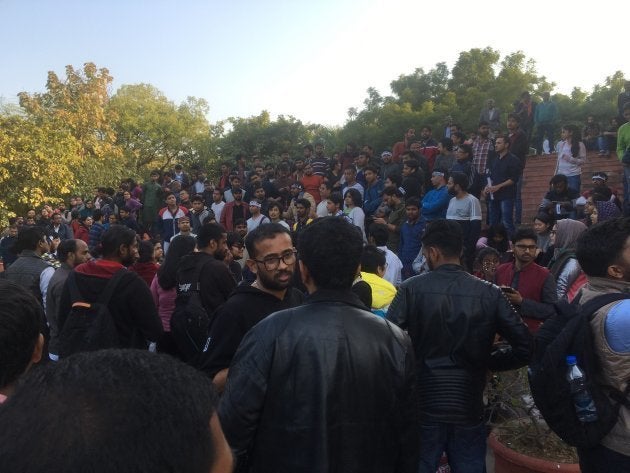 "Both my parents are professors. The analogy that people give is all state university have attendance requirements. I was speaking to my mother and she says that all research scholars come in to sign attendance everyday. It was very hard for me to convince my parents, who are in the system, that a PhD in JNU is not just cut copy paste," says Sharma.
The loss of deprivation points recently has already affected women students.
The deprivation point model, a point-based gradation policy that allows the admission of students, especially women, from backward communities, and makes the university inclusive, was struck down by the Delhi High Court as "legally impermissible".
There's a culture of sexism behind the compulsory attendance, students say.
"As a student you have to be accountable or ji huzoor (yes, sir) to somebody. I think we don't treat students well. After a certain point they become your equals, you are in the same academic community. There is a certain sense of dignity and respect you give to your students and their decisions. You don't need to take permissions. I think it's a very regressive North Indian culture of taking permission, it's extremely feudal," Sharma says.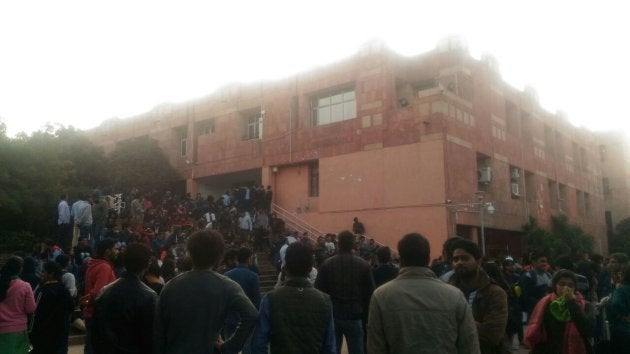 Swati Simha, an MPhil student from the Centre For Comparative Politics and Political Theory says the attendance rule was passed at the previous academic council meeting unilaterally without due process. It wasn't part of the agenda and wasn't tabled as a resolution. JNU administration cites University Grants Commission to justify the 75% attendance rule, however, in reality the UGC has no mandatory attendance for MPhil and PhD scholars. "Countability is not accountability," she says.
The climate of JNU is changing, she says. A dhaba that used to remain open for 24 hours a day and used to be a meeting ground for students, now closes early. "Since 2016's Kanhaiya campaign they've pushed forward the agenda that students need to be tamed," she says. The attendance criteria will negatively incentivize the students, she feels. "We attend because we want to. The teachers also strive that much harder to get their classes to fill up, if you bureaucratize and regiment the process, the relationship students have with their classes will change."
She quotes Karen L St. Claire's paper 'A Case Against Compulsory Class Attendance in Higher Education', that collates data from top universities across the United States over a period of 10 years to conclude that "when students are in control of their behavior with respect to attendance and are respected as adults who are capable of making rational decisions, they feel more responsible and better equipped to tackle independent research."
In their appeal to the Chairperson of the School of International Studies the students make a case against moral policing.
"Women students struggle on several fronts before having the opportunity to enter higher education. In a university like JNU, women students are able to make decisions regarding their life and behavior. In other universities, attendance policies being displayed on university websites have been a way of policing the whereabouts and movements of women students which can impede their livelihood and research output, eventually causing dropouts and adverse mental stress. JNU has a healthy ratio of women students and such a policy could be detrimental to the growth of the university itself," they write.
Similarly, the students of the Centre for International Politics, Organization and Disarmament in the School of International Studies, have written to their Dean raising objections to the attendance rule.
"Social science research demands extensive field work, archival work, regular interactions with resource persons, groups and communities outside the university premises. These research practices cannot be bound by insistence on daily presence at the campus," they say.
"While accountability at the university is a valid expectation, the regulation of a student's life through daily attendance requirements is a serious violation of the spirit of research and free enquiry as enshrined in the Jawaharlal Nehru University Act 1966 and the Statutes of the University. No other humanities departments in any of India's central universities have a requirement of daily attendance for non-course work research scholars," the letter states.
"The circular dated 8 February 2018 is not only of a threatening and coercive nature, but indicative of the shifting goalposts of a policy that has not been well-thought out and/or not clearly enumerated. The use of threats, coercion and intimidation by linking classroom attendance with fellowships, residential facilities and medical facilities, make the mandatory attendance rule seem more as an after-thought rather than a clearly envisioned policy," the students write.
This is a draft of their letter.
This is the attendance circular that has riled up the students.
The reason behind the attendance ruling, as Gaurav Saini, another research fellow puts it, is Kumar's desire to operate on the principles of technical institutions such as the Indian Institute of Technology (IIT). "He wants to take that model and bring it here. If you pick the Phd requirement for any technical universities ruled by the All India Council for Technical Education (AICTE), they have 75% attendance requirements because those are vocational courses." However, the privileges that research fellows of IITs enjoy can hardly compare with those at JNU.
Non-net scholars are paid about Rs 5000 a month in MPhil. And once a PhD thesis gets approved, the stipend is about Rs 8000. The JRF (senior research fellowship) and SRF (senior research fellowship) students get paid Rs 25000 and Rs 28000 per month respectively.
Students argue that if they are expected to work like professionals, getting 30 days off a year, and marking daily attendance, they should be allowed the perks that technical institutions enjoy, including higher remunerations.
"People who have course work, Masters and Bachelors, I agree that attendance is needed, but for non-course work students it does not make any sense. UGC guidelines place the entire weight of the quality of research between the supervisor and the supervised along with checks and balances in the form of committees," he says.
It's not just about the semantics of the rule.
"It signifies high-handedness," Saini says. The students have been locked in a constant strife with the management in three important cases, two of which have gone to court – the scrapping of the GSCASH, the seat cuts, and suspension of the deprivation points system. For most it's more of an ideological fight against unilateralism.
The JNU administration replaced the Gender Sensitisation Committee against Sexual Harassment (GSCASH) with an Internal Complaints Committee (ICC) going against its students and teacher bodies. The ICC is said to have members nominated by the administration.
It's also about the whole idea of neoliberalism and how public institutions are increasingly held accountable about where its tax payer's money is going, says Sharma. Democratizing education should not come with a price. "My parents could not afford a 20 lakh-fee demanded by private colleges. But I study here and I have the best professors. Everybody has a right to good education," she says.
Apart from the notices and counter notices, letters to the Dean, chairs of various departments, the students are now preparing for a longer battle, one that involves a call for Kumar's resignation and legal recourse if needed.
It's almost 4 PM now and as I walk back to the Admin Block from the SIS, I meet Convenor Aishe Ghosh who raises the point of differently-abled students.
"How are the disabled students supposed to come in every day? They've not thought this through. Forcing students to come and sign a register, interpreting UGC norms, postponing AC meetings, this is undemocratic," she says. "Why are the admin members not coming out for a dialogue?" The students are camped here since 10:30 AM while the VC has been active on Twitter, complaining of being cooped in.
"How are the disabled students supposed to come in every day? They've not thought this through."
Meanwhile, in the background, students have started to raise slogans calling for Kumar's resignation. Headbands are out and someone's keeping beat on a makeshift drum. Kumar is accusing the students of barricading the building. The Delhi High Court order mandating that no demonstration can happen inside a 100 metre radius of the Admin block has been flouted, he says. Policemen are milling around, sometimes swapping banter with students, but keeping things from getting out of hand. Any policeman at JNU knows the anatomy of its protests only too well.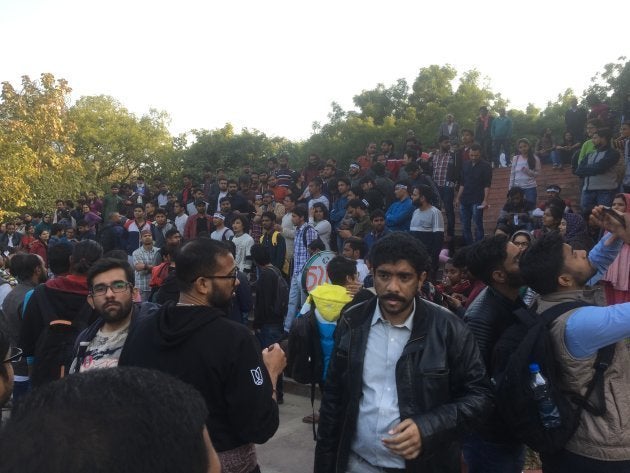 The students I speak to also have lots to say about the Twitter narrative painting them as unpatriotic ingrates. The description is a bit of joke to them by now due to the predictable monotony of repetition whenever protests happen on campus. Anti-national. Urban Naxals. Leftists. Marxist. Red Terror. JNU is traditionally Left-leaning, it's politics a vibrant part of its DNA, believed by outsiders to be overshadowing its academics. However, it's also the country's sixth-highest ranked institution after the Bengaluru's Indian Institute of Science, according to the government's own ratings. It was graded A++ by the National Assessment and Accreditation Council (NAAC) last year, elevating it to the ranks of one of the country's best places of learning.
"I want to say something about the whole narrative on social media about JNU scholars wasting tax payers' money. How do you assume that we have not paid taxes? How is investing in world class education and grooming students a waste of money? My parents have spent their entire life paying taxes," says Singh.
On Friday, the Registrar has released a statement that Kumar has retweeted accusing the students of misinformation and false propaganda.
The JNUSU has countered it with their own press conference and a statement claiming that "students are NOT fighting for "the right to not attend classes", they are fighting for their right to learn without pointless and arbitrary regimentation, in the best traditions of JNU, that have sustained its academic excellence for decades."
The research scholars, especially the women, many of whom are married and have children, are apprehensive they will have to make further allowances in their life to adhere to one more rule that restricts their freedom. Many are worried about how they can manage jobs they hold. Some are just weary at what the rule means in the broader political spectrum of taming JNU's spirit.
"The taking away of free thinking will impact generations to come", Saini says.
"This will go on," says Chatterjee wryly as they dust up their dresses, mill around exchanging banter for a bit before heading either to the admin block to join the protests or towards home.
(*name changed on request of the student)
Popular in the Community