More than a year after it was made, Sudhanshu Saria's debut feature film Loev (2015) was released on Netflix last week. This means viewers in India can finally watch it without the censor board, and other assorted moral custodians, coming in their way.
Loev, which had its world premiere at Estonia's Tallinn Black Nights Film Festival in November 2015, was selected at Austin's prestigious South By Southwest Film (SXSW) Festival in 2016. The film's Indian premiere took place in October last year at the 18th Mumbai Film Festival, but it didn't have a commercial release.
In spite of its critical acclaim abroad, Loev is unlikely to be commercially shown in Indian theatres, at least not without significant cuts. For, like its oddly spelled title, Loev is an unconventional love story involving three men — one that is illegitimate in the eyes of the Indian State. As Saria also explained in an interview, it wasn't an easy movie to make by any means.
But unconventional or not, any love story, at the end of the day, is about an emotion that's universal in its ability to move other human beings. The genders of its protagonists, their sexual orientation and station in life are secondary to the primal intensity that drives it. The experience of watching Loev is no different.
The film opens with Sahil (beautifully played by the late Dhruv Ganesh) struggling to pack in the darkness of the flat he shares with his flamboyant partner, Alex (Siddharth Menon). Brazenly irresponsible, and just as charming, Alex has forgotten to pay the electricity bill. A familiar squabble follows, and even without a hint of physical intimacy, Saria establishes a chemistry between the two men.
The real drama, however, unfolds when Sahil meets his old friend Jai (Shiv Pandit), a wealthy Wall Street broker who is on a business trip to Mumbai. The two take off on a brief holiday to Mahabaleshwar, where, in the course of 48 hours, they confront a repressed intensity in their relationship. By the time they've got back to Mumbai, their dynamics have acquired a fevered pitch.
The tumult raging inside Jai topples into violence, catching Sahil unawares. Or perhaps it merely thaws the resistance in him, forcing Sahil to confront his feelings for his best friend. The conclusion, which appears to restore the equilibrium between Sahil and Alex, feels comfortless. The viewer knows something has shifted within all three, but is denied the satisfaction of knowing precisely what.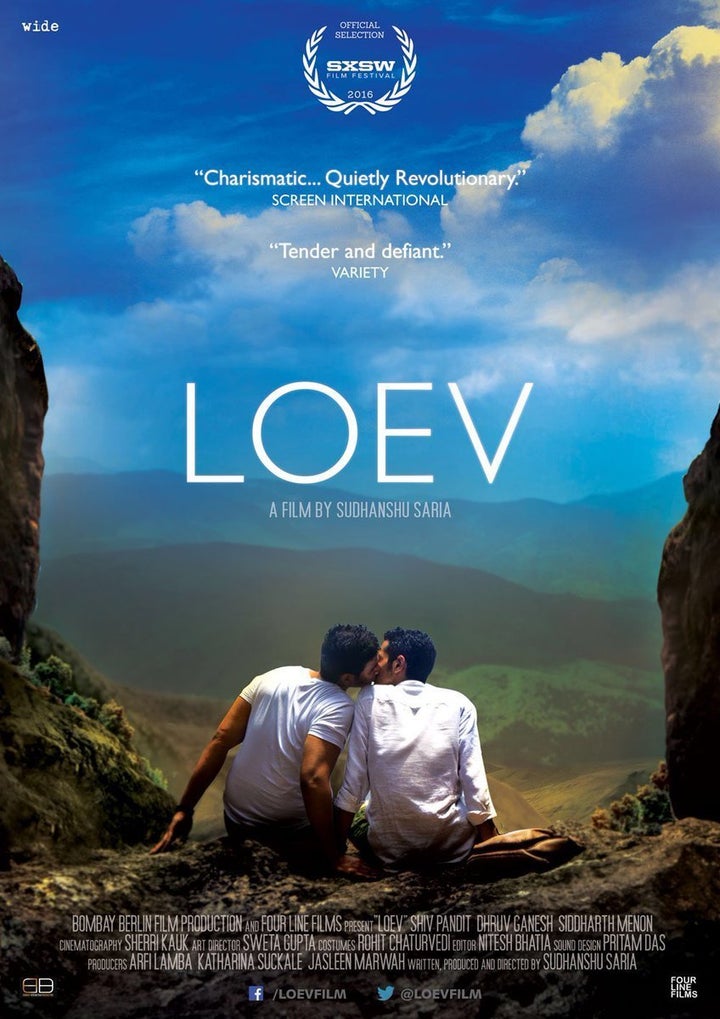 Apart from the riveting performance of its cast, Loev stands out for its sharp focus on the inner turmoil of its characters, instead of putting a premium on their sexual orientation or Section 377 of the Indian Penal Code that criminalises their desire. By the time the sexuality of the protagonists is manifested physically, the viewer is too absorbed in their humanity and the pathos of their stories to register it as anything other than organic and seamless.
By shifting the emphasis from political and social realities, which is not to say the movie is in denial of the harsh facts of life that gay people in India reckon with, Saria is able to draw the viewer's attention to the drama of their personal lives and choices. And so, in the end, we are struck by a keener sense of their grief and losses. The three men in Loev may grapple with social, political and legal injustices every day of their lives, but their passions and predicament remain as inscrutable, vulnerable and fragile as any individual in love.
While narratives of LGBTQ lives, whether visual or textual, must document the big battles for equal rights, the more intimate stories of longing and heartbreak must also be saved from oblivion. Loev does the latter with a rare grace that is the mark of sophisticated filmmaking.
Popular in the Community