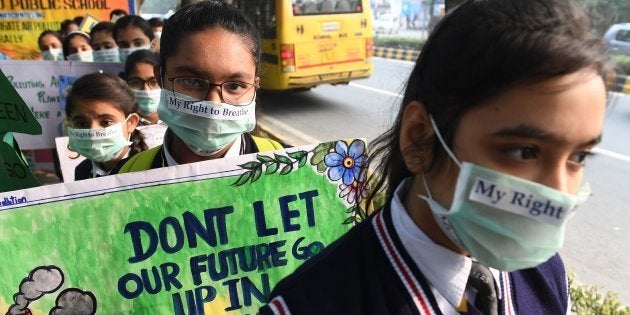 As the air quality level in New Delhi dipped to hazardous levels last November, leading its chief minister to call it a "gas chamber", city dwellers were seen covering their faces with anything they could lay their hands on -- masks, scarves, and handkerchieves.
Experts said Delhi needed to be evacuated. As Delhi was shrouded in a cloud of thick smog, schools were asked to discontinue classes, and doctors suggested staying indoors or wearing masks while outside, or even leaving the city for a few days. Masks were distributed to security guards, the traffic police and many corporate offices also distributed masks to their employees.
"This year we sold more air pollution masks than last year," Manoj Kumar, who works at Medicine House in New Delhi's central Connaught Place, tells HuffPost India.
The air quality index in India's capital was the worst in years in 2017. Particulate matter 2.5 (PM2.5) and PM10 -- ultra-fine particles that lodge themselves in the lungs and can make a person sick after long exposure -- too were at a record high. In such a scenario, are masks much of a solution?
Too Expensive For Most Delhi Residents
Medicine House, at the heart of the city, has only four kinds of masks in stock -- N95 masks priced at Rs 25 ($0.39), N99 masks priced at Rs 749 ($11.76), an Indian Standards Institute-approved variety that costs Rs 300 and a "three-layered" mask that is the cheapest at Rs 69($1.08).
In Delhi, which is one of the most polluted cities in the world, there are specific masks that can provide protection from the fine particulate matter lodged in its unbreathable air. N99 and N95 masks are the only one that are supposed to work. The N95 and N99 designations mean they have been carefully tested and ensure over 95% micro particles. However, these masks are unaffordable for lower income groups.
In Delhi's upscale Khan Market, Preet Medical, another medicine store, has even more expensive varieties of masks. Vogmasks are supposed to be super effective against PM2.5 and PM 10 particles, and are priced at Rs 2200 ($34.54). They also have another variety of masks that filters out PM2.5 that are priced at Rs 1200 ($18.84) for a pack of three. The cheapest are surgical masks priced at Rs 10 ($0.16) each.
While in a place like Khan Market such masks are available, smaller medical stores don't stock them. The only other place that such masks are available are on online markets like Amazon and Flipkart. Most people in India don't have access to the internet and hence these online sellers.
For those who spend a better part of their days outside -- security guards, cab and auto drivers, and ragpickers -- a Vogmask is perhaps more than a week's income.
Rajat Rai Handa, who is an advocacy and communications manager at Chintan Environmental Research And Action Group that works with waste pickers says, "The worse kind of hazy day in Delhi is an everyday reality for ragpickers who live around landfills."
Forget masks, they don't even have gloves when they sift through hazardous waste, he says.
"We often say during our campaigns, that masks are not a solution to air pollution. People from lower income groups are not going to wear masks because for them Rs 300 is a day's income, sometimes not even that much."
One often sees people on Delhi streets wearing surgical masks, which are perhaps the cheapest option.
Dr JC Suri, HoD and Consultant at the Respiratory Department in Safdurjung Hospital tells HuffPost India, "Surgical masks are not meant for protection against air pollution. They will allow fine particles like PM2.5 to pass through."
Like Dr Suri, Handa says that they don' filter out the finer particles.
The masks that actually may keep people safe from air pollution -- N99 and N95 -- are at the higher end of the cost spectrum.
He says, "The cheapest masks that we found that are effective to a certain extent are Rs 250-Rs 300."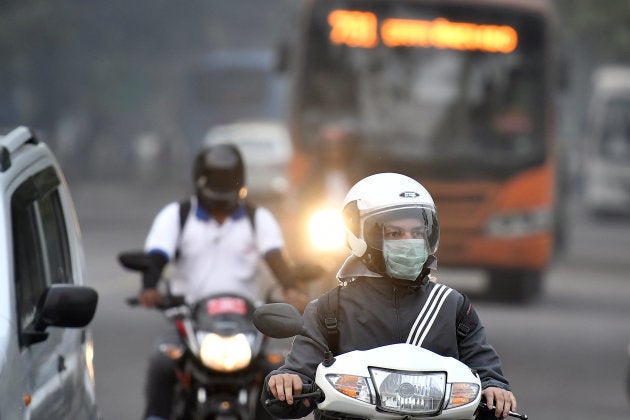 Masks Are Not A Long Term Solution
Masks are filters that prevent fine particles from entering the nasal passage and then the lungs. The finer the particles that a mask filters, the more dense texture of the mask is.
Dr Suri says, "They are not a fool-proof method. It all depends on the quality of the mask and if it is worn properly. It has to be tightly fitted around the mouth and nose for it to block out polluted air."
Often moving your face while talking or turning the head can move the mask from the mouth and nose area.
He says, "Wearing a mask all day can be uncomfortable. You cannot wear them 24 hours a day. You cannot sleep with a mask on. It is good to wear one when you are going out."
Priya Naik, an assistant professor at the Department of Political Science at the Zakir Hussain Delhi College in Delhi says, "I did wear a mask for a few days when I went to work. I bought a 3M mask for myself and wore it primarily because I was expecting a baby. I disliked wearing the mask, I found it hard to talk and generally felt suffocated."
Discomfort while wearing a mask seems to be a reason many choose not to wear them.
"How long can I wear a mask? I stay out all day, driving, my eyes burn, but I feel even more breathless in mask," says Narsingh Pal an Uber driver. "And for how many days can I wear it? Pollution is always bad in Delhi," he adds.
Naik says even her son had to be coaxed into wearing a mask because he found it difficult to speak and didn't like wearing one. "But he was persuaded because the duration was short... Maybe about 15 minutes. Just the travel time to school."
Long-term effects of being exposed to fine particulate air pollution can cause heart disease, lung disease, and lung cancer. It can also cause damage to the brain, kidney, liver and nerves.
Handa says wearing masks in a polluted city like Delhi is like wearing a band-aid on a gunshot wound. "It may stop the bleeding, but it will kill you in the long term."
While Delhi residents wear masks during the worst days, as soon as the smog clears out, the masks go out as well. Nair says this year she bought a pack of six masks. "Four of them lie unused."
The demand for masks also disappears with the smog. "Now we are selling only one or two masks now and then. But when the smog was there we would sell an average of 20 to 25 masks a day. Each year demand goes up after Diwali," says Tulsa Prasad from Preet Medicals.
Kumar from Medicine House also says the same thing. He says the sale of masks is close to nil, while they sold over 50 masks a day during the worst days.
Smog or no smog, Delhi air quality stays bad all year round, and so do the fine particulate matters.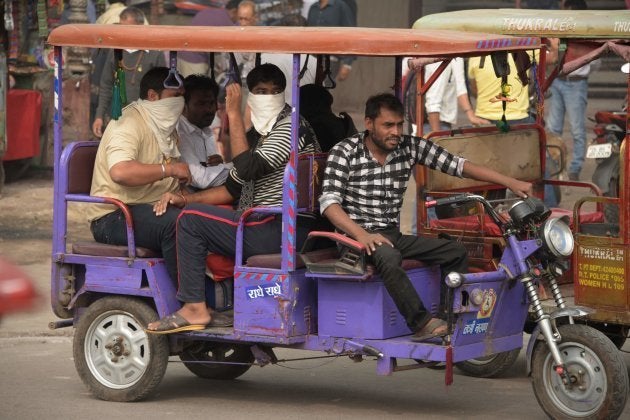 Lack Of Awareness And Access To Good Quality Masks
While the necessity of wearing masks is covered in newspapers and television channels, lower income groups do not have access to them either. And they are the ones who are most exposed to the toxic Delhi air.
"The average middle class India has no awareness about air pollution and the gravity of the problem of air pollution, and the harm it causes," says Handa.
Uber driver Pal was forced to buy masks for his children -- an 11-year-old son and an 8-year-old daughter -- because teachers forced them to wear masks. "I did not buy them masks, but the school asked us to buy them masks. So now they wear masks to school."
While people from lower income groups are aware that pollution causes harm to the body because of the immediate symptoms, they are not aware of the long-term harms.
Ayesha Begum who lives in a resettlement colony in south Delhi's Madanpur Khadar and works in East of Kailash says, "I have never worn a mask. No one in my colony does."
She, along with five other women take an auto, bus or a shuttle cab from their area to East of Kailash where all of them work. All these modes of transport are not air-conditioned which means are exposed to the deadly air during the worse days of pollution. She says all of them cover their noses and mouths with dupattas (scarves).
Now, Ayesha Begum says she is aware of that pollution had increased and says she felt it too. "My eyes were watery and my nose was runny. My throat was burning too."
She says she doesn't even know where to buy the masks from and that where she lives she has not seen any masks being sold. When informed about the prices of good masks, she says, "I cannot afford a mask then."
Some people also think it will do nothing to protect them from the pollution. Nidhi Singh, a masters student from Delhi School of Economics tells HuffPost India, "No, I didn't wear a mask because I just didn't see how it would benefit me."
A resident of Gurgaon, she says none of her family members wore masks either. Her friend, Lawrence Simpte, a resident of Pandara Road, chimes in, "I wore a mask only for a day. I stopped wearing it since I read somewhere that it doesn't work."
Handa says Chintan is working towards creating awareness through blogs, appearances of its representatives on television channels including Hindi television channels, holding children's rallies and protests, he agrees that none of it will reach the lower income groups.
"The point is to push for some kind of response from the the government."
This year, unlike other years, the Delhi pollution levels have kept going back to hazardous levels. And without much protection from the pollution, the citizens continue to expose themselves to the toxic particles that will ultimately cause great harm to their bodies.
Popular in the Community