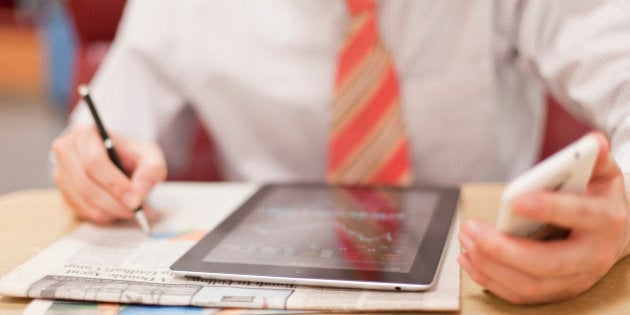 Working in the strenuous environment of the IT capital of India, Akshay Taneja, a 38-year-old software professional found it challenging to prepare for his ITIL® Foundation exam due to the demands of over-stretched work schedule and a family that wanted to spend quality time with him. Between these factors, he was finding it difficult to devote the expected minimum of two hours a day for learning. Like many other professionals, he was left with negligible time to spend on his own career progression.
Enter the mobile. Today, we use apps for everything from booking movie tickets to reading restaurant reviews to buying our groceries. According to a survey by Ericsson, Indian users, on an average, spend more than three hours every day on their smartphones. India, in fact, is amongst the world's fastest growing smartphone markets. According to the IAMAI and IMRB, India was estimated to have over 165 million mobile Internet users by March 2015 and is likely to triple to 480 million in 2017.
These numbers illustrate how consumers will continue using their mobile devices for everything, including communication, entertainment, and now learning.
This is something that our protagonist Akshay discovered as well. Determined to equip himself with the latest knowledge and skills, he took advantage of his daily work commute and accessed e-learning tutorials on IT service management, practice tests, and flash cards on his smartphone. Not only did he gain easy access to bite-sized content readily available on his smartphone, but also learn at his own pace and convenience. Mobile phones and tablets are a huge boon to many other such working professionals wanting to update their knowledge and skills despite their packed schedules.
"We aren't too far from the day when employees will bring their wearable devices such as smart watches, glasses, bracelets, and so on to the workplace. With wearable devices, learning is only set to get smarter and sleeker."
Just a few years ago we were introduced to the advantages of e-learning over traditional classroom training. Today, we're going a step further with mobile-learning, a need of the future. Mobile-learning is more than merely learning on a portable device. It is a method of acquiring knowledge and skills on the go in an interactive and informal environment. The global market for mobile-learning products and services touched $5.3 billion in 2012 with CAGR at 18.2% and the revenues are expected to reach $12.2 billion by 2017. With increased smart phone penetration, India will be as close to China and ahead of the US in consuming mobile-learning content. This prediction clearly indicates that India is way ahead of the curve in ed-tech, as we continue innovating to adopt newer disruptive technologies in learning.
The key driver in the increase of mobile-learning in India is the exponential growth of smart phones and tablets. Various aspects like low costs, portability, value-added services, and adaptable technology led to this growth and credit must be given to the Aakash Tablet project, which though not successful, was a stepping-stone towards extending broadband to schools and colleges. In fact, this project paved the way for a host of low-cost devices that were launched by global and Indian manufacturers, making the Internet accessible to the masses.
Millennials form a majority of the workforce today and these workers have grown comfortable in using their mobile devices for an array of personal activities like banking, gaming, entertainment and social networking. Furthermore, Gen Y organisations who have been encouraging the "Bring Your Own Device" or BYOD policy, have also recognised the importance of mobile learning. Several are making efforts to impart training through mobile devices to employees who are spread across geographies and work remotely.
To ensure that the learning experience is beneficial, the content needs to be developed through a well-thought-out strategy on how the learning modules cater to tech-savvy employees and those less so, based on their choice of devices. While mobile learning is synonymous with flexibility and accessibility, existing e-learning materials created for desktops need to be rebuilt with a responsive environment that comprises crisp bite-sized content, interactive micro videos and conversation-based materials, for a seamless and engaging learning experience.
With ever-evolving technology, users too have adapted to various learning platforms -- from classroom training to desktop and now mobile learning -- making training accessible and unbound by a rigid schedule. We aren't too far from the day when employees will bring their wearable devices such as smart watches, glasses, bracelets, and so on to the workplace. With wearable devices, learning is only set to get smarter and sleeker. Imagine receiving skill-based learning content related to your new job title or your current geographical presence at your dream company. Though it will take at least a few years for these devices to overtake smart phones and tablets, it's time to gear up for the next wave in personalised learning.



Popular in the Community