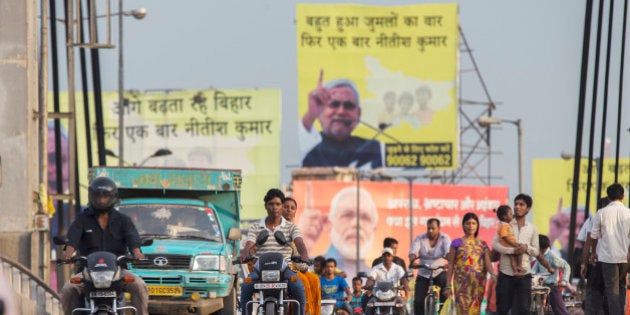 PATNA -- The visuals of the Grand Alliance's outdoor campaigning stand out not only for the lack of clutter, but also for their colours. The hoardings, the 300 raths traversing Bihar, the election stage--everything in the Grand Alliance's election campaign in Bihar is blood red in colour. Some of the hoardings are yellow, and some of the early Nitish Kumar hoardings were in a bright multi-colour pattern that would have better suited a mobile phone advertisement.
There's logic behind the colours. Prashant Kishor, whose team has been running the campaign, chose the colours the way a marketing firm would. A member of Kishor's India Political Action Committee (IPAC) explains that the idea of red and yellow was to choose the bright colours you are more likely to see in the homes and dresses of poor people, as opposed to the subtle pastel colours you may see in middle class homes. "If you go to a poor or lower middle class person's house, you will see pink and blue and yellow, but in a rich person's house you may see pastel shades, white or brown," he explained.
These colours have replaced the boring green and white that are the party colours of both Nitish Kumar's Janata Dal (United) and Lalu Prasad Yadav's Rashtriya Janata Dal. Green has traditionally been chosen by India's political parties to represent the farmer and agriculture.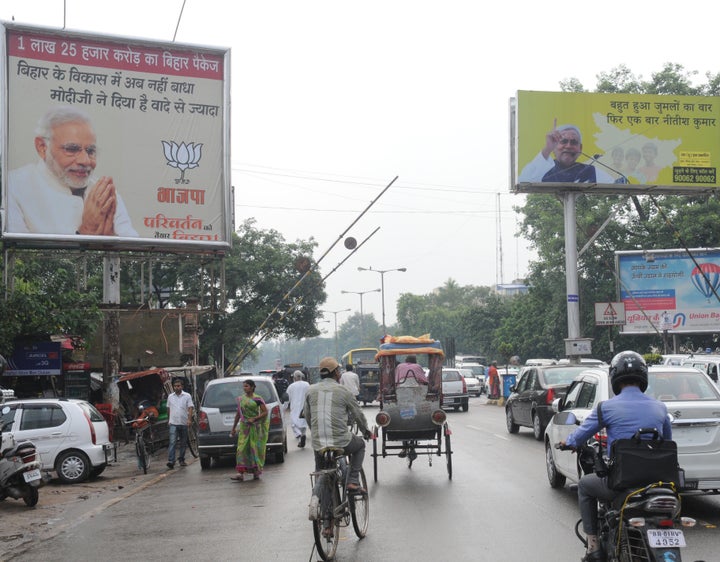 Kishor was also conscious of the need to take on the BJP's saffron. "Saffron is a vibrant colour and hence the BJP's campaign always looks more vibrant and stunning than anyone else's. We had to choose colours that were more vibrant, and maintain the consistence of the shade of red and yellow throughout the campaign," says a member of Kishor's team.
Kishor, who was Narendra Modi's key campaign strategist in the 2014 election, jumped ship in December 2014 to help Nitish Kumar. Alienated by Bharatiya Janata Party president Amit Shah, this election is as much about Kishor proving a point about his campaign chops vis-a-vis Shah, as Nitish Kumar trying to defeat Modi.
Kishor's team does all that Amit Shah's team in Patna has also been doing--gathering and analyzing booth-level data for seat selection and targeting campaigns to swing voters, managing volunteers and social media alike. While Kishor's team does all this in the IPAC office in Patna city, Kishor himself sits in chief minister Nitish Kumar's official residence, spending his time and energy more on branding the campaign than managing its nitty-gritties.
In December 2014, when Kishor joined Nitish Kumar, the Bihari leader was down and out. The Modi-led National Democratic Alliance had won 31 of 40 Lok Sabha seats in Bihar. This, after Nitish Kumar had broken the alliance with the BJP because he couldn't accept Narendra Modi's leadership. Taking moral responsibility for this, he had resigned as chief minister.
Kishor insisted that Jitan Ram Manjhi had to be removed and Nitish should become chief minister again. After this happened in February, Kishor spent nearly six months just re-branding and projecting Nitish Kumar as the face of not just his party, but also of government, governance, development and of Bihar itself.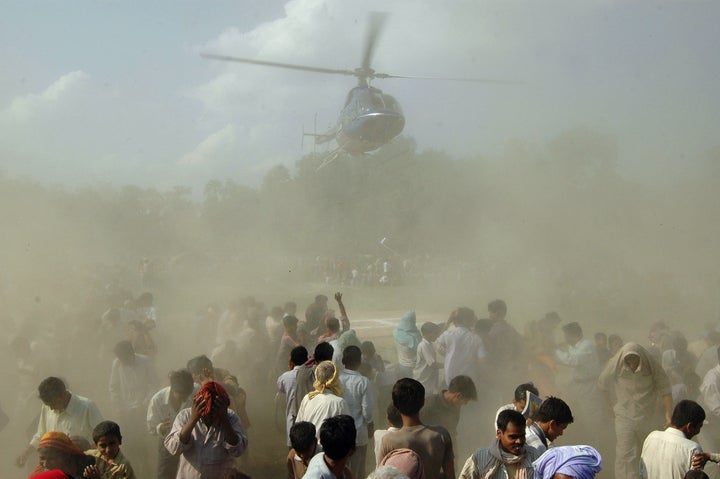 While the BJP got a prize catch in Jitan Ram Manjhi, leader of the Mahadalits, it under-estimated the impact that Nitish Kumar's return to the CM's chair would have, given Nitish's popularity amongst voters. Nitish was now re-branded by Kishor as a people's man, to put behind the image of the man heavily defeated by Modi. The early start of this campaign saw such efforts as party workers going door to door in a programme called "Ghar Ghar Dastak". They would just ask a few questions: has there been development in your area in the last ten years? Has Nitish Kumar worked for Bihar's progress?
The idea was to simply return to the people's minds the pre-2014 image of Nitish Kumar--the main hailed for bringing out Bihar from darkness into light. As part of this, Kishor's team gave Kumar feedback on the things that needed to be done to please sections of unhappy voters. This included making permanent the jobs of para-teachers, or addressing grievances of farmers, introducing caste-based reservations in government contracts, and so on.
The BJP has changed its campaign messages and slogans much more often than the Grand Alliance. By contrast, Prashant Kishor has stuck to 3-4 slogans in the past few months, and only one campaign song.
Outmatched by the BJP in resources, Prashant Kishor decided to not spend a single rupee in print or television advertising. Candidates may have given ads on their own, but the Grand Alliance has not given any ads in newspapers or TV. By contrast, the BJP has been giving full-page ads in newspapers.
This was a strategic decision, as the JDU-RJD-Congress were unable to gather enough money to give as much print and TV ads as the BJP. Giving fewer and smaller ads than the BJP would have made the Grand Alliance look weaker, and helped the BJP create the sentiment that it is the one with brighter prospects at the polls.
Prashant Kishor instead diverted that money to match the BJP in outdoor and radio ads, and most importantly, volunteers. The three-pronged strategy took volunteers on bicycles door to door with a letter from Nitish Kumar, urging people to give missed call to a number, in response to which they would get a recorded call from Nitish Kumar. At the village level, there were video raths just like the BJP's, with a 45 minute powerful video attacking the Modi government on all fronts, from Lalitgate and Vyapam to inflation and the promised Rs15 lakhs in bank accounts.
Using Lalu And Nitish To Their Strengths
As people saw the lack of a co-ordinated campaign between the Grand Alliance partners, Kishor insisted that the list of 243 candidates of the Grand Alliance will be released together on a single day, early on in the process. The BJP, by contrast, has still not named candidates in 2-3 seats. Kishor worked behind the scenes, advising all three parties on data-driven suggestions of which seats they should contest, and ironing out the differences in two weeks.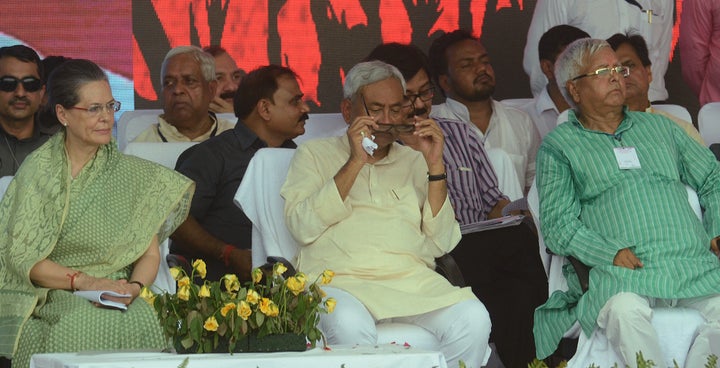 Prashant Kishor also made sure that Nitish Kumar and Lalu Yadav don't address too many rallies together, as they have different styles, different audiences and different caste bases. Instead, he made both of them address at least one gathering separately in all 243 constituencies. While Nitish speaks more about development, Lalu speaks more about social justice and the caste polarisation. The idea has been to make them compliment each other, rather than make them look like a joint front.
This strategy also helped Kishor under-cut the BJP's attack on Nitish joining hands with Lalu Yadav, his former foe, infamous for "jungle raj" and convicted in a corruption case.