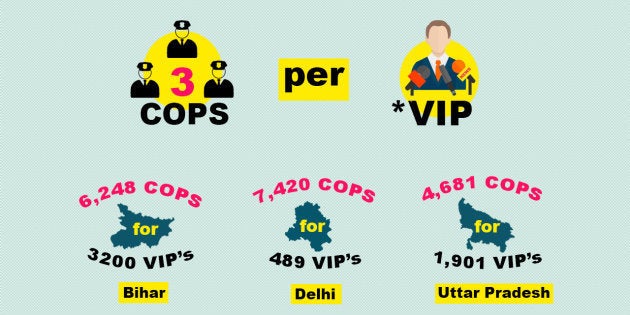 For those of us shocked by a front-page report in this morning's The Times of India about the state of VIP culture in India, where three police personnel are assigned to each dignitary, here's a quick lowdown first.
In April this year, during one of his 'Mann Ki Baat' broadcasts, Prime Minister Narendra Modi sent out a call to embrace "EPI culture" as opposed to the special treatment meted out to VIPs, or very important persons.
"When I say EPI instead of VIP, the meaning is clear—Every Person is Important," the PM said. "Every person has value and importance."
His statement, brimming with ostensibly noble intentions, did sound like a sad joke in a country teeming with over 1.2 billion people.
Last month, as scores of children died within a few hours at a hospital in Gorakhpur, Uttar Pradesh, politicians became embroiled defending the indefensible by comparing mortality figures year on year. The sick blame game that played out among bureaucrats, medical professionals and ministers showed that a jazzy acronym like EPI cannot hide the harsh realities of a nation burdened with the needy and the neglected.
But then, death is a routine affair in a country like India. As many as 193 people have died so far this year in a series of railway accidents, but the government is all excited about spending ₹110 crores on a bullet-train project. If Every Person is Important, so is every policy that makes India appear important in the eyes of the world.
If Every Person is Important, so is every policy that makes India appear important in the eyes of the world.
Modi is known to stubbornly defend his policy decisions, the prime example of which is demonetisation, a move that was panned by experts from the day it was announced last November. The PM, however, wasn't deterred from his initial stance, as he made clear during his recent visit to Myanmar when he said that his government wasn't afraid of taking "big" and "tough" decisions for the sake of the country. The fact that he could go on to make such a claim in the midst of a wave of criticism, including warnings that the poor and the middle-class voter bases of his party were disenchanted, went on to prove his blind faith in himself.
To give credit where it's due, Modi wasn't as deluded with the concept EPI as he is with the success of the noteban. "Although the 'lal batti' is gone now, nobody can claim that because of this, the VIP culture which has gone into the mindset would have also gone," he added, for good measure, during his address in April.
Truer words were seldom spoken. In India, a culture of institutional inequality is so pervasive that it leads to spectacular display of servile devotion in public. Ministers are fawned upon in ways unimaginable in any civilised nation.
The late Chief Minister of Tamil Nadu, J Jayalalithaa, was regularly paid obeisance in the most shockingly obsequious fashion by her male and female colleagues, many of whom prostrated at her feet in public. In July this year, the Jharkhand Chief Minister, Raghubir Das, had his feet washed in milk by two women on camera. Last year, Madhya Pradesh Chief Minister Shivraj Singh Chouhan was carried around by two cops through flood-hit regions in the state, which he was supposed to be inspecting, his feet shod in a pair of white sneakers.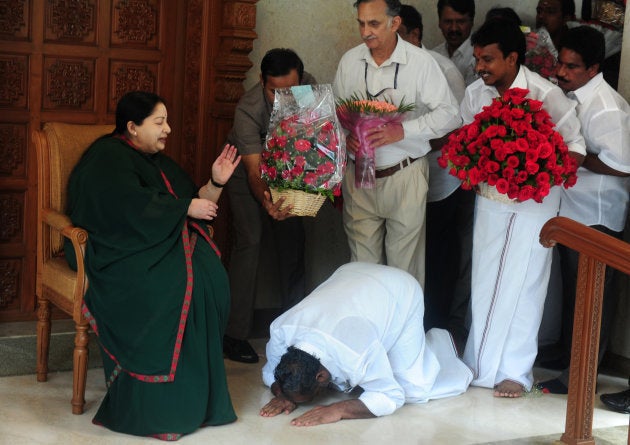 Data compiled by the Bureau of Police Research and Development, under the ministry of home affairs, shows that out of 19.26 lakh cops in India, 56,944 are deployed for the safety of 20,828 VIPs across 29 states and six Union territories.
Bihar, with the poorest police to population ratio, has the maximum number of VIPs, at 3,200, guarded by 6,248 police officers, closely followed by West Bengal, Uttar Pradesh and Punjab. In Jammu and Kashmir, one of India's most militarised states, about 2,075 VIPs are being protected by 4,499 officers. In the state of Uttar Pradesh, where Chief Minister Adityanath has made noises about cracking down on the toxic "VIP culture", 1,901 such privileged members of society are being taken care of by 4,681 cops. Last but not the least, in New Delhi, where the PM and the President reside, 489 VIPs have 7,420 officers allotted to them.
While there is a legitimate case to be made for the security cover that is given to ministers, politicians, high-ranking bureaucrats and government officials for their role in public life, such a privilege cannot be granted at the expense of the security of the very public these people pledge to serve. More importantly, not everyone who is allowed such special treatment always merits it or can be trusted not to misuse it.
Recently, after the so-called spiritual guru, Gurmeet Ram Rahim Singh Insaan, the chief of the Dera Sacha Sauda in Haryana, was convicted of rape, the Z category security cover he had enjoyed for many years was withdrawn from him. Other than raping his female disciples, he is accused of orchestrating the murder of at least two people who had tried to expose his misdeeds.
As for misuse of VIP privilege, from holding up traffic to delaying ambulances to slapping an airline worker over a scuffle for seats, the very important persons of India, whose lives are considered far more precious than the aam aadmi's, have not shown exemplary behaviour in public life. If PM Modi and his government want these men and women, coddled by the police and the public, to be cured of their sense of entitlement and embrace every citizen, rich or poor, as equally important, they should have a fair idea by now where they can make a start.