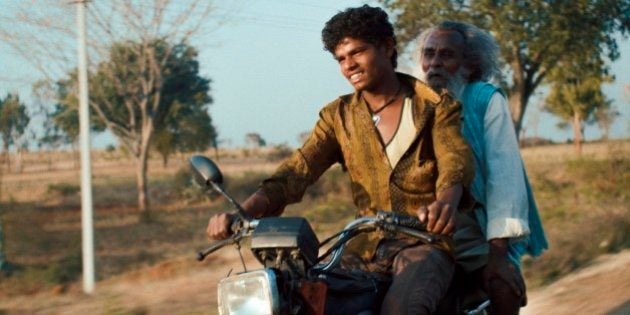 At the 17th Jio MAMI Mumbai Film Festival, held in the city last October, only one Indian film played under its International Competition section. This was Raam Reddy's Thithi, a gentle, playful comedy set in a small village in Karnataka, with dialogues in the region's local Mandhya dialect.
The Indo-US production ended up winning the Grand Jury Prize at the festival. This is only one of several trophies it has picked up since first premiering at the prestigious 68th Locarno International Film Festival last year, where it picked up two top awards: a Golden Leopard under the Concorso Cineasti del Presente (Cinema Of The Present) section, for first- or second-time filmmakers, and the Swatch Award for Best First Feature, awarded by a separate jury. It also received a National Award for Best Feature Film in Kannada earlier this year.
Earlier this month, the film, made by first-timer Reddy and based on a story by Ere Gowda, who hails from the region it was shot in, released in limited screens across Karnataka. The reception, so far, has been quite encouraging: shows in multiplexes the state, as well as in Hyderabad, where it released the following week, have been running close to house-full. On Tuesday, after it scooped up three awards — Best Film, Best Dialogues, and Best Supporting Actress — at this year's Karnataka State Film Awards, Reddy announced on Facebook that the film would be releasing soon in major cities across the country, with English subtitles.
Thithi, to my mind, is the finest Indian film of 2016 so far, and will probably remain among the best by the time it draws to a close. In a diary I'd written during last year's Mumbai Film Festival, I'd said:
"Thithi is a delight, featuring a wonderful ensemble of non-professional actors that transports you to an Asterixian village in Karnataka. After a crabby old man named Century Gowda dies at 101, the villagers plan an elaborate send-off, sparking off a series of events involving his descendants.
Reddy, making his feature debut here, emerges as one of the most exciting new talents in Indian cinema right now. His direction is rock-solid and honest, while Ere Gowda, the film's writer (who hails from the village depicted) develops beautiful and highly memorable characters."
On re-watching the film, I was reminded of things I'd loved the first time around but hadn't been able to elaborate upon. Its wonderful cast, comprising non-professional actors from the region, is led by a beautifully nuanced performance by Chennagowda as the enigmatic, free-spirited Gadappa. As Century Gowda's only living son, he spends his time wandering around aimlessly, puffing beedis and swigging cheap liquor, with a beatific smile on his face — imagine an Indian equivalent of The Dude (played by Jeff Bridges) from Joel and Ethan Coen's 1998 classic The Big Lebowski.
Gadappa's son Thamanna (Thammegowda S) is quite the opposite, a tightly-wound-up, perpetually irate fusspot who speaks more than he gets heard. As a result, he is barely able to control his son Abhi (Abhishek HN), a cocky teenaged boy with a young Michael Jackson-esque grin who lets his raging hormones get the better of him.
Reddy, a 26(!)-year-old polymath who, aside from having made numerous short films, is also an economics graduate from Delhi's St Stephen's College and a published author, commands your attention by telling the story in a manner that is honest, humane, and completely unpretentious
What interests me most about Thithi, which takes these three characters on separate arcs following the death of Century Gowda, is its subtle critique of The Great Indian Joint Family. While popular culture, comprising TV soaps and mainstream cinema, constantly promote 'Indian' family values in broad strokes, Thithi dismantles the myth — that the family that lives together, lives happily ever after — in a gentle, unhurried manner. The three generations of sons share complicated relationships with each other — as is true for many families, in reality — and are only, frustratingly for them, bound together by blood.
However, each character is motivated by something different. Gadappa is carefree and existentialist in his ways. Thamanna is concerned about the land in Century Gowda's name and his own mounting debts. Abhi is besotted by the pretty young shepherd girl Cauvery (Pooja SM, who won a Karnataka State Film Award for her work) visiting his village. All this, in the midst of a funeral that is being celebrated with great pomp because a man, as spiteful as he may have been, lived to be a 101 years old.
Gowda's fantastic screenplay creates unforgettable characters and moments. A clubfooted man appears from nowhere to dance with wild abandon every time a band plays in the village. A fiery woman who runs a local watering hole demonstrates the agency to publicly thrash a drunkard who attempts to leave without paying. The prospect of a free non-vegetarian meal makes people cram uncomfortably into auto-rickshaw tempos and travel to a neighbouring village.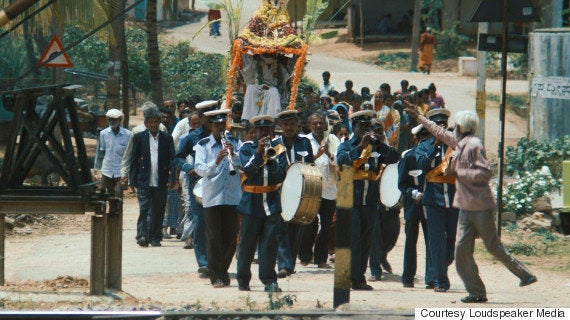 Reddy, a 26(!)-year-old polymath who, aside from having made numerous short films, is also an economics graduate from Delhi's St Stephen's College and a published author, commands your attention by telling the story in a manner that is honest, humane, and completely unpretentious. His world cinema influences notwithstanding (the depiction of a local band reminded me of the clueless Egyptian orchestra from the 2007 Israeli film The Band's Visit), Thithi is remarkably accessible, eschewing the sometimes frustrating indulgences one traditionally associates with arthouse cinema.
Sure, the film is stripped of a background score, songs, stylish camera movements, and visual razzmatazz. Yet, it is infectiously likeable and always gripping, aided by beautiful, unobtrusive cinematography (Doron Tempert), uncommonly realistic sound design (Nithin Lukose), and a lovely edit (John Zimmerman and Reddy) that makes its 120-odd-minute runtime pass by breezily, without sacrificing character development, emotion, and honesty. Reddy's directorial voice is calm, assured, and entirely free of manipulation — it always seems to be saying, "This is how it is".
Thithi isn't issue-based, unlike many Indian films that have traditionally received such acclaim. Despite depicting many aspects of rural Indian life — patriarchy, religious beliefs, and teenage sexuality, for instance — it isn't 'important' or a 'must-watch'. It has no flag to wave, and no apparent desire to kick-start conversations on hot-button issues.
But that, to me, is exactly what's so refreshing about it. Reddy and Gowda, two storytellers as clear-eyed as can be, are pure oxygen suppliers at a canned air convention. This is everything good cinema should be: funny, poignant, honest, and occasionally devastating, without ever losing sight of the story it's telling.
It shares many sensibilities with the new wave of young, first-time Indian filmmakers who are changing the paradigm of 'parallel cinema'. Last year, this included films such as Chaitanya Tamhane's Court, Avinash Arun's Killa, Aditya Vikram Sengupta's Labour Of Love, and Neeraj Ghaywan's Masaan. With Thithi, Reddy joins the ranks of this league of extraordinary filmmakers and, as with the others, I can't wait to see what he does next.
'Thithi' is currently playing in select theatres across Karnataka, Hyderabad, and Chennai. It is slated to release in other parts of the country within the next fortnight.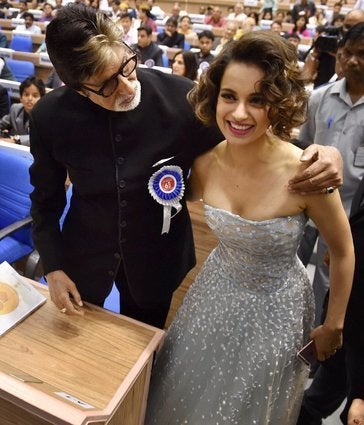 Bollywood Dominates 63rd National Awards Ceremony