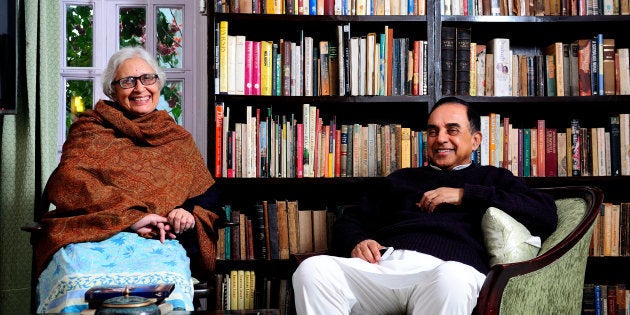 Over a crackling line from Delhi, Roxna Swamy assures me that everything in her new book is true – except for one fact. "I won't tell you what it is," she says, with the hint of a giggle. "You have to read it and find out for yourself."
The volume in question is a glowing tribute to her husband, Subramanian Swamy – firebrand right-wing politician, brilliant economist, crusader against corruption, propagator of serial controversies on social media and in real life. Swamy, as Roxna writes with pique, may be accused of being "communal, biased, right wing, slanted, downright evil" but never "boring".
Even his sworn opponents would admit he isn't. Not least the portrait of Swamy we come across in this chatty, occasionally rambling and intensely personal, volume, filled with amusing anecdotes rather than profound insights.
The course of the narrative is best described by the title. Evolving with Subramanian Swamy begins in the beginning, with the Swamys meeting as students at Harvard — he is an economist, she is a mathematician-turned-lawyer — and charts their lives over the next several decades, in India and abroad, riding out a tide of controversies and political disputes.
The journey, needless to say, is tumultuous — full of litigations, counter-attacks, relentless chases and wily escapes — but Swamy emerges from it all unscathed.
The journey, needless to say, is tumultuous — full of litigations, counter-attacks, relentless chases and wily escapes — but Swamy emerges from it all unscathed. Roxna's account, narrated with colour and buoyancy, makes her husband appear invincible. The subtitle, 'A roller-coaster ride', could just as well be rephrased to 'The Superpowers of Subramanian Swamy', since the ups and downs are breathtakingly dramatic.
You'd think publishers would be falling over one another to get such an explosive memoir, but Roxna had to go it alone, after being rejected by some of the biggest firms in the country, she tells me. Penguin Random House and HarperCollins both denied having seen the manuscript, Juggernaut Books admitted it didn't work for them. The result: after an unnecessarily tedious battle to acquire an ISBN number, the book was finally self-published last month by the author.
The most adventurous years come in the Emergency era, when Indira Gandhi took a distinct dislike to Swamy, leaving him on the run from the law, travelling at tremendous risk with a proscribed passport, while his wife, with two young children, lived in their home in Delhi, under the watchful eyes of 24x7 security. Much excitement follows in these pages as Swamy pulls off James Bond-like stunts, goes under cover and is on the run for several months.
But, as Roxna promises, there is never a dull moment. Leading the police on a wild goose chase, Swamy disguises himself as RSS leader Nanaji Deshmukh's Sikh driver, enjoys an ice cream with Narendrabhai Modi in Ahmedabad, and manages to smuggle letters home, even as the Congress government desperately struggles to catch him.
Swamy disguises himself as RSS leader Nanaji Deshmukh's Sikh driver, enjoys an ice cream with Narendrabhai Modi in Ahmedabad, and manages to smuggle letters home.
Such terrifying trials notwithstanding, Swamy's good cheer never seems to leave him. As Roxna recalls with much glee, even at the height of these difficult years, Swamy called her once, in soto voce, pretending to be one Mr Moto Moto, a Chinese man. "Nothing keeps Swamy down," she writes fondly, "not even the fact that the mythical Mr Moto Moto would have to be Japanese and not Chinese."
Since the tone of Roxna's story is consistently adulatory, we find a portrait of Swamy as a flawless, upright, unfairly persecuted and eternally wronged individual – quite the contrast to his belligerent and polarising politics. We learn about his weakness for dogs, each one of his pets has been allegedly called Winnie (after Winston Churchill), his unfulfilled desire to get a pet monkey, and his unapologetically profligate lifestyle.
Not one to live like a "hypocritical Gandhian", Swamy continues to revel in the comfort and luxury he feels he is entitled to. From homes to cars to first-class privileges, he appears to be the chosen one – for whom, as a pop song memorable put it, the best things in life are free. In Roxna's doting words, "hardly any family I know has as many air conditioners and TVs and computers as we do – as you could expect, most of them just dropped into Swamy's extended hand; and the worst is that most of them are switched on for most of the time."
Along with her unflinching admiration of Swamy and spirited defence of him, Roxna takes an amused and rather indulgent view of life and its twists. She's scathing about her husband's arch-opponents, beginning with Atal Bihari Vajpayee, who messed with Swamy's political ambitions by provoking his fallout with the RSS in the 80s. The former prime minister, who, according to Roxna, went after Swamy driven by his own insecurities. She writes in the book about Vajpayee's alleged drinking, drug-taking and womanising habits. Even after all these years and Swamy's now-bittersweet reunion with the BJP, Roxna says she remains suspicious of the ruling party.
The other sworn adversary is, of course, the late J Jayalalithaa, against whom Swamy filed the famous disproportionate assets case, in which the apex court found her guilty 20 years much too late. Swamy's defiance in the face of AIADMK goons, the couple's hasty retreat from Chennai, pursued by Jayalalithaa's orders to bring them back, Swamy outwitting her plans and making a great escape via Bangkok — all these make for a thrilling read. Equally suspenseful is the story of the family's eviction from their quarters at IIT-Delhi, after Swamy was fired from his job there, and Roxna's feisty confrontation with the police.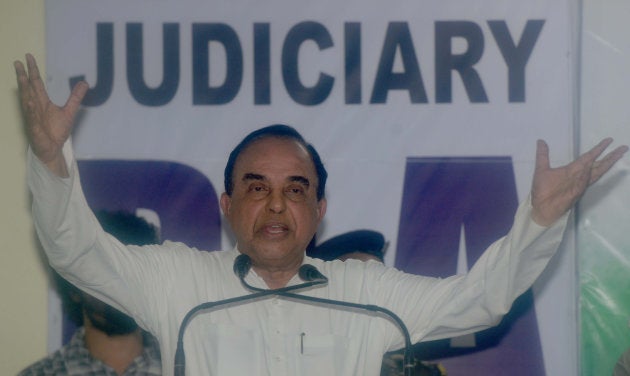 In spite of the many entertaining, albeit grimly ironic, asides strewn over these pages, there aren't many profound insights into Swamy's mind or his political beliefs. Between his Rajinikanth-like antics and never-ending catalogue of injustices wrought against him, we wade through details about the various properties and cars that have belonged to the Swamys, the curious histories of their acquisitions, losses and equally incredulous retrievals.
With its cinematic progression and defiantly one-sided views, culled from newspaper cuttings saved by the author since 1968, Evolving with Subramanian Swamy demands a willing suspension of disbelief from its most compliant readers. It's naive to expect anything deeper than a two-dimensional comic-book heroism of the subject from the book, though the author's own character, from the glimpses we get from her account, is unconventionally appealing, if only for her sincere disregard for any pretense of being a neutral observer. As for that one falsehood in the book, I'd leave the joy of that discovery to other readers.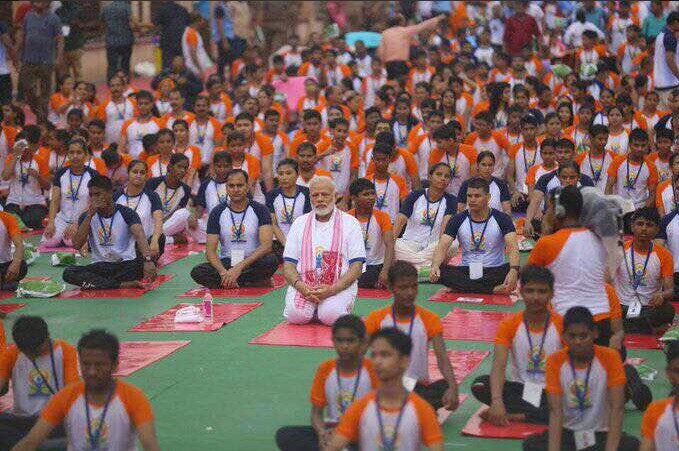 Bend It Like Our Netas