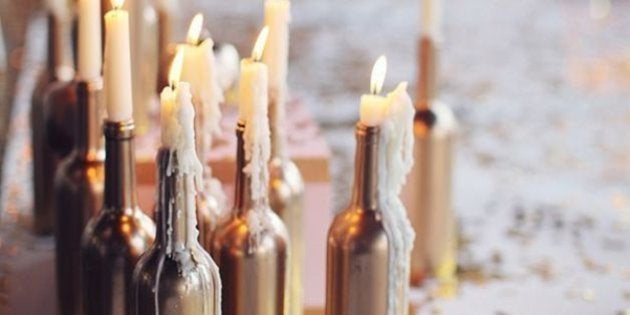 It's not like you need any particular reason to drink wine this party season, but we'll give you one anyway: after you have drank all that wine, you can use the empty bottles to light up your house. We have twenty DIY hacks lined up for you.
From fancy chandeliers to mosquito-repelling tiki torches, uncork your imagination -- it'll save you money, which consequently can lead to the purchase of more wine bottles. That apart, you can impress your guests with your creativity.
Night lights:

The one thing you don't need after a crazy party is bright lights. Wine and glaring lights never go together, anyway. You can make these perfect night light for that romantic aftermath or just to help you sleep. Get creative with the exterior of the wine bottle. Roll it in glitter, spray paint polkas or even add giant sparkly buttons. Alternately, you can even drop in a few marbles or colourful stones inside the bottle. Note: It is a better idea to drill a hole through your wine bottle instead of cutting it open from the bottom.

Chandeliers:

If you like hanging lamps, but tend to avoid ornate decorations, check out these simple yet classy versions of the chandelier. Simply cut your collection of wine bottles from below (you can also give asymmetrical shapes), and wire some funky bulbs through them. Set them up individually or cluster them all together. You can wire them neatly through a wooden board to add a rustic feel. This is a perfect idea to jazz up the good old bar in the house.

Tiki Torches:

Tiki torches come with two-fold benefits: they can add an aura of mystery to your home (or outside it, think Halloween parties) and they'll do great mosquito killers when filled with citronella oil. Suspend them from coiled iron stands, place them on tables, or suspend them from fences and walls.

Garden Lights:

Simple strings of fairy lights are passé, your lawn deserves much better. Deepen the dreamy mood of garden parties by placing wine bottles in rows. Not only does it look pretty, it adds a dash of romance to the setting. Now what's a garden party without some flirting? You can create the same mood with candles or battery-operated LED lights placed inside cut wine bottles. (Click here to find out how to cut wine bottles easily)

Bonus tip: Use differently hued wine bottles to add to the effect.

Candle Stands:
It's incredible how a touch of paint can transform a boring, opaque bottle of wine into a funky candle stand for parties and dinners. What's better, come summer, they can be reused during as flower vases.