It has been over two weeks after the 7.8-magnitude earthquake shook Nepal. With a broken economy, displaced citizens and aftershocks, Nepal's return to normalcy is predicted to be slow and hard. However, relief efforts from across the world are helping the Himalayan nation to bounce back.
Janifa Bibi, 35, walks daily around the small area where her house once stood, desperately sifting through the rubble of her devastated house for something she can exchange for food or water.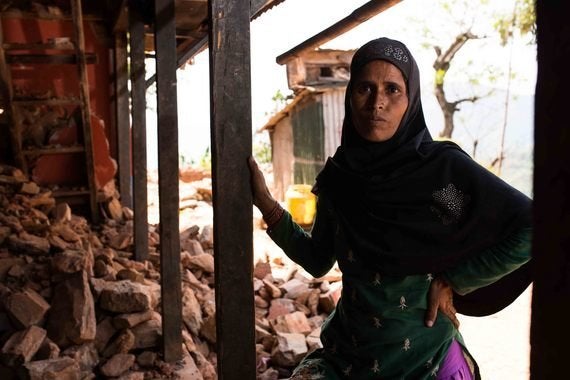 Janifa Bibi's house was completely destroyed in the Nepal earthquake(Image courtesy: Oxfam and Sharbendu De)
Janifa and her family were quick to realise that it was indeed an earthquake they felt that Saturday morning in April. "I was cooking food in the kitchen when everything started to shake. I left the gas on in panic and ran out," recalls Janifa.
Along with her husband and two sons, the family immediately took to the nearest mountain, climbing up the tracks to reach the Deda Gaon village in the Gorkha Municipal area. Janifa's family was lucky to have escaped when their house turned to rubble before their own eyes. She now lives at her brother's house and must walk miles to fetch water for her family.
To the relief of many like Janifa in Deda Gaon village, Oxfam, a community-based international organisation working on the ground in Nepal has identified their village to provide support. The Oxfam team found the region devastated and now provides provisions for shelter, water supplies and sanitation facilities to help the villagers get on their feet soon.
There are many villages like Deda Gaon which suffered damage to lives and properties but they are off the radar of relief teams. The agrarian communities in these villages are suffering without basic amenities. They have lost family members, their homes, their livelihoods and their savings. In some areas, 90% of the houses were destroyed and people were forced out in the open under tarpaulins and materials salvaged from the rubble; they are desperate for the most basic of needs. Damage to water pipes has forced people to drink untreated water. In a country like Nepal where cholera is already endemic, the risk of water-borne diseases is high.
The second powerful earthquake that shook the country with a 7.3 magnitude shock on 12 May, along with the rains and the approaching Himalayan cold have further hindered relief efforts and added to the agony of the people. Women and children are even more affected as they face the risk of abuse and violence. This month's earthquake has left large areas of eastern Nepal flattened after many already cracked buildings and loose hillside terrain gave way. With assessment of damage and fatalities still underway, rescue efforts will be affected especially due to lack of resources.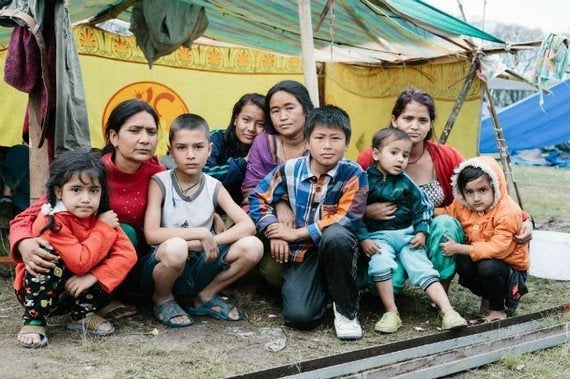 A family in their temporary shelter(Image Courtesy: Oxfam)
Organisations like Oxfam are at the forefront of relief efforts, reaching out to 4,00,000 people in need and is actively involved in identifying and supporting communities in remote areas of Nepal.
"Oxfam has already charted an 18-month plan for relief, recovery and rehabilitation in Nepal," said Zubin Zaman, Deputy Director for Humanitarian and DRR at Oxfam in India.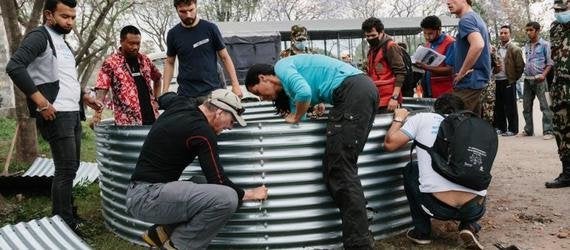 Oxfam team at work(Image Courtesy: Oxfam)
Several teams are deployed to assess the conditions and needs in villages. Currently, relief efforts are carried out by Oxfam in five districts namely Kathmandu, Lalitpur, Bhaktapur in the Kathmandu Valley, Gorkha and Sindhupalchowk. Oxfam teams based in Gorkha, the worst-affected area close to the earthquake's epicentre, have distributed emergency shelters, water containers (including water purifying tablets) to almost 70,000 people.
Oxfam teams are currently working with the Nepal government and other agencies to provide clean water and sanitation to more than 34,000 people living in 16 open-air sites in the Valley. They are also working with other agencies like the World Food Programme to provide food supplies to the interior districts.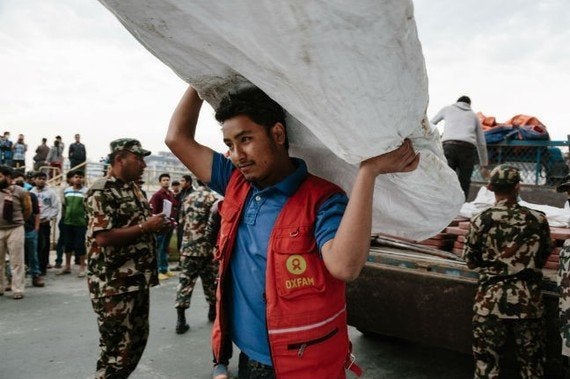 Oxfam volunteer helping in the relief efforts(Image Courtesy: Oxfam)
Oxfam is crowdfunding to raise more funds to continue this vital work. The rescue and relief teams are facing huge impediments due to blocked roads especially in regions near the Kathmandu Valley. With over 1000 injured in the fresh earthquake in Nepal, the rescue and relief teams need more support and resources. To make things worse, the monsoon is just around the corner and the teams have no time to waste.
To know more about Oxfam's fundraiser campaign and to support them, click here.