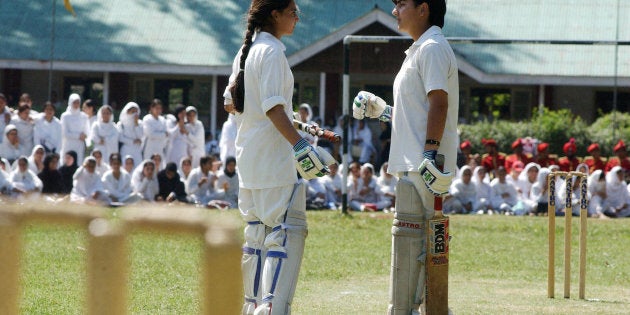 The women who play cricket in Jammu and Kashmir, brave many adversities to do so. They come from various backgrounds from all over the restive state where violence, lockdown and army marches are a way of life, and often have to fight reluctant parents, and abysmal infrastructure just to keep playing the game they love, hoping to one day make it to the national team.
It is extremely disheartening for their morale when their patriotism is questioned, often by those who ignorantly confuse every Kashmiri youth for stone-pelters.
After an exhibition game in New Delhi, in which the team of women cricketers was led by Australian cricketer Adam Gilchrist, the players faced a volley of questions at the Delhi University that allegedly ranged from "which team did you support in yesterday's Champions Trophy final, India or Pakistan?" to "What will you say to people who are living in India but cheering for Pakistan."
The insinuation behind these questions is amply clear. Since these young women come from J&K, where a new surge in the 'azaadi' movement by separatists saw a wave of stone-pelting in the months following the death of militant commander Burhan Wani, and the human shield incident, their loyalties obviously must lie with Pakistan.
And rightly, coach Abida Khan had had enough.
She was quoted by the Indian Express as saying that: "We are representing the state, and in a way playing for India. These questions affect the team, the players who dream of playing for the national team one day. We are Kashmiris, but we have to prove that we are Indians."
Cricketer Farkhandha Khan said that instead of expressing concern over the state of affairs in Jammu and Kashmir on Twitter, Indian cricketers should in fact come to the state and coach the women's team, promote sports in Kashmir, and train young Kashmiris in cricket. It would also keep the troubled youths off the streets, both Abida and Farkhandha said.
"What we need is infrastructure, facilities," Abida said. "Boys get to play all year round, halaat kharab sirf ladkiyon ke liye hain," Abida said. The match was conducted by Government of Jammu and Kashmir in collaboration with Australia India Institute and Australian High Commission, the Greater Kashmir newspaper reported.
"Cricket gives us purpose. Because of our loyalty to the game, we today played under Gilchrist. Soon, we will play in the India jersey," Express quoted cricketer Bushra Ashraf as saying.
"I don't know when we'll get a chance to meet our own players," she said.