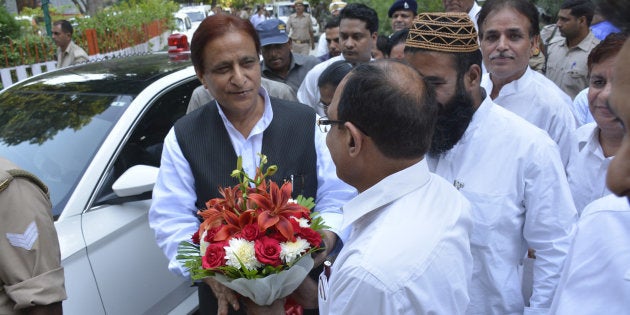 Rampur (Uttar Pradesh): In the wake of Rampur incident where a group of men molested two women in broad day light, former Uttar Pradesh minister Azam Khan on Sunday took a jibe at Chief Minister Yogi Adityanath-led government and said that situation in the state is such that men should try and keep their women indoors.
"Girls should also avoid places jahan besharmi ka nanga naach ho raha ho (where they are vulnerable and can be molested)," were his exact words.
In a sardonic attack at the BJP dispensation, Khan said looking at the accelerating cases of crime in the state, ladies should avoid going to suspicious places.
"There is nothing astonishing in the fact that incidents of murders, loot. Rapes are being reported under this government. After the Bulandshahr incident men should try and keep their women and ladies of the house indoor as much as possible. And women should also avoid going to suspicious or lone places," said Khan.
"I would like to congratulate Yogi-government that negligence of his government has got crime accelerated in the state. In few days of Yogi-government numerous rape took place, many were murdered across the state," he added.
Raising questions over the law and order in the state, a video of two girls being molested openly by a group of young men in Uttar Pradesh's Rampur district has set social media on fire.
Around 12 to 14 boys can be seen in the video, molesting the women, even while they pleaded to let them go.