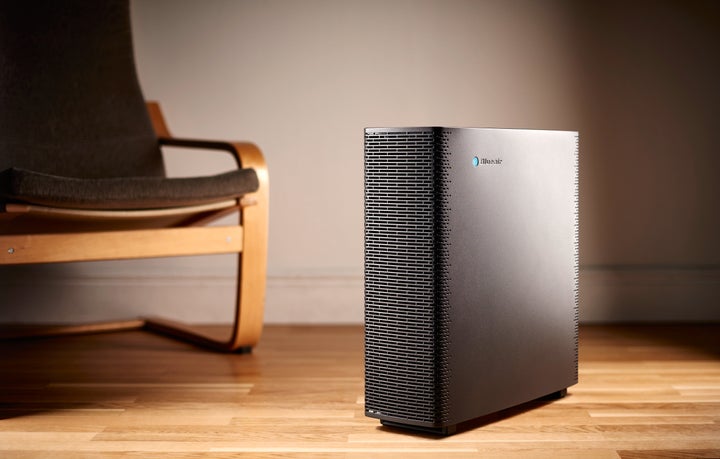 NEW DELHI—Winter is coming, and along with it, incredibly bad air conditions. The causes range from stubble burning, effigy burning, and crackers, as well as vehicular and industrial pollution. While festivals are enjoyable, the side effects in the form of pollution can be devastating. While we wait for effective institutional responses from the government, people are resorting to solutions such as pollution masks and air purifiers.
Air purifiers are saviours in the fight against rising air pollution. They measure and purify the air (bringing down PM 2.5 and PM 10 levels) by removing contaminants that include smoke, dust, pet hair, allergens and other impurities.
PM 2.5 are fine inhalable particles with diameters of 2.5 micrometres or less—about 3% the diameter of a human hair. PM 10 refers to inhalable particles with diameters that are 10 micrometres and smaller.
The Air Quality Index (AQI) paints a grim picture in cities like Delhi, and just like water purifiers have become staples in many homes, we're going to have to get used to air purifiers too.
But deciding which air purifier to buy can be a daunting task. One can go for a basic air purifier—like the Mi Air Purifier 2S which mainly cleans PM 2.5 particles or an expensive air purifier—like the Dyson Pure Hot + Cool—that comes with additional features like heater technology.
When you're in the market for an air purifier, here are some things to remember:
Room size:

Match the size of the room to the coverage area of each purifier (which is usually mentioned in square feet).

Placement:

Think about where you'd be placing the air purifying in the room you're buying it for. Make sure there is a free corner, away from the carpet and the furniture

Air Changes Rate (ACH):

If you're really into the nitty-gritties of an air purifier, then the air change rate will matter to you. ACH indicates how many times the room has been cleaned, by the air purifier, over the course of an hour. For example, an air purifier with 5 ACH will clean the room every twelve minutes.

Noise:

Make sure to go for an air purifier that can keep quiet at most times lest you don't mind being disturbed at night.

Energy Consumption:

Like other home appliances, air purifiers also consume energy. Make sure that the air purifier has an energy star rating.

Cost of replacement of filter:

Filters last about six months on average and changing them can cost you anywhere between Rs 1,500 and Rs 3,000.

What to avoid:

One should never go for UV filtration and ionization-based purifiers. This is because they emit ozone, which can go on to cause respiratory problems.
Here are some of the best air purifiers on the market today:
(Note: We have provided links to online stores where you can buy these items. HuffPost India does not receive any commission, nor are these products sponsored—the links are only for the convenience of our readers. All prices mentioned are from the time of writing, and are subject to change over time.)
British technology company Dyson isn't a household name, thanks to its high prices, but its products are also high quality. The Dyson Pure Hot + Cool is the latest device from the company and comes in only one shape and size and two colours—white/silver and iron/blue. At Rs 54,900, it is one of the most expensive air purifiers on the market today.
As the name suggests, it fulfills three functions—air purification, heating, and cooling.
The Pure Hot + Cool looks premium, no matter which part of the room it is kept in, and has a solid build quality. It has a cylindrical and bladeless design which allows for 350-degree airflow. It is the loop that throws the hot/ cool air out. As a bonus, even on the highest fan speed of 10, the air purifier makes little-to-no noise.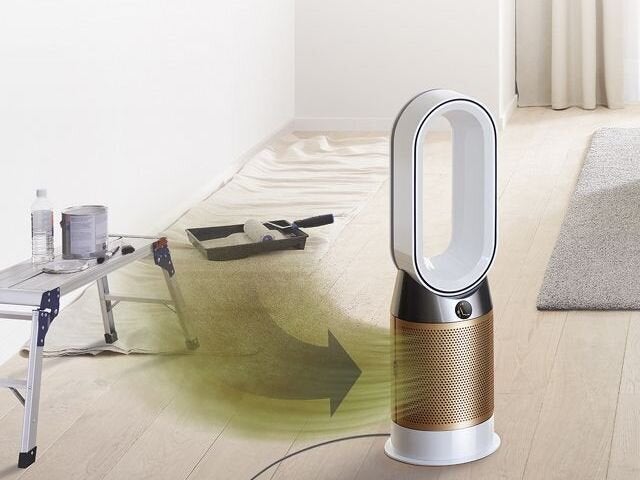 The Pure Hot + Cool is one of the easiest air purifiers to use with the intuitive remote or the Dyson Link app. Besides the basics like setting fan speed, temperature and adjusting airflow, the app allows for viewing of historical data in the form of a daily and weekly air quality report.
In my few weeks of testing, I've never had a problem getting PM 2.5 to below 30, even when the fan speed isn't at its highest—unless the doors have been opened and closed a whole host of times. The historical data also shows a constant reading of good air, provided one turns it on for at least six-to-eight hours a day.
Model: Dyson Pure Hot+Cool - HP04
Price: Rs 54,900
Sharp's DW-J20FM-W (yes, that's a mouthful) air purifier has a coverage area of 350 sq ft. It retails for Rs 35,999 on Amazon. There's no remote control or companion app and so only the touch controls can be used to operate the machine. This air purifier is one of the only ones on the market to come with a dehumidifier feature. A dehumidifier reduces and maintains the level of humidity in the air, making one feel comfortable at all times, especially during the monsoon season.
It also works towards removing musty odour and making sure your home is germ-free.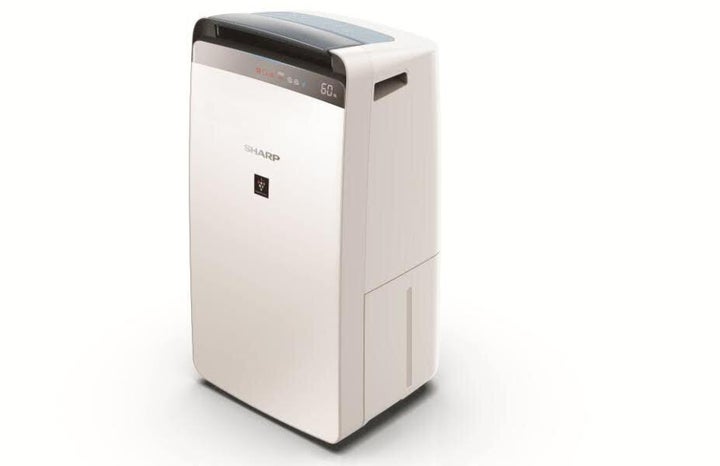 Sharp's air purifier is a compelling option simply because of the sheer number of features it has. There are modes like dehumidifying, laundry, deodorizing and auto mode.
The laundry feature is one of the more interesting ones across all ranges of air purifiers. During the rainy season or in the winter when there is less sunlight, Indians tend to dry their clothes indoors (dryers haven't caught on yet in this part of the world) and the room develops a musty smell. The laundry function in the Sharp air purifier deodorizes the room with high concentration Plasmacluster ions. Plasmacluster Ion technology is a Sharp original sanitising technology that "deactivates suspended airborne mould, viruses, dust mite allergens and bacteria".
This air purifier also works on home inverters during the many power cuts Indian cities receive year-round.
Honeywell has air purifiers across multiple price points. From Honeywell Air Touch A5 to Air Touch S8. One of Honeywell's latest air purifiers, the Air Touch i9, decided to ditch IoT capabilities based on customer feedback. This means that you won't be able to control this air purifier with your smartphone. There's also no remote control. The only option to control the air purifier is the touch controls located on top of the device.
That apart, the Air Touch i9 is a fantastic air purifier that will make a smaller dent in your wallet. Priced at just Rs 22,990 (Currently available for Rs 17,990 on Amazon), the Air Touch i9 is one of the most consistently performing air purifiers on the market. Within an hour, the air quality in the room can be brought down to good levels.
The device sports a boxed design with an anti-fall mechanism. This prevents the air purifier from falling in case you accidentally brush against it. The Air Touch i9 can clean the air in rooms as large as 415sq ft.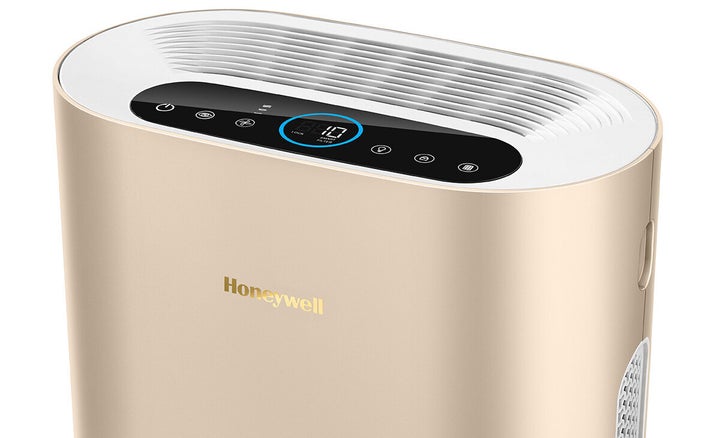 What's also new with the Air Touch i9 is the new 'smart mode' that is similar to other air purifiers' auto mode. When the smart mode is switched on, the air purifier adjusts the speed based on the room's air quality. The 'smart' kicks in when the PM 2.5 levels dip below 25 as the air purifier automatically goes into the power off stage. It continues monitoring for changes though and if the levels reach above 75, it will turn on and once again start purifying the room. These levels are fixed and can't be adjusted.
Model: Honeywell Air Touch i9 (HAC30M1401G)
Xiaomi Mi Air Purifier 2S
At just Rs 7,999, Xiaomi's Mi Air Purifier 2S is one of the most affordable air purifiers on the market. The Mi Air Purifier 2S has an OLED screen that displays the humidity, temperature, PM 2.5 levels, and the mode that one has selected.
The readings are more or less accurate but sometimes they do fluctuate on a large basis. One can suddenly see it dropping or rising by 100, which is alarming. One needs to just wait for a few minutes and the air purifier's readings will stabilise. It's a boxy and not-so-sleek design. It's not exactly an eyesore but you can say it doesn't contribute to beautifying a room. It is also quite loud on high-speed mode.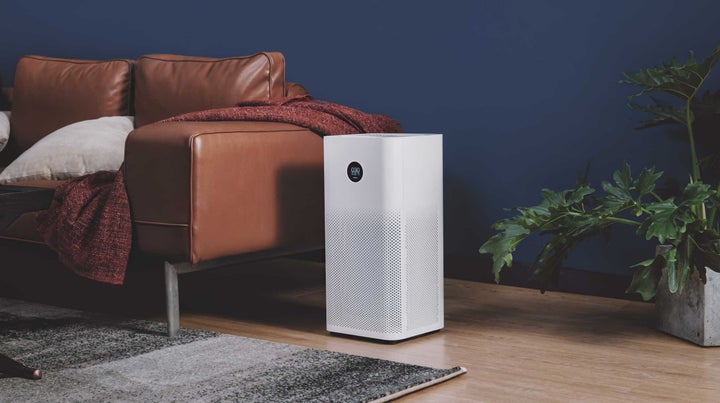 There's no remote control with this air purifier but there is a companion app that allows you to control the air purifier from anywhere.
The Mi Air Purifier is a good value-for-money product but only worth it if you're strictly on a budget.
Model: Mi Air Purifier 2S
Honeywell car purifier and Air Tamer portable air purifier
In case you need an air purifier for your car, or even want to walk around with one, Honeywell and Air Tamer have you covered.
Indians spend a considerable amount of time driving around the city. If your commute is longer than 20 minutes, you're going to want to make sure you're breathing clean air for that duration. The Honeywell Move Pure 2 (Rs 14,999 on Amazon) will come in handy. After fifteen minutes of turning it on, the air purifier kicks in and brings the PM 2.5 levels down below 30.
It's small and compact, sits on the dashboard easily and even on the highest fan speed, it isn't loud. It doesn't have any visual indicators, so you won't instantly be able to tell what fan speed it is on. It only tells you the PM 2.5 levels. You can comfortably play music and not be disturbed while you're belting away your favourite tunes. It's just a tad bit too expensive for a gadget that most people wouldn't consider an absolute necessity.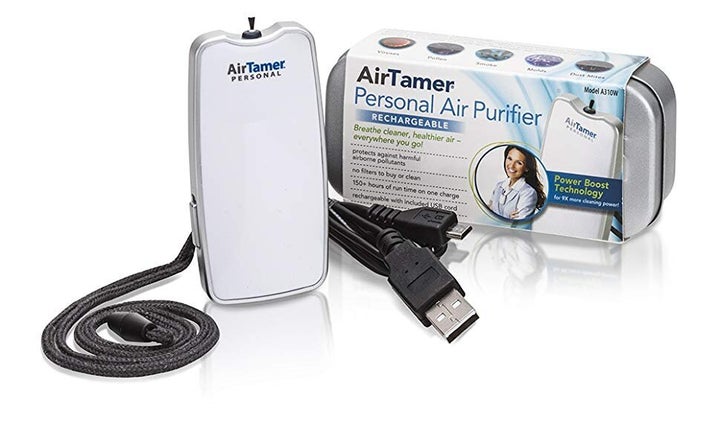 The Air Tamer is portable but pricey. Retailing at Rs 9,999, this air purifier has a battery life of 150 hours, a green LED indicator at the back to show it is on and a lanyard in case you want to wear it around your neck.
The company claims it'll create a 3-foot radius of cleaner air around it, and that is largely true, though there is no indicator, so one can't tell for certain. On the other hand, hold it closer to the nose and one can feel that the air is somewhat cleaner.
Model: Honeywell Move Pure2 Car Air Purifier (HAPC15M0025B)