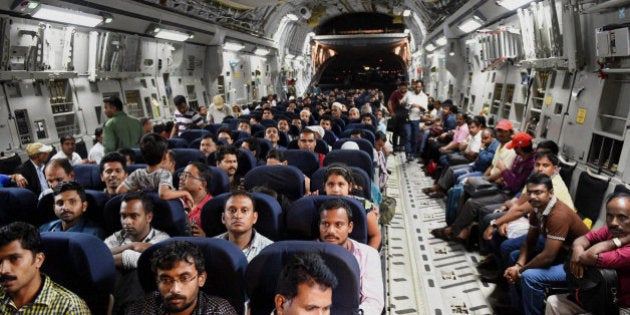 Twenty six nations have now requested India to help evacuate their citizens from Yemen, where the situation is rapidly deteriorating into a civil war between armed militias trying to wrest control of the country.
India mounted a massive rescue effort and it has been a success. As of today, over 3,000 Indians have been evacuated by Indian navy ships, airforce planes and national carrier Air India and brought back to the home country. International countries with citizens trapped in Yemen — including major powers such as France and the United States — have taken notice and are among those who have requested India for help, according to external affairs spokesperson Syed Akbaruddin.
His boss, union external affairs minister Sushma Swaraj, has been leading the rescue efforts with her colleague and union minister VK Singh, a former general in the Indian army. Singh has been coordinating evacuation operations from Sa'naa in Yemen and Djibouti. Swaraj had said yesterday that 23 nations had asked for help in rescuing their citizens. Today three more countries joined in.
"My assessment is that out of all those who want to leave Yemen, I don't think more than 200-300 are left," said Gen Singh. Three Air India flights flew 574 passengers out of Yemen's Sana'a, while INS Mumbai evacuated 474 from Al Hudaydah port yesterday.
With most Indians rescued, the evacuation effort is set to end tomorrow, Akbaruddin tweeted.
We will end r air evacuation efforts from Sana'a tomorrow, 8th April.

All who want to avail should leave tomorrow. Spread the word around.

— Syed Akbaruddin (@MEAIndia) April 7, 2015
Saudi Arabia has backed Sunni Yemeni militias in the south of the country by carrying out airstrikes against Iran-allied Houthi fighters across several provinces. Houthis remain in control of the capital Sa'naa but have suffered heavy damages since the airstrikes began. The bombing campaign has killed over 600 people since it began a week ago. Many more are wounded and tens of thousands have fled.
Earlier this month Shi'ite Houthis, who had long complained of being suppressed in a Sunni-majority country, had wrested control of the capital and larges swathes of Yemen after defeating army troops loyal to President Abdu Rabu Mansour Hadi, who first escaped house arrest to emerge in Aden, before eventually fleeing to Saudi Arabia.