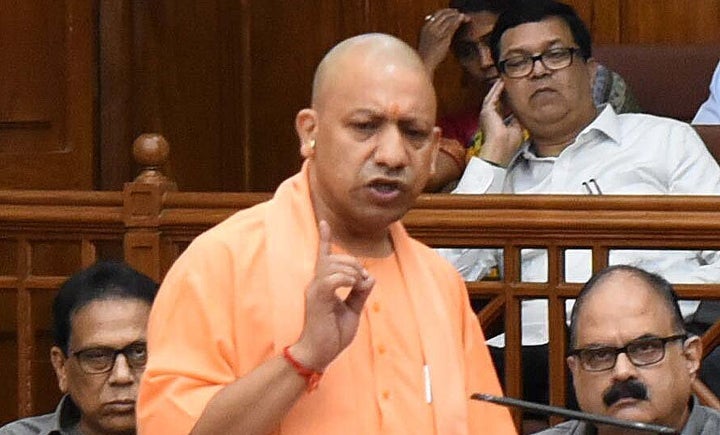 Uttar Pradesh chief minister Yogi Adityanath has issued yet another threat to those who are protesting against the discriminatory Citizenship Amendment Act (CAA). This time he has threatened those raising "azadi" slogans with sedition charges. He also took a sexist dig at the protesters in New Delhi's Shaheen Bagh asking "where are the men?"
Adityanath claimed raising such slogans was "conspiring" against India.
"If anyone will raise slogans of 'azadi' in the name of protest, it will amount to sedition and the government will take strict action. It can't be accepted. People can't be allowed to conspire against India from Indian soil," ANI quoted the chief minister as saying at a rally in Kanpur.
Adityanath also asked why the men of Shaheen Bagh were "sleeping under the quilt while women have been pushed forward".
NDTV quoted him as saying, "These people (referring to male anti-citizenship law protesters) do not have the courage to participate in the protests themselves... what have they done? They started making the women of their houses sit at roads. The children have been made to sit too."
Uttar Pradesh has seen the most violent crackdown against anti-CAA protesters by the Yogi government, with the police detaining and brutally torturing not only activists but also minors.
In an interview with Huffpost India, activist Kavita Krishnan — who went on a fact-finding mission to Meerut, with political activist Yogendra Yadav and Nadeem Khan — said that the police in Uttar Pradesh had shot and killed Muslims who were not even protesting.
"Many of them were not protestors at all," she said. "The people who have died are largely labourers and very very poor workers."
Political activist and teacher Sadaf Jafar, who was detained in Lucknow and tortured by the police, had told Huffpost India how the police assaulted and tortured her in custody. Jafar was slapped, kicked in the stomach and asked to go to Pakistan by the police in Lucknow's Hazratganj police station.
The Uttar Pradesh government also sent out notices to people "for damage of public property", after Adityanath had claimed that the government will take "revenge" by taking away people's property if they damaged public property. Munni Begum, the mother of an embroidery worker who is in police custody and has received such a notice had told The Indian Express, "I have not received any recovery notice from the district administration so far. We don't even have money to arrange a lawyer for Zameer. How can we pay any compensation?"
During the Supreme Court hearing on pleas against CAA on Wednesday, senior advocate Abhishek Manu Singhvi said UP had already begun implementing the law. He told the court, "Without any rules being framed 40 lakh people have been marked doubtful. This has happened in 19 districts of UP. Their right to vote will be lost."
Popular in the Community