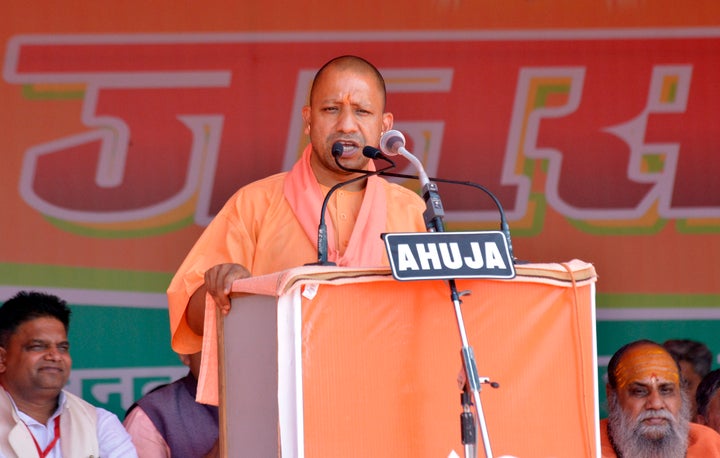 The group of men accused of beating Mohammad Akhlaq to death in Uttar Pradesh's Dadri were reportedly seen cheering Chief Minister Yogi Adityanath during a rally on Sunday.
NDTV reported that Vishal Rana, the main accused, and three others were seen who are out on bail, were cheering on during the rally held in Greater Noida's Bisada village.
Akhlaq was brutally and mercilessly beaten and murdered in front of his family on suspicions having killed a cow. His son Danish was also beaten brutally, but survived the attack.
Yogi Adityanath did mention the incident during his speech, and politicised it by blaming the Akhilesh Yadav-led Samajwadi Party over the incident.
PTI quoted Adityanath as saying, "Who does not know what had happened in Bisahda? Everybody knows it. How shamefully the Samajwadi Party government tried to suppress the sentiments then and I can say as soon as our government was formed we got all illegal slaughter houses stopped in one go and ensured its strict implementation."
Adtiyanath also accused the previous governments of harassing the majority community by lodging false cases against them and thus creating a "breeding ground" for riots.
"During my two years, has there has been any Bisahada-like incident in the state? Has there been safety concern to sisters and mothers? No. This cannot happen because we have said that we will guarantee safety and development to 23 crore citizens of the state, bring every one into mainstream. We won't differentiate between people but won't engage in appeasement politics," he said.
He said the law and order situation in UP and that in India under Modi has become exemplary.
"I have been wanting for a long time to come to Bisahada and meet people of this region and nearby areas," he said as he campaigned for Mahesh Sharma, the BJP candidate from Gautam Buddh Nagar.
Danish told Huffpost India in an interview last week that these elections were life and death for him. He has had two brain surgeries, but the injuries to his brain have weakened his memory.
"I wish I could form the government and bring some peace. I cannot think of anyone whom I want to vote for," he said.
(With PTI inputs)